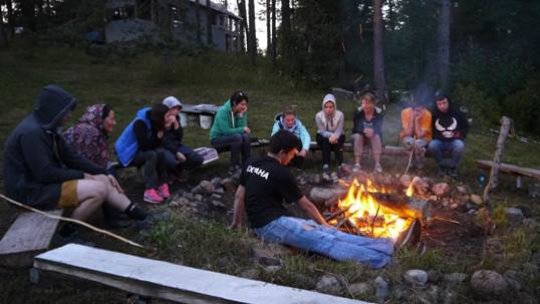 This year's summer camp was always going to be different. After the isolation of the quarantine, everyone needed to be together, to be able to share experiences and support each other. But right until the last moment we couldn't be sure that the camp would go ahead at all. As it turned out, we were allowed to hold it, albeit with reduced numbers. Sadly, those numbers were reduced further when a few of our young people were not allowed to take time off work.
Tatiana was dissapointed her friends coulnd't join her, and we are proud of her for going on her own.
"I planned to come on camp with my friends, and I only just heard that at the last minute their bosses wouldn't let them take time off. It's really annoying, but of course they couldn't do anything, especially at the moment when you can lose your job any time. But all the same, I decided to come without them, and I don't regret it at all."
For Kostya, changes to the train timetables also made the lead-up to the camp stressful. Thanks to his training, he dealt with his anxieties in a very practical way and made it to camp in one piece.
"I've been on camp before, but this time it was difficult to get ready because the train was very early and I was worried that I wouldn't get to the station on time. I did a practice run to the station in advance to check how much time I needed, so I wouldn't be late, taking into account that I would have a heavy rucksack and wouldn't be able to walk so fast when I was changing metro trains. I was so nervous that I decided to have a friend from the group to stay the night before. In the end we didn't sleep all night, we were so worried we would miss the alarm. But we were the first to the station in the morning."
As is traditional, we started off by getting the site ready not just for our camp, but for the little ones who would be coming for camp after us. With help from the staff, the teenagers made low benches to go round the campfire, cleaned up the play equipment and the cabin itself. Everyone always gets a lot of satisfaction from imagining how happy the children will be when the arrive.
In our group sessions, we concentrated a great deal on developing self-reflection, on recognising our strengths and the resources we have available to us to solve our problems.
Dima explained how he felt camp helped him:
"It's very important for me to come here. I feel light and calm here. I feel that just here I can free myself of my past worries, which weigh heavily on me. Before I lived in a children's home, and there I knew very little about the life I live now. The people teaching me were busy with their own lives. They didn't notice me, but here I am noticed. And I have started to live life myself. Thanks to our meetings in St Petersburg and here, I can see how much I have to learn and I am learning. Here I can see how parents interact with their children, and it's a lesson for my future. Sooner or later, I will need to be responsible and become a father. At some point I realised that I am alone and I need to become independent or I'm lost. And here they teach me that. Yes, it's difficult. It's difficult to recognise that you don't have family backup. But I am learning to come to terms with the situation and to grow up. It's as if I'm learning to pull up the weeds that are strongly holding me back in my old habits and ways of thinking. At the training I had a real breakthrough. Now I have to work to put it into practice in my life."
Because of the pandemic, our families and young people face a great many extra challenges. Challenges of isolation and practical and financial challenges. Thanks to the summer camp, this group have made great progress towards becoming truly independent and resilient. We are very grateful to you for helping make it possible. In our next report, we will let you know how the families with younger children got on. Watch this space!