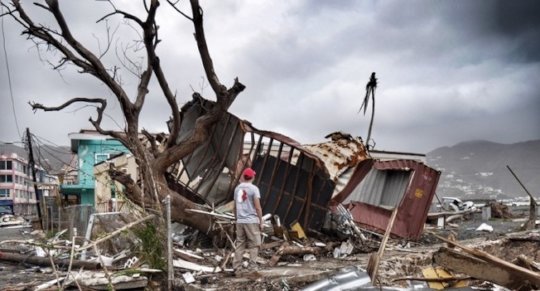 Case Study: Schools in the Caribbean
Your funding enabled Team Rubicon to have a team from the UK touchdown in the Caribbean, just 48 hours after Hurricane Irma made landfall, and to subsequently deploy 86 volunteers to help rebuild devastated communities.
Your funding enabled Team Rubicon to…
Deploy an initial recce team to the Caribbean within just 48 hours of Hurricane Irma striking
Deploy 86 volunteers across 7 separate islands in the subsequent three months
Deliver aid to 24,280 beneficiaries
Repair 15 schoolsand 27 classrooms
Enable 3178 children to go back to school and 150 teachers to go back to work
Distribute 59,340 litres of purified water
Mentor and train 15 locals in Incident Management
Clear 20km of routes to allow access for aid distribution
Provide over 1500 people with temporary shelter
Your Impact as a donor:
Team Rubicon is a disaster response charity that uses a military approach to deliver rapid responses to global and domestic disasters. The organisation is designed to bridge the gap between a disaster occurring and large-scale aid arriving, giving veterans a renewed sense of purpose, community, and identity, post military service.
In September 2017 two Category 5 Hurricanes, Irma and Maria, devastated 80% of the buildings across the British Virgin Islands (BVI) in the Caribbean including many of the schools. In less than two weeks, thousands of children had their education disrupted across the British Virgin Islands after the hurricanes pulled roofs off schools, smashed windows and drenched textbooks, report cards and equipment in torrential rain. Getting schools back up and running was incredibly important to continued education, helping to give children a sense of normality, and their parents the time to try and rebuild their lives after the devastation.
Team Rubicon worked in collaboration with the Ministry of Education, government agencies, NGOs and residents throughout the BVI, to make shelters and schools as safe as possible so that children could return to education as soon as feasibly possible.
"I want to start by saying thank you to Team Rubicon for all of the help that was given to us. We were totally devastated by Hurricane Irma followed by Maria and it was difficult to see how we would get back up on our feet when we walked out of the doors that morning. But with help from teams like Team Rubicon we are slowing getting there and we are grateful." Dr Marcia Potter, Permanent Secretary of the Ministry of Education.
Initially based out of Cedar International School on Tortola, Team Rubicon volunteers conducted repairs to the school and carried out assessments of many others in the area. One of the first two schools to reopen, Cedar began offering places to children who were not previously enrolled there, and UNICEF used it as a training venue for its children's psychosocial wellbeing program "Return to Happiness".
After a personal request from the Minister of Education, Myron Walwyn, Team Rubicon volunteers spent 48 hours with a local team led by Carlos Hadaway, Maintenance Supervisor of Elmore Stoutt High School, Tortola. The volunteers worked with Carlos' team to convert the old Clarence Thomas Limited warehouse into a learning facility by constructing twenty-seven classrooms inside its shell. This work enabled students from Elmore Stoutt High School to return to education just one month after their high school was devastated by Hurricane Irma.
"I want to thank Team Rubicon for coming to the BVI and assisting us, giving us hope, and showing us that we can actually do this thing. We really appreciate it. You guys have been awesome." Carlos Hadaway, Elmore Stoutt High School.
The wider response
Over the next five weeks two further waves of volunteers were deployed to the BVI, tasked with conducting numerous duties, all the while maintaining a focus on education. From window repairs at Althea Scatcliffe Primary School, to the removal of debris and damaged building work at Bregado Flax Educational Centre, and roof repairs at Jost Van Dyke Primary School, the team worked to support the Ministry of Education to enable 3,178 children to return to an educational environment.
"Team Rubicon, you deserve a great round of applause. You deserve two thumbs up. You guys came in, and you worked, you helped us to clean up, you encouraged us. You gave us hope without realising it. You did it quietly. I would love to thank you on behalf of the principal, the entire Virgin Gorda community. I love you. Thanks." Barbara Stevens-De Freitas, Bregado Flax Educational Centre.
Team Rubicon volunteers also erected 19 UNICEF tents as temporary classrooms, serving approximately 760 beneficiaries, and repaired and replaced a further three tents in two sites following tropical storm damage, all in order meet the goal of returning all children to education by 6 November, two months after Hurricane Irma first made landfall in the Caribbean.
"The schools could not have been re-opened without Team Rubicon… because they did most of the initial repairs. Team Rubicon being able to adapt and step up when needed was key." Laura Ivey, Country Lead, UNICEF.
The next step
Today, at the time of writing, there is still much to be done to repair and rebuild the islands' infrastructure and provide more permanent educational settings. However, the rapid return to a level of normality facilitated by Team Rubicon and our collaboration with a magnitude of in-country partners has helped improve the well-being of teachers, pupils and parents alike.
"I can happily report that the children are back in school and they're learning and they're happy. Staff are happy. Parents are happy. We are just happy to be back at school and it's only left to me to say thank you to Team Rubicon, Serve On and all the other groups that contributed us getting to this point." Kimberley George, Principal, Bregado Flax Educational Centre, Primary Division.
Team Rubicon will return to the Caribbean in March 2018 to carry out the next phase of vital work. From training and equipping local volunteers to prepare and manage a community-level response to disasters, to supporting on the effects of climate change and building resilience and sustainability for schools and clinics, much remains to be done.