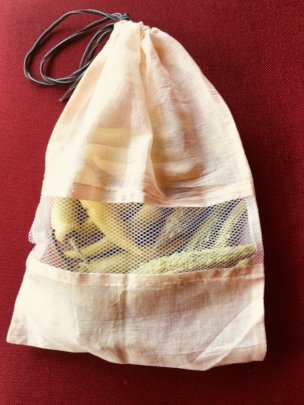 Your money at work – project description
Our "Caregivers to Breadwinners" pilot program will focus on the mothers of our students and train them to produce reusable grocery bags that go "from the store to the fridge and back again". This pilot project will start with employing six mothers of E.A.S.E. students who would greatly benefit from an additional source of income.
Meet the Empowered – project beneficiaries
Nirmala
Nirmala is devoted single mother of two children, one of whom is severely autistic. Happily, her child is progressing well under our tutelage. Nirmala is well qualified for this program as she is an experienced seamstress though lacking in a stable clientele. She is eager to join us as it promises a more steady income for her family.
Chandra
Chandra is one of our model "courageous mothers". When her child started learning through our education programs, Chandra started to question the teaching at the neighborhood school's special education unit. She took the teacher and principal to task on their education methods, demanding better services for her child. Since her husband developed cancer, the burden of providing for the family rests on her shoulders, so the additional income is very necessary for the well-being of her family.
Kanthi
Kanthi has three children under the age of 13, one of whom has many medical issues and is a student of ours. Her husband is a daily-wage worker who does not have a stable source of income. Always cheerful and ready to tackle life's challenges head on, Kanthi hopes to uplift her family and better care for her son's medical needs through a steady income stream.
Lathika
Widowed at a young age, Lathika is the mother of four children; her youngest is a student of E.A.S.E Foundation. She loves sewing for her children and is looking forward to turning her talents toward an income generating opportunity that will help supplement the family's income.
Janaki
Janaki is a young mother who is devoted to her only son. He has frequent seizures and requires her care around the clock. She is one of our most dedicated parents, rarely missing classes and committed to following our programs to the letter. She hopes she will finally be able to secure a better future for him with the money that she earns.
Nimali
Nimali is a polite, soft-spoken mother with a steely determination to do well by her daughter, who is a steady, long-term participant of our educational program. She is not an experienced seamstress but is determined to take our training so she can become a part of this.
The Tried & Tested Final Product
We have designed the grocery bags to be lightweight and durable. Designed to go from the store to the fridge and back again. The mesh helps with air circulation and the grey cloth will absorb excess moisture. We provide four sizes to fit all your grocery needs.
About E.A.S.E. Foundation
E.A.S.E. Foundation, since its inception in 2007, has been working to ensure that people with disabilities, especially children, access their rightful place in mainstream life. We achieve this through our pioneering programs that Educate, Advocate, Support and Empower people with disabilities and their families. Our programs are directed at society, as well, to create a "World Where We All Belong." Our special advantage is that our co-founder/co-president Mr. Chandima Rajapatirana, being a person with autism, brings us an insider's knowledge of the needs and dreams of people with disabilities. A volunteer board of trustees with impeccable reputations, relevant experience and lifelong commitment strive to achieve these very important goals to uplift the most marginalized and vulnerable citizens. We are a government registered Social Service organisation – Reg No. L-147104. Our annual audits are always excellent and we are committed to accountability and transparency.