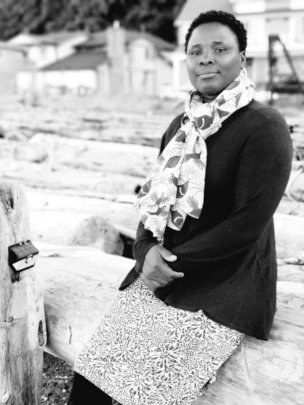 Each quarter we highlight someone who has received help from our programs and describe them and how their lives have changed because of the work that Jifundishe does. This time, we are introducing you to Anande, our Managing Director, who really makes it all happen.
Anande graduated from the African Visionary Fellowship program in New Jersey last month and then, went on to attend Perennial in Seattle, a leadership develpoment program that allows each candidate to "check-in" with the vision and mission of their organization as well as how to manage your own well-being and maintaining the integrity of the values of the organization.
Anande was born in the village of Maji ya Chai and was the seventh child of nine born to her Mom, who was the second wife of Anande's father. Her Mom never finished primary school and married at age 14 and now has 27 grandchildren. At age 40, Anande's family history is typical of other Tanzanian women her age. But things are changing. More and more girls are being educated, rather than married at a young age. They are finding employment, developing themselves as entrepreneurs and having fewer children and more stable homes. Thnaks in large part to efforts made by people like Anande.
Jifundishe is lucky to have Anande leading our organization. She is a role model, a mentor and an example to other young girls in the villages where we work that times are changing and lifestyles need to follow. She helps them take advantage of educational opportunities, reproductive health workshops and business and IT skills to prepare them for modern-day employment opportunities.
We applaud Anande on her recent graduation from the African Visionary Fellows program and thank her for her years of service to our organization now, and hopefully for years to come.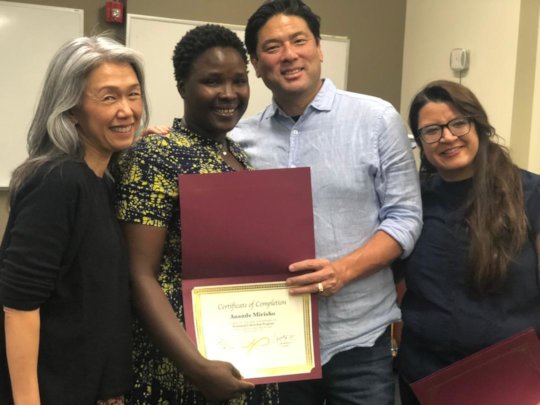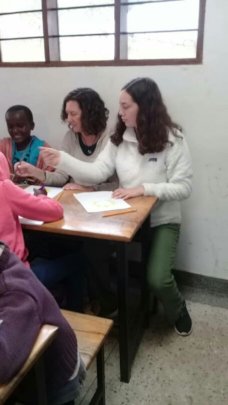 In the summer of 2014, our friends at Extraordinary Journeys contacted us about a family that was visiting the area and wanted to visit a project that was working with the local community. We were happy to host the Mathews family in October that year and spent the day with them on October 7th, grandparents, parents and children together beginning their African safari. They visited a local school, worked with our primary school children and had lunch with us while we talked about the projects that we had created and the needs that we had in delivering programming to the local community.
Fast forward five years to 2019, and Jessica, after years of staying connected to Jifundishe and donating to many of our efforts, contacted us as the owner of Dancing Zebra Safaris, hoping that her own clients, the Smith's, could come and visit us with their family as she had done years ago.
Kayla, celebrating her bat mitzvah with a service project that included working with our primary school students, created a project page on Global Giving's website to raise money for our projects. Kayla and her family spent a day at Jifundishe and made some amazing friends and started their dafari off with a wonderful experience working with the local community.
Organizations like ours rely on volunteers to help us, not only with our programs, but with spreading the word about our work. It's not too late to make a donation to Kayla's project page. Check out her page at .Kayla's Global Giving Page.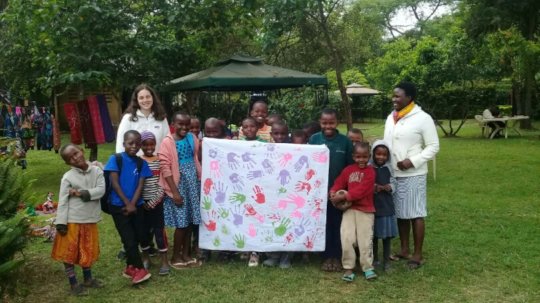 Meet the most enthusiastic girl ever, who had the ambition of being a doctor from when she was 5 years old. I met Flora in 2014 when she graduated from primary school, and got an average of 'A' in the National Examination which is very unusual for girls in village schools.
Flora comes from a family of two children, and both children have been raised by their mother since their father abandoned the family and move to another region. She is the first born and her young brother Frank, the second born. Her mother struggles so much to get the food and clothes for her children through doing small activities in the village like farming and selling vegetables in the small markets. In this case she couldn't manage to send Flora to secondary school without getting support. Jifundishe helps this kind of student to achieve their academic goals and succeed in life in general; we believe that if girls get a good education, it's easier to change the society that they live in.
Flora was assigned to join one of the public secondary schools in Tanzania where she attended her studies for four years with support from Jifundishe's Houston Scholarship Fund. During her holidays, Flora came to use our community library for personal study and participated in group discussions with independent study students that depend on our resources. She graduated last year and her National examination results were released in February. Flora once again got placed in division 1, the top placement available. She is our star, did very well with all the 9 subjects, and she has seen the bright light of her dreams starting to become true.
Meanwhile waiting for the placement for high school, Flora participates in community service and work with hospitals assisting nurses and observing what the doctors do as she want to be a doctor.
Thanks to all donors and supporters for making Jifundishe free library alive and keep serving many lives in Tanzania.
WARNING: Javascript is currently disabled or is not available in your browser. GlobalGiving makes extensive use of Javascript and will not function properly with Javascript disabled.
Please enable Javascript
and refresh this page.