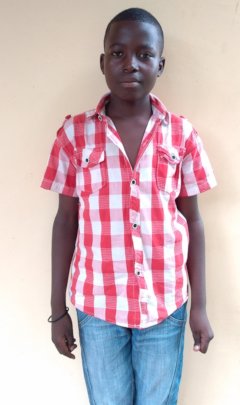 Primary School Success story
The primary school program is run and organized by Jifundishe and it involves free English tuition for students who have completed standard seven in that particular year, as soon as they are done with their exams to December before the closure of the organization for the holiday seasons. They are taught different subjects such as English, Mathematics and General use of E-readers. Every year the program enrols 50 students and more, impacting the pupils with secondary knowledge of the subjects being taught in their next education level which is secondary school education.
Thus meet Shaban as one of our program beneficiaries; He was born on July 2005. He went to Dido Primary School in Same, Kilimanjaro. Shaban came all the way from Same, Kilimanjaro to join our free primary school English tuition program and learn how to use electronics such as computers and E-readers.
Shaban found out about Jifundishe from his sister who was also enrolled in one of our programs, so after completing the primary school-leaving examination, He was curious to join JFL as soon as he heard that it was free and there were many books and of every subject in each educational level in our country. He moved from Same to Arusha to join Jifundishe, And He is currently leaving with his grandmother who lives a few kilometres from JFL.
Before Shaban could not spell many English words neither understand their meaning but after joining JFL from October 2019 to December 2019, he has been able to understand English thus Shaban can read and speak English. "I did not understand many words from English language neither their meaning but now I do and I am happy that I joined Jifundishe, I am capable of translating English questions to Kiswahili which enables me to answer them correctly", said Shaban. Thus Shaban is now capable of also reading through E-readers and has mastered the whole process of using them.
Shaban highlighted a few unique things he came across while in JFL:
Availability of free books and services which is not available in his village or in his community.
The use of electronics educational materials such as computers and E-readers which was never used in his primary school.
Peaceful and quiet reading environment that is conducive to any student to enable concentration while studying.
Freedom to come and read the library books for free during the weekends and other days when the teachers are not available.
Due to the above unique things that Shaban saw at JFL he also appreciated the support and inspiration facts that he saw from other program beneficiaries who are older than him, He has never seen anyone fight or arguing with anyone like the older students from Dido Primary School, They gave him assistance in his studies when he needed one thus Jifundishe facility is quiet, friendly and inspirational so he promised to study hard and accomplish his dreams of becoming a soldier in the government of Tanzania, so he will finish college and join JKT to a become a soldier.
Also, Shaban said that he compared JFL program with other Pre-form one tuition centers that student pay money to be taught but due to the lack of teaching and learning materials they will approach him to assist in doing their homework's and answer their questions. So Shaban was happy with all the knowledge he acquired from the Primary School Program and rendered it very unique and helpful to his education journey.
Therefore, your donation is very important to enable Jifundishe impact the life of many in Tanzania as people come all the way from outside Arusha just to benefit from the uniqueness of our educational services. Also reach the community members and the surrounding children's who cannot access books from their schools, reading materials and get traditional education to get it from us thus general community and national development in Education.