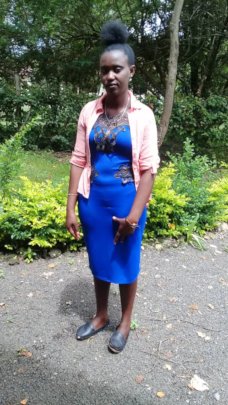 Meet Hosiana
Hosiana is a girl who is very talented in handwork; she plaits hair and earns money that way to support herself. She is 24 years old and she comes from a part of Maasai-land called Oldonyo Sambu. She went to a traditional local secondary school in her village but she failed her exams. Her tribe has a very strong culture that believes that women can not do the same things that men do. Both of her parents are still alive and they are peasants, tending animals as a way of subsistence living. She is the 5th child among 6, 5 girls and a boy. Only two girls among all of the children in her family attended secondary school and all are married except her.
Her sister is a primary school teacher and she is the one who encouraged Hosiana to continue looking for an education. Her struggles in the village after finishing secondary school made her find an alternative to continue with education. When she completed secondary school and failed, her father told her that because her younger sister was already married, he thought that its time for Hosiana to marry as well. She was only 19 years old.
She met a friend who knew of Jifundishe in 2013 and she was told that she can come to join for free to continue with studies independently. So joined Jifundishe in 2014 and is currently studying in the Independent Study program.
Her educational journey with Jifundishe since 2014 has gone well; she sat for her secondary exam twice and got enough credit to continue with advanced classes. Now she will be doing Advanced level exam in May of 2018. Her ambition is to become a teacher.
Hosiana is just one of the hundreds of young people who have come to our program when parents, step-parents and other family members have stopped supporting their ambitions because of traditional beliefs that no longer work in this modern world.
We are proud of Hosiana and she is an example for other girls in the village that they can get an education if it is what they want. We wish her much luck on her Form 6 exam next month!
As we start a new year, we are reminded of the people who benefit the most from our projects and Upendo is an example of the hundreds of girls that we have helped over the years.
Upendo came from a family with 6 children. She was the third born in her family and went to Nkoasenga Primary school where she graduated standard seven in 2009. Both of her parents do small farming businesses to get the daily food and necessities for their family The children are a very big part of that work, and not all of them attended school.
Upendo was selected for secondary school and attended for two years but had to stop going to school because of family problems that they were facing and they could no longer pay any contribution for school or afford the uniform she needed to attend.
Upendo heard about the Jifundishe Free Library from a friend and decided to move from Nkoasenga Village in 2015 and found a friend that she could stay with so she could join Jifundishe's Independent Study program. They share a room and all the costs of living. Her older brother and mother used to help them by sending maize and beans to provide food. Upendo started the program and passed the first exam for Form 2. In 2016 she tried to pass the Form 4 exam, but did not do well, so she stayed another year and did pass last year.
She went home to visit her family and the family thought she is now grown up and she can stay home and help them by getting married. Coming back to Jifundishe to continue with her studies was not their priority. She refused to accept that her education was over and came back to the village to study for another year. Jifundishe is paying all her exam fees and hoping that she will get one more credit to continue with her studies. Her ambition is to become a teacher in a high school.
The Jifundishe Free Library provides a safe, accessible and supportive place for young girls who are at risk for early marriage, pregnancy and trafficking to come and get an education. They are able to take control of their own educational experience which leads to them having the confidence to take control of their lives.
Thanks to all of our donors who help make this library exist to help these amazing young girls!
WARNING: Javascript is currently disabled or is not available in your browser. GlobalGiving makes extensive use of Javascript and will not function properly with Javascript disabled.
Please enable Javascript
and refresh this page.