$9,600 raised since November 2018, our thanks as always for your continued support!
So, how does your support help some of the most vulnerable people in Sri Lanka? As you will be aware, Prithipura Communities is a 'home' for everyone who lives with us. A place to stay; be well-cared for and feel safe, but also a place to be stimulated, educated and supported with developing independence wherever possible.
Therapy is one of the ways that those who live at Prithipura Communities are supported with their physical and cognitive development. Eranja, Charles, Sajini and Suranga are all therapists with different specialisms who work alongside our care staff at the Infants Home to support the development of those that live there. They are also supported by specialist volunteers who spend time with us often for months at a time.
Daily therapy sessions take place inside our dedicated therapy room as well as across all areas of the Infants Home. The team also use our pool and sensory room as well as spending time in the residential areas. After all, therapy is about promoting skills that support people in their daily lives and activities.
Sajini, our speech and language therapist, for example, supports the staff at meal times to promote safe and comfortable feeding for those who have difficulties. This is vitally important as many of those who live with us at the Infants Home have swallowing and oromotor difficulties.
You can see from the photos below, the range of therapy that is given to those who need extra, specialist support to reach their potential.
For example, Poorne is being encouraged to blow bubbles by Sajini, our Speech and Language Therapist. This helps strengthen his tongue for making sounds produced in the back of the mouth as well as him learning to follow instructions, make good eye contact and bond with others.
Dilshani may have difficulties with verbal communication but she communicates in many different ways, such as noises, facial expression and hand gestures, and is able to understand spoken Sinhala and English. In the picture, she is being encouraged to use a method of communication where she chooses pictures to make a choice.
Sashini is being encouraged to improve her swallowing function so that she is able to eat safely and improve the nutrition that she receives.
Do have a look at the rest of the photos to see our therapy team in action!
On behalf of all at Prithipura Communities, thank you once again for all your support – giving is not just about making a donation. It is about making a difference!
Small actions x lots of people = BIG CHANGE!
If you would like to further support our project, you may like to consider setting up a recurring donation. At present, we receive $165 on a monthly basis in recurring donations and we would love to increase this. As you know, to continue providing specialist care, educational opportunities and skills for life, sustainability is key and recurring donations is one of the ways we can secure this.
You can set up a recurring donation here: Set up a recurring donation
Also, please don't forget if you are a UK tax payer, you can select to claim Gift Aid and Global Giving will process this on our behalf.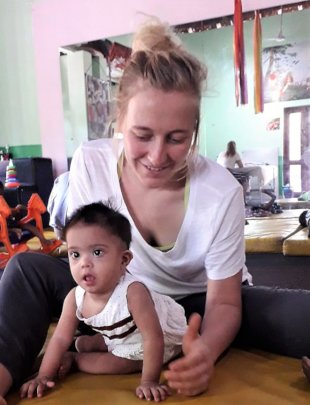 Links: