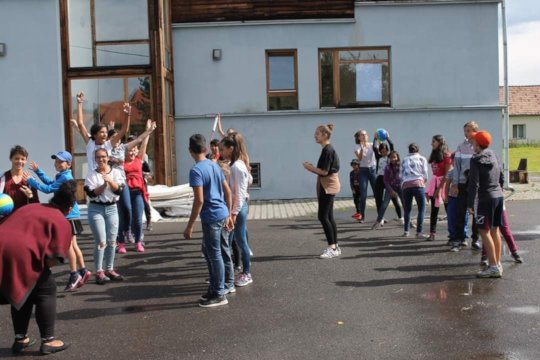 Trying to create amazing and at the same time educative experiences for children in four days is a hard but a truly repaying job. It is wonderful to see all these children leaving the camps at least a little bit wiser, more eager to learn English, all with a big smile. It's said that this gives a person such a strong emotion, that is never fading even if seen the millionth time.
It all starts by gathering local volunteers, who will work as translators. Then we figure out which international volunteers will be here at that time.
On each Monday, the week of the camp, we meet with all of them. The whole team sits around a table and the planning begins, everyone coming up with their own ideas of games to play. After the program for the upcoming day or two is made, the collection of the materials begins.
Piles of toys, pencils, paper, footballs and funny costumes are gathered from the storeroom, waiting in the office to be put into a car and taken to the new camp location.
The next morning volunteers are taken by car to the camp, an hour before children start to arrive, to go through the plan for the day once more. When children slowly start to arrive we check to see if everyone is present. They are then divided into groups each with different name and different mentors.
With games and a point system we encourage a healthy competitiveness and at the same time teamwork. Most of the games are focused on learning English words. At the end of the day we choose with the children the new words they remember. The next day always starts with reviewing them individually, here the team with the highest total score getting the most points.
On Friday the winner team is announced based on the points and the prizes are handed, everyone getting something. As the costume party was just before announcing the winners, prior to going home there is a bunch of people, in leopard, Superman, princess, cowboy costumes, hugging each other, being grateful for the time spent together.
Itreally is a great and irreplaceable experience for everyone, be it child, volunteer or our staff members. Soon school starts and our camps end but, just like the volunteers that are already planning to return, we can't wait for the next summer to come.