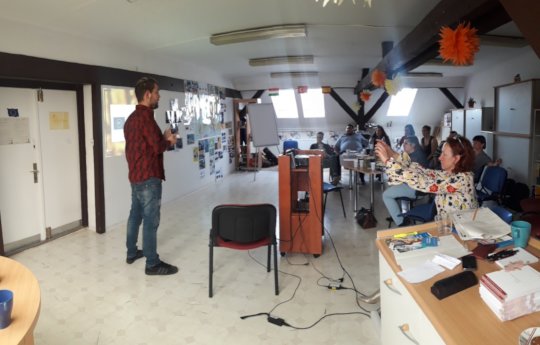 In 2020 Care2Travel is planning to organize 3 summer camps for the roma children of our town and surrounding villages, two of these will be residential. The residential camps need much higher financial involvement, but we receive this help from volunteers and the GlobalGiving funds will be just perfect to complete the budget.
The first camp will be very similar to the one we organized in 2019, and we are planning it to be at least of the same quality and if possible we want to involve even more kids.
For this we are communicating with the roma schools and teachers will assign those kids to our camp who need this inclusion the most. We are seeking kids between 8 and 15 years of age as this is the age group that can be affected the most by the benefits of our activities. The collaboration works great and we are looking forward to a successful camp right after the school year finished.
The two residential camps we are planning needs much more effort from our side, but it also makes a much higher impact on roma kids' life. For the first residential camp we will recruit a younger age group of 6-11, and for the second a group of 11-16 years olds with the help of the General Directorate of School Assistance and Child Protection of Harghita county.
The kids will be living for a full week with professional carers, trained coordinators and volunteers who will make sure they follow a healthy lifestyle by the following ways:
- organizing and facilitating summer camp style activities where kids can learn more about themselves finding out their strengths and weaknesses and will learn how to improve
- carers and volunteers will make sure, kids will do their chores (washing teeth, showering, wearing clean clothes, returning dirty dishes to kitchen, eating properly etc.) this way kids will get used with a normal lifestyle and will see how other people (volunteers, coordinators) maintain this continuously. Perhaps this will help them to understand the importance of cleanliness and self maintenance.
- planning to bring fun and joy into their life by organizing them well facilitated, high quality activities, like bowling, paintball, T-shirt painting, Yoga classes, Cross-fit games etc. this way they will feel as a regular kid and will be able to create bonds with other kids from an average background.
- during the camp they will be a part of a group of around 30 kids and 15 adults and to enjoy their time they will understand that they have to sustain positive attitude and initiate sustainable relationships with their peers and helpers. They will be in a situation where they will understand that they have to take responsibility for their actions. Probably this is the most important realization that they will go through and will help them to choose a path in their life that will lead to inclusion and success.
At the moment we are working to set up the above mentioned three camps by communicating with our partners, raising funds, reserving locations and accommodations, recruiting volunteers, researching games and activities, looking for possible dates etc.
We will have a much more settled and organized plan as time goes by.