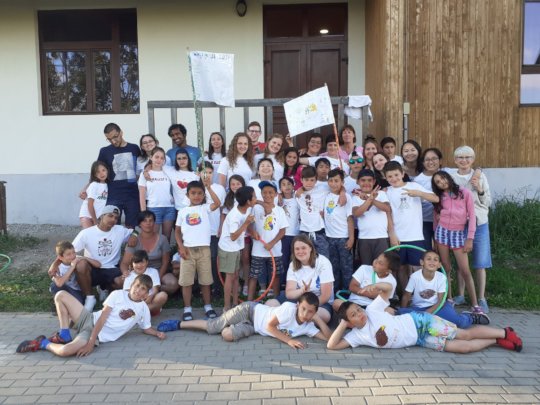 Everybody is aware of the difficult times that have been with us for half a year already. We at Care2Travel have felt them too: we didn't receive any international volunteers for months and had to cut the summer camps that we provide for local disadvantaged youth short, due to the lack of volunteers and to the government restrictions imposed on us. We could tell you how the lack of our services affects the community we serve, but this time we thought we'd give the word to one of our local volunteers who is very involved with us and with the community: Hanna.
At 20 years old, she has profited from the summer camps we provide since she was a child and has decided to become a local volunteer with us at the age of 17. She, like a lot of the children assisting our summer camps, has had a very tough childhood, but let's let her tell you all about it herself.
One thing to note about the interview is that, despite having an excellent level of English for a local from Csíkszereda, we had to complete some of the sentences with additional words in brackets, so that everything is perfectly understandable. This way, you can see exactly what it is that she said and what has been added to communicate what she said better. This interview has been conducted by our international NGO Support volunteer (one of our firsts after the start of the pandemic), Marc Bosch, who was also trying to figure out what Care2Travel really meant for the community and why it's so important to preserve its activities.
Marc: "How/why did you start going to the [Care2Travel summer] camps?"
Hanna: "When I was at the childcare I started to go [to] the camps. I was 10-11. I [met] Peter, Jackie [the founders of Care2Travel] … I like[ed] it really much. I like[ed] it because it was a [good time], but when I was at the child-protection I [didn't] really like that time, because it was horrible for me. But when I [became a] volunteer I liked [it] really much."
M: "So it was like a safe space, right?"
H: "Yeah, it was another thing with the other children, the summer camps [were] really good. I was happy when I [became a] volunteer [as well]."
M: "How many years did you go to the summer camps?"
H: "From 11 years [old] until 17. Because at 17 I became a volunteer."
M: "Why did you want to become a volunteer?"
H: "Because I liked to help the children, I liked to teach them, I liked to play with them…"
M: "Do you think that is because you had so much fun at these camps that you wanted to help other kids?"
H: "Yeah, and I want to help them because I know how their situation [is]."
M: "So you think that these summer camps are really helpful and they mean a lot to these kids?"
H: "Yeah. And they love us [the volunteers] very much. All the time [when] the camps ended, the children [were] crying, they [were] hugging us; the local [volunteers and] also the internationals."
M: "Do you remember a specific story about a kid? Because I'm guessing there are more kids from childcare. Have you met some of these kids?"
H: "Yeah. I met with a lot of [them]. I can't say one [child specifically]. I think I can say for all the children. They love us. And they need that love [that] we give [to] them, because their situation [is] really difficult. Some of them didn't have [a] family or something, and they don't really [know how to] express themselves [and] what they want in life. These camps are really helpful for them because we can [prepare] them for life. Not only for life, but we can help them and they can get good experiences from us. [In] the child-protection, they don't really give good things there. It's difficult."
M: "These summer camps are only one-week long right?"
H. "Yeah."
M: "And do you think one week is enough? Do you think it's powerful enough?"
H. "Yeah, they like [them]. If [the camps] are once [held] for [a] longer time, I [also] think they would like [them] more. But I think one week is good. It's bad when they have to say goodbye, because they don't like the goodbyes: they are [always] crying."
M: "And what do you want to do now? What's your objective?"
H: "I want to go volunteering abroad."
M: "Where?"
H: "I want to go to England, but because of the Brexit I can't. They only had 4 opportunities and they [already] start[ed]. Maybe I'll choose Ireland or something like that close to England."
M: "Your English is good! Where did you learn it?"
H: "At school a little bit, but after that at the camps and the English clubs [Care2Travel provides for the community]."
M: "Are the English clubs only for volunteers?"
H. "Not only for volunteers. Also for locals who want to come. They like [them] really much. We have [them] at the university, but right now because of the corona we didn't have [them] at the university."
M: "Do you think that a lot of people know Care2Travel here?"
H: "Yeah, they know. Also I'm [spreading the word] for them. Inviting [locals] to come to the English clubs. Some of my classmates, one boy and one girl, [were] coming [to] the English club. They know [as well] because C2T went to the schools. They also went to the Romanian high school I studied at."
M: "I like that. It's not only for the kids and the volunteers, it's for everyone. Because if the kids have a good experience and grow, and they end up being part of the community, it enriches everybody. Plus, their parents are also glad that they're having these experiences, which helps the community right away. Those kids grow up and they want to be like you, they want to volunteer…"
H: "I know [a] few of [the kids] from the child-protection who want to come volunteer. They are only 12 years [old]."
M: "What do you think would happen if C2T would cease to exist? What would happen to these kids?"
H: "I don't know. Maybe they´ll need to search for other help. They need [this help]. And C2T is the [only] organization [that] is here in Csíkszereda."
Now that the importance of the work that Care2Travel does is fully understood with the brilliant testimony of Hanna, we want to announce that we want to make up for the summer camps that we weren't able to organize this year. We believe that it's important that these kids continue receiving the support that these camps mean to them and we will not let a year go by without giving it to them. Our plan is to organize after-school camps during this school year, and we need all the support that is available to make that happen. What we'd need for these camps would be educational and learning equipment, some rewards for the kids who try their best, and the ability to host those camps in a paid venue, to give a few specific examples of many.
We want to thank all contributors of the past, because without you we wouldn't even be talking to you about helping these kids, and all contributors of the future, because without you these kids won't receive the proper support that they require to end up being wonderful, caring and helping people like Hanna has proved to be.