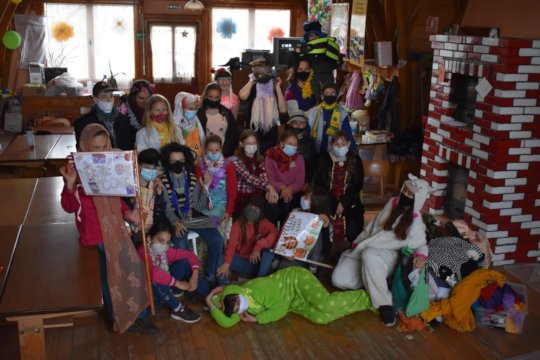 Since Covide regulations have eased up, we were on our way to start organizing our summer camps or at least to offer some outdoor, social activities for those kids who were spending way too much time indoors, taking part in online education, separated from their friends.
The weather has also eased up from the chilly winter and green grass welcomed the kids on the yard of the After School Club in Csíkszentdomokos. We organized two consecutive camps during their short school break to offer them the benefits of our work: learning English, social and life skills through fun activities.
We've got the help of our active and goodhearted volunteers from the Netherlands, Hungary, and Luxembourg. They planned and facilitated all the programs with the kids under our coordination.
During the first camp, we had more drawing activities regarding the younger children. A big difference between the first and the second camp was the weather. Unfortunately, on the second week, the weather was cold and rainy so we could not play too many games outside, even though children like it in general. Some outdoor games we could play with the older or with the younger flow were the dodge ball, aerobics, ball to ten, the fishermen's net, human memory game, and Simon says.
The first week The angry green snakes won, then among the 11 years old, The yellow angry tigers ended up in first place. It seems like being angry makes you a winner hahaha. We gave away gifts to all of the children, they could choose between small notebooks and little animal figured blackboards. They enjoyed their presents and left with fun memories and a sense of many little achievements.
"I enjoyed the camp really much, I liked all of the games because I like the English language and I've learned more interesting things here than in school." This is one of the many positive feedback that the children, who participated in the camps, provided. The volunteers put great effort into coming up with enjoyable activities while also keeping in mind to teach them new English words.
Both camps were very successful and we've even set up a small workgroup with the kids and their relatives to renovate the playground of the After School Club and plant new flowers and vegetables.
It feels good to continue our work after a long period full of restrictions and curfews.
We are very grateful for our donors who made it possible to us to cover our expenses so we were able to facilitate our camps and to contribute to the renovation.
Now our hopes are high and we are looking forward to a very active summer full of laughter and cheering.