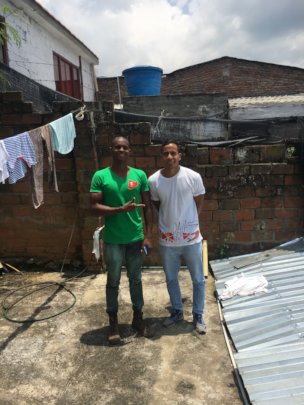 One of the many goals of our engagement in Colombia is convincing young people to stay away from violent groups by showing them a different way of life and helping them along in a period of transition. This is why we are so thrilled about stories like the one of Kevin, which we would like to introduce to you, our wonderful donors.
The setting in which a child is growing up has a profound impact on his future and the one in which Kevin, now 24 years old, was brought up can certainly be seen as problematic. Both, his brother and his father were contract killers and Kevin spent his childhood and early youth in an illegal gang. In a lifechanging incident, a hostile gang killed his father in a vicious attack and burnt down Kevin's home. He was forced to flee into a different neighbourhood. This is where he first got in touch with the local YMCA and thereby the project of Horyzon.
With Paza La Paz Kevin slowly started to realise that his previous way of life might lead into an impasse and a closer look at his former friends supported his views. Some of them became drug addicts, some spent time in prison and a few were even killed. From now on, Kevin was determined to take a turn in his path and that being "the strong guy of the neighbourhood" will not help his future at all. With the support of Horyzon, Kevin learnt how to solve conflicts in a peaceful manner, became a confident and motivated adolescent who was keen on earning his living in a legal way.
After successfully completing his Paza la Paz education, he returned to the neighbourhood he previously fled from and started to build a Gym. Currently, around thirty young guys from this poor neighbourhood go there to work out. Kevin uses these contacts to show them how he transformed and how they can stay away from violence too. While Kevin grew up with guns (firearms) he is now dealing with the other kind of guns (an expression used for a well trained biceps) on a daily basis and you'd have to say: This is so much better, isn't it?
You have made this possible for Kevin and many others
In 2017 the project of Horyzon reached a total of 1'718 youths in Colombia, and so far in 2018 we are on course to level this figure. 196 youths have been educated to become leaders who can, like Kevin, pass their knowledge on to other young people in the poorest neighbourhoods of Colombia and thus show them an alternative to joining violent and illegal groups. 203 young people from the project (119 of them women) were elected to public bodies such as neighbourhood councils, youth councils, etc. 67 income-generating projects, such as small grocery stores or a neighbourhood library, were launched too. In addition, 14'639 people benefited indirectly from the programme. These include, for example, the families of young people visited by social workers or the participants in activities organised by young people themselves.
Our programme is only possible due to your donations and we would like to take this opportunity to express our profound gratefulness! Stay in touch, we will keep you informed.