A big thank you must go out to our donors, we have raised enough money for one set of LED lights. We will be purchasing these lights from South Africa.
Recently there have been no livestock depredation cases recorded in the Matetsi Ward. 4, in Victoria Falls. There were 4 livestock (cattle) losses to lions recorded in October in the area. All four of the attacks took place during the day in the rangeland. Which is showing the usefulness and need of the LED lights as no livestock have been attacked in their pens as these are protected with the LED flashing lights.
Thank you again to our donors we can now protect one more livestock holding pen.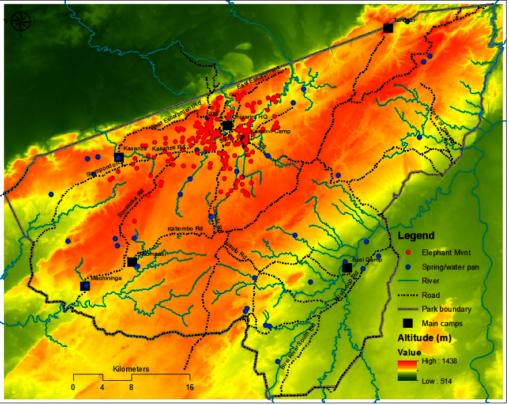 The elephant research initiated by ALERT with Zimbabwe Parks and Wildlife Management as a partner is the first elephant collared in the Sebungwe region this century. The elephant cow named "Nyasha" is part of a herd of 30 animals and the data being collected on her movements, core areas and feeding preferences are tied in with the objectives of the Zimbabwe Elephant Management Plan 2015-2021.

Nyasha has been actively tracked via VHF and GPS over the past two months. The research on this herd has already yielded interesting preliminary data such as home ranges, population dynamics and habitat use, but much more data is needed before the status and condition of the elephant population is known. As can be seen, by the map, Nyasha is utilizing the mid-northern part of the park. With more collars, we will be able to obtain meaningful data of the elephant populations within the whole Park and will be in a position to advise the Parks Authority on conservation measures.

This herd of elephants has not gone out of the Park into the surrounding communal lands to date. Part of the research is to establish the occurrence of any Human elephant conflict incidences outside of the Protected Area and to define traditional elephant migratory corridors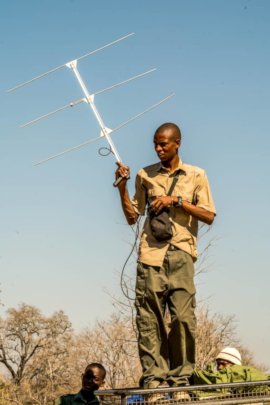 We would like to thank our donors for their extremely generous donations over the past few months. The donations received have helped make a massive difference and contribution towards improving the education of several young scholars in the area. These donations help us achieve our goal of purchasing learning materials such as exercise books, writing and colouring materials, this will give the students the chance to expand their knowledge effectively and give them the chance and ability to take class notes home with them on subjects such as Math, English, Geography and Conservation to name a few.
The received GlobalGiving funds will be used to pay fees, provide stationery and uniforms for 17 kids (10girls and 7 boys) across the three schools we are working with. The students will each receive a stationery supply of 16 writing books, 8 pens, a ruler, 1 sellotape, 3 rolls of khaki cover and 3 rolls of plastic cover to last the school term. The students will receive a complete set of school uniform a dress (girls), shirt and shorts (boys), a pair of school shoes, a backpack and 2 pairs of socks each. For some of our students, it will be their first time getting a full set of uniforms at once. All the supplies will be distributed on the 10th of September when schools open for term 3.
Since it is currently school holidays, we are not able to take any photographs but we can assure you, that the pictures will arrive soon after term 3 begins.
We would like to thank our donors immensely for their generous donations and we look forward to future engagements.
Thank you from the ALERT team.
WARNING: Javascript is currently disabled or is not available in your browser. GlobalGiving makes extensive use of Javascript and will not function properly with Javascript disabled.
Please enable Javascript
and refresh this page.