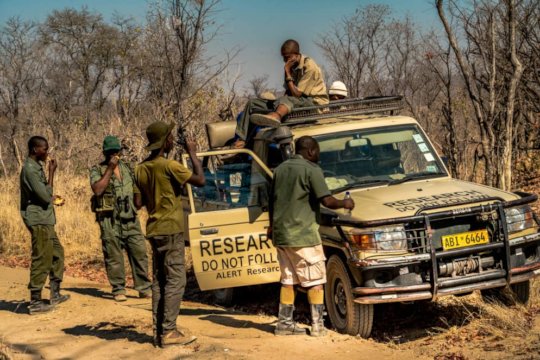 Chizarira National Park (2,000km2) is an isolated and wild Protected Area situated in the north of Zimbabwe. Four of the Big 5 wildlife species are found here including elephant, lions, leopards and buffalo.
In order to assist the National Park Authorities to manage the wildlife in this park, ALERT is carrying out a number of research and monitoring projects so that the park management understands the dynamics of the wildlife population that they are called upon to protect.
The elephant research project was initiated in September, 2019 by ALERT with the National Park Authority as a partner, since no monitoring or research work has been carried out in the park since 1978 and there was no data on the status of the population and whether any management interventions were needed.
PROGRESS
Due to financial constraints only one collar has been fitted to date. A female in a herd of 30 other elephants (with 8 calves) was darted and collared on 18th September 2019. Since that time the herd has been monitored both through GPS fixes and on the ground using the VHF function on the collar.
Sexing the herd which fluctuates between 30 and about 60 animals has not been completed due to the thick bush that they move in but the research team is working towards obtaining herd structure.
Initially the herd moved in the Mabola-Kaswiswi area, but as the dry season progressed they were concentrated around the Bimba, Manzituba and Kasanzi areas where there are perennial springs. When the rainy season started the herd started moving away from this core area and at one stage were found outside of the park (which does not have fences) in the adjoining Communal land. Fortunately they did not stay there and returned to the park.
The data that we are collecting from this one herd is invaluable but we need to collar individuals in other herds to get a better idea of the distribution and status of the elephant population in the park. Elephants are a vulnerable species and the only way to manage them efficiently is to know more about the population (distribution, age and sex ratios, calf recruitment and success, movements, foraging areas, food preference, vegetation destruction, level of threats, etc).