We would like to thank all of our supporters for their support of this fund-raising exercise. Not surprisingly the funds raised was slow and only 15% of the projected amount was raised in over a year.
We are mindful of the fact that there are many people faced with challenging issues caused by the virus and are just grateful to those who were able to so unselfishly contribute help. We have decided to close this appeal but would like to share with you what we have achieved despite the restrictions caused by Covid-19.
The ALERT team has continued with its work in Chizarira National Park and surrounding Communities in the face of a third wave of Covid-19 in Zimbabwe. On the 22nd June our small team was able to successfully dart and collar a large bull elephant and have been keeping track of it throughout the period covered by this report. This project is aimed at obtaining population dynamics of elephants in the park and also to come up with elephant-human conflict mitigation.
We have taken on two attachment students from the Zimbabwean National University of Science and Technology that are carrying out research for their BSc (hons) degree in Forest Resources and Wildlife Management. The one project is aimed at obtaining density estimates of carnivores using two methods: road transect spoor surveys; and camera trap surveys. The camera traps are set out along the spoor transect route. Carnivores are mostly nocturnal and are often difficult to see. These methods are an acceptable way of determining what carnivores are around and give a measure of density. The other student is carrying out an insect survey in six different vegetation types. All of this information is available to the Park Manager and staff so that they can be supplied with ecological information that they would not normally have of this 1,910km2 park.
Our school conservation programs have been put on hold but as soon as restrictions have been lifted we have some exciting projects for the high school students living on one boundary of the park.
Thank you all once again for your support. We wish you safety and a positive attitude as we face the uncertain future.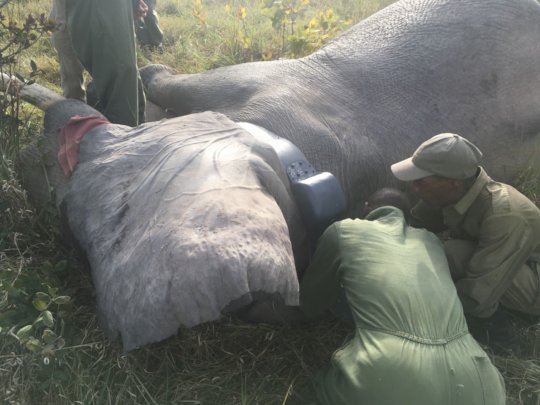 The elephant research and monitoring project in Chizarira National Park is progressing well despite all of the negative things that seem to surround us all at this time.
On the 26th April 2021, the ALERT team led by Dr Monks was able to collar a large bull elephant. The GPS collar unit beams a signal to a satellite giving updates of the animal's position during the transmission time. We have set the collar to transmit every 6 hours through the 24 hour period, i.e. 4 downloads a day.
Locating elephant in the Park was not an easy task. The Park received exceptional rains this last season (November – April) and the grass was towering over our heads. The National Park Ranger that was assigned to assist us asked me to stop the vehicle at one very thickly grassed area. He then climbed a large tree nearby and excitedly gestured that there were elephant about 1 kilometer ahead. We got the equipment for darting and collaring together and began walking through the tall grass in the direction that the elephants were in. In some places the ground was marshy and we could not keep our footsteps quiet as we sloshed through mud and water. Eventually we saw a big bull elephant ahead of us. He was facing away from us and appeared to be sleeping on his feet. The rest of the herd (about 25 animals in a breeding family group) was browsing about 150 meters in front the bull. Dr Monks and a Parks Ranger crept up to within 30 meters of the bull and was able to dart him in the rump. His head shot up and he looked around and then relaxed. After about 3 minutes he walked towards the rest of the unconcerned elephants and slowly went down on his side. The family group ran off when they saw the team and we were able to fit a collar and carry out some basic measurements before reviving the bull. The reversal drug takes about 3 minutes to begin taking effect; first the ears start moving and the animal starts to ponderously get back on its feet and slowly move off.
The surrounding Community of subsistence farmers are keen to have more elephants collared so that we can warn them of potential crop raiders. They will then take action (fires, noise, and dogs) to prevent the elephant destroying crops. At a Rural District Council (RDC) workshop held at Binga on 6th and 7th April, to look at human-wildlife conflict and what mitigation measures could be used, ALERT was commended for the work that it was doing in support of communities.
Our elephant and lion research ties in with supporting the local communities and we are proud to be making a difference. The attached map shows just how far out of the park and into the Communal Lands elephants move. Thank you for your support. We and the surrounding communities deeply appreciate it.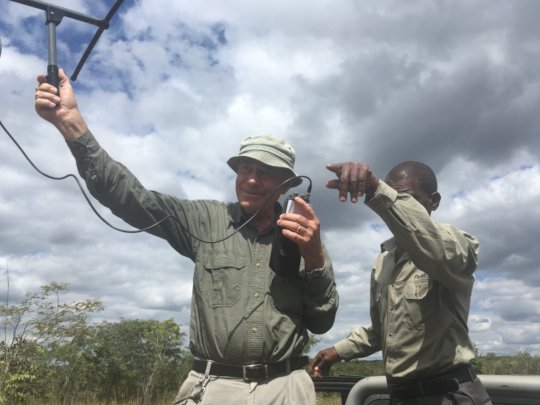 Helping Communities who live on the boundaries with Protected Areas with human-wildlife conflicts is a major aspect of ALERT's Community program. This report concentrates on the communities to the north, west and east of Chizarira National Park. The Park is nearly 2,000km2 in extent and the Community we are actively involved with is the Mucheni Community.
Living next to an unfenced National Park such as Chizarira makes the villagers vulnerabkle to wildlife incidents. Our role is to mitigate these incidents as far as possible using none-lethal methods and forewarning villagers of possible raids by elephants, lions and spotted hyaena.
As a means of forewarning Communities of a possible raid by elephants or lions we (together with the management of the park) are collaring lions and elephants in the park so that we are able to track their movements and identify hot spots that will need special attention. As the animals move towards the villages, we are able to alert the villagers to take precautions such as building fires around fields and ensuring that the livestock is kept secure and guarded.
During the period covered by this report we managed to collar a bull elephant and were able to warn villagers of a possible raid. The bull was photographed using a trail camera on the edge of the Park which makes the project very real to us and the villagers.
In addition we attempted to collar a male lion that was a potential problem but we failed in this endeavor. Two University attachment students joined us and we built a hide from which to dart the lion. A big leopard came up to the meat we had hung from a tree and later a spotted hyaena came up and ripped the meat off the tree. A lion was roaring nearby and we could tell by the volume of the roar that he was coming closer but he did not come up to that bait. When we left, the lion came up to smell the tree that the bait was on and he was captured on a trail camera.
We will continue our mitigation work this next period by putting in predator-proof holding pens for wildlife and will continue to attempt to collar more lions and elephants so that we can work out movements and potential hot spots that will need our attention.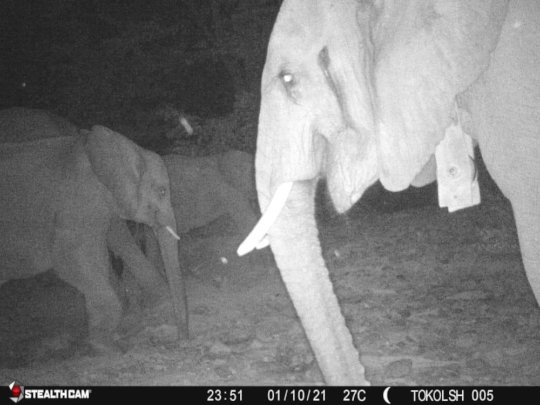 WARNING: Javascript is currently disabled or is not available in your browser. GlobalGiving makes extensive use of Javascript and will not function properly with Javascript disabled.
Please enable Javascript
and refresh this page.