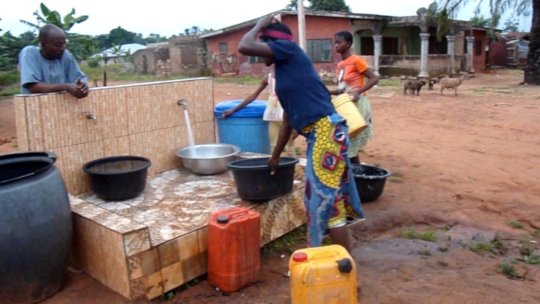 It's almost two years since the commissioning of the first phase of water supply project in February 2018 which provides potable water to 13,000 rural dwellers in Nigeria. Also, the second phase which extended water supply to additional 7000 rural dwellers also commenced earlier this year. DFRHCE is currently carrying out maintenance works on affect part of the community taps which were damaged due to continuous use, to ensure they are in good conditions to serve the community. The increasing populations on the existed water sources have necessitated the need for these repairs.
Rationale for the second phase of the water project.
The phase 2 water project is aimed at extending the water supply to one adjoining community "Igbira Farm Settlement Community". This reduces the burden on our already existed water platform which has 10,000L with supply outlets in two platforms of 4 taps. This new arrangement will add two storage tanks each of 5000L capacity to the existed 10,000L storage to have a total of 20,000L storage capacity. Besides, this new 10,000L storage on top of a 3feet concrete platform will ensure a continuous flow of water into the storage from the artesian water source. Each storage is 10 Feet high placed on a 3 feet high concrete platform. Together, pressure from this 13 feet high column of water can drive water flow to the first two immediate communities for 24 hours without any mechanical support. However, solar power is still needed to enable us drive the water to all our index communities.
The water from the storage will in turn be channeled through underground pipes to other parts of the immediate and adjoining communities. This will further reduce the current burden on the water source, end irregular water availability and increase water supply to another 7000 rural dwellers in adjoining communities. With most of the materials already on ground, implementation for this phase is expected to be completed by the end March if there is no disturbance as a result of the ongoing national elections in Nigeria.
Dako Foundation for Rural Healthcare and Education (DFRHCE) wishes to thank you- our esteemed donors for your immense support so far in completing the first phase and commencing the second phase of the water project. We still need your continuous support to get to our desired destination; solar power installation phase and the extension of water to all our index communities.
Overall water project
In Nigeria, access to safe and regular water supply is a major challenge as clean and regular water supply have not kept pace with the rapid rate of population increase. Water scarcity, poor water quality and inadequate sanitation negatively impact food security, livelihood choices and educational opportunities for poor families and lead to water borne diseases such as diarrheal, cholera, typhoid, hookworm etc. This situation is particularly worse in underserved rural communities where most of the children die due to preventable diseases associated with inadequate water supply, sanitation and hygiene. This situation is very rife in the communities where DFRHCE implements a water project to serve 13,000 rural dwellers.
OverallProject Overview
Construction of a 40 feet (ft) high scaffolding at the artesian water source in order to carry 10,000Litres of water reservoir, solar panel installation and water distributed through extension pipes to six (6) other neighbouring communities at a distance of 5 kilometers.
Project Location: Iyerekhu, Edo State, Nigeria.
Project Reach: The project is expected to provide water supply to reach 13000 people in total; 6000 people in its primary community and another 7000 residents through its water extension from the source to neighbouring communities.
Phase 1 Project Implementation Successes.
The first phase of the water project has been successfully completed and commissioned. Activities carried out in this first phase include.
Project site preparation and maintenance
Fully installed artesian water source with completed plumbering
Construction of basement for water scaffolding
Construction of a 40ft high steel scaffolding
Provision of 10,000L water storage
Extension pipes to two community water sources.
Completed two fully tiled community water extension platforms
Completed; four community taps
The phase two water extension project is expected to benefit communities and end their lingering inability to access regular potable water supply. Being the first of its kind in providing water supply across communities. With continuous support, we hope to replicate this project in other communities that lack access to water supply.
Our donation link https://www.globalgiving.org/projects/potable-water-supply-to-13000-villagers-in-nigeria/ is still active on GlobalGiving and opens for donations. Please donate now. The donations would help ensure timely and successful completion of the next phases of the water project to 13,000 rural dwellers.
Thank you for your donations towards providing potable water to 13,000 rural dwellers in Nigeria. The successes recorded so far have been made possible due to widespread donations from all our donors in the UK, Canada, Australia, Europe, America, South Africa and Nigeria. Your donations, irrespective of the amount, helped us achieve these successes. While we hold all donors in high esteem, we will as well not forget to appreciate one of our major donors, Dako Medical Centre Limited (Nigeria) for its immense contribution towards the completion of the first phase of this project especially during times of low funding challenges and the urgent need to provide water to the immediate host community. We look forward to continued support from all our donors as we further provide potable water to underserved communities in Nigeria.
Thank you,
Dr Mamudu Dako
Founder/CEO, Dako Foundation for Rural Healthcare and Education (DFRHCE).