For the past 29 years, ednica has sought to ensure that street children know, defend and exercise their rights, especially the right to education.
During this time, we have seen that education opens up possibilities for them to improve, incorporating them into school reduces their time spent on the street and allows them to have access to better living conditions.
During this period, thanks to your support, we were able to get 140 children and adolescents who work in the public space to enrol in school and keep studying.
We would like to share Rosely's testimony with you.
Hi, I'm Rosely, I'm 10 years old and I'm from ednica Ajusco.
I have been coming to ednica for 4 years. Here I have been taught addition, subtraction, multiplication, division, addition and subtraction with a decimal point, and that for me is going to be useful for my school and my exams. In reading I have been taught what is important in reading. I like stories because they help us to know about hygiene, firemen or princesses.
I attend the tournaments and at the end they give us a small lunch. I have learned not to fight and to be angry, we have to be kind. And if we are going to go for a walk we have to be punctual and not miss. I learned that we have the right to play, to study, to eat, to health, not to work when we are children.
As you can see, our educational program goes much further than just incorporating them into the school, we want them to be happy children, self-confident and good citizens. Once again, thank you for making it possible for children who work on the streets of Mexico City to have access to their education.
We invite you to continue trusting in us and to continue with your support. Translated with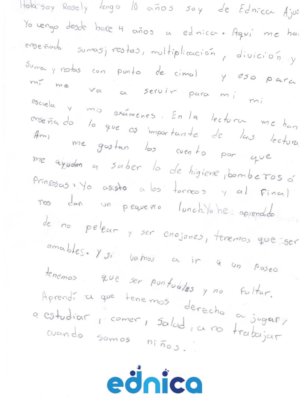 Links:
Attachments: