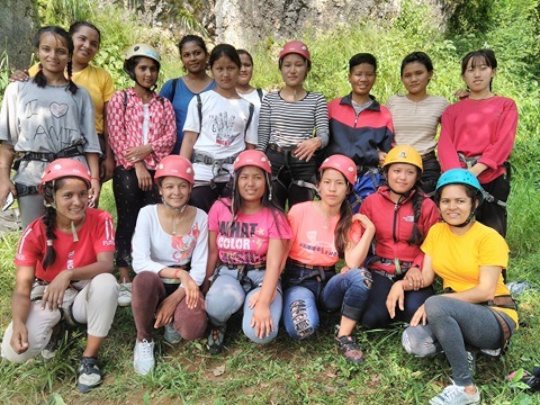 Her father took her to Nepal when she was four, left her with his sister and went back to India. Mina didn't know her mother and father. When she got older, she asked her aunt about her parents and she replied that she didn't know where her parents were. Her aunt had a big family and had financial problem, which caused her to drop out of school during her seventh grade. She was helping her aunt in the field and at home.
She was just 14 years old when her aunt persuaded her to marry with nearby village man and the man told her that he was going to send her to school. After marriage, her husband sent her to school and later he went abroad for work. Her laws used to tell unnecessary things about her. Her husband scolded her on the phone. Every family member hated her and did not give her enough food to eat and rather give lots of work. By this behavior, she left home and went to Syangja and began to work in a hotel. They didn't come to look for her to take back during that time. After 4 months her family came to the Syangja Police Office to give her divorce notice and she was happy to give divorce. And she was still working at the hotel, and she met the man and shared her story and he told her to come to Pokhara so he could help her to find a job. She came to Pokhara and asked what you want to do and she replied that she wanted to continue her education. He sent me to the Children Home and completed her grade 12. After that she joined our female trekking guide training to learn skills and earn for her livelihood. She feels now confident in herself. Now she is working as an assistant guide at 3 Sisters Adventure Trekking Company.
Many Nepali girls are deprived her education because of poverty, marginalization, discrimination, socially excluded families to continue and support children's schooling where parent's income is even not sufficient to fulfill the basic needs such as food and clothing. Also in Nepal, many parents prefer not to invest in a girl's education because girl will be married within a few years leaving house after marriage.
The scholarship fund has been established so that deserving children from low income families can get education despite their financial difficulties. EWN provide financial support to educate a child upto grade 10, covering the tuition, a school uniform and stationery. Education empowers girls to fulfill their dreams. More than 10 children of our children home are now pursuing higher education and some are doing job. Education helps them in economically independent and supporting their families. They can fight for their rights and discrimination. Currently we are supporting 10 children with full scholarship.
Education Support to Disadvantaged Nepali Children Project is deactivated from GlobalGiving as for this year EWN got fund and will continue this project to support marginalised children . EWN has two other Nepali young girls and women empowerment projects besides this Education Support project on GlobalGiving.
Thank you to all our donors for your continued and generous support. We greatly appreciate your help.
Help us help to improve the world, one woman at a time. Your donation is very welcome and highly appreciated. You can support us here in GlobalGiving.
EWN Girls Get STEM Project is a six months project for underprivileged school girls. Its goal is to provide STEM training to promote an interest of these girls in STEM (Science, Technology, Engineering and Math) skills. We started STEM program on December 4, 2015 in 3 different public schools with 270 girls in Pokhara. Later we continued this program in another school-Mahendra Secondary School with 104 girls in 2018 to motivate and build confidence in foundational STEM such as computer literacy and scientific problem solving to the disadvantaged girls. . To start our next STEM program, EWN organized 2 days STEM ToT to 3 school teachers of Shree Krishna School on Aug 2 and 3, 2019.
Girls mainly our country Nepali girls are marginalized in science, engineering, math and computer to the degree of their male counterparts in certain scientific interests and participation by the time they complete school level. Many girls may have an interest in STEM and enjoy it. But they do not always have the same opportunities as boys to complete and benefit from an education of their choice. Many girls are held back by biases, social norms and expectations influencing the quality of the education they receive and the subjects they study.
The beneficiaries are young school girls ages 12-15 studying in grade 6,7,8 and 9 who have no access to computers at home and attend the schools that are not well facilitated. A trainer lead sessions on every Friday afternoon after school hours. Trainers are school subject teachers who are providing training to strengthen and enhance awareness of the importance of STEM education for girls.
WARNING: Javascript is currently disabled or is not available in your browser. GlobalGiving makes extensive use of Javascript and will not function properly with Javascript disabled.
Please enable Javascript
and refresh this page.