EWN Girls Get STEM Project is a six months project for underprivileged school girls. Its goal is to provide STEM training to promote an interest of these girls in STEM (Science, Technology, Engineering and Math) skills. We started STEM program on December 4, 2015 in 3 different public schools with 270 girls in Pokhara. Later we continued this program in another school-Mahendra Secondary School with 104 girls in 2018 to motivate and build confidence in foundational STEM such as computer literacy and scientific problem solving to the disadvantaged girls. . To start our next STEM program, EWN organized 2 days STEM ToT to 3 school teachers of Shree Krishna School on Aug 2 and 3, 2019.
Girls mainly our country Nepali girls are marginalized in science, engineering, math and computer to the degree of their male counterparts in certain scientific interests and participation by the time they complete school level. Many girls may have an interest in STEM and enjoy it. But they do not always have the same opportunities as boys to complete and benefit from an education of their choice. Many girls are held back by biases, social norms and expectations influencing the quality of the education they receive and the subjects they study.
The beneficiaries are young school girls ages 12-15 studying in grade 6,7,8 and 9 who have no access to computers at home and attend the schools that are not well facilitated. A trainer lead sessions on every Friday afternoon after school hours. Trainers are school subject teachers who are providing training to strengthen and enhance awareness of the importance of STEM education for girls.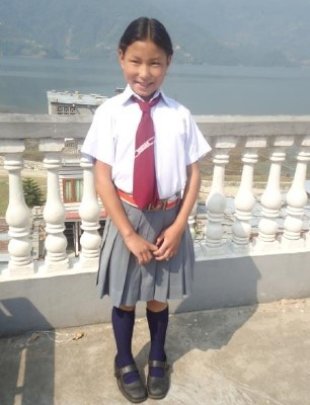 She used to take care of her brother, collected water, and fetched water at home in the high mountain. Her father is a yak herder and is the only breadwinner for the family of four. Due to poverty Latun was sent to the district headquarter to work for a family. She comes from one of the most remote district of Nepal-Dolpa, West Nepal. She was eleven years old when she was admitted at our Children Home through her mother who knew about our Children Home Program. She was fortunate to get EWN Children Home. In 2018 she passed the SEE (Grade 10) exam with great grade. Now she is studying in grade 11 at good school in Kathmandu.
Everyone has their own life. Life is filled with happiness, sadness, tears, smiles, laughter and emotions and everyone has their own life story. So, I have my own separate story. In my family there are five members in my family. Now I am studying in government school -Mahendra school at grade 9. I am studying here from grade 3. Before this school, I was studying at Shree Saraswati Secondary Boarding School. I had to shift to this school at the middle session of grade 2 because my family economic condition was weak. At that time I left school and six months gone by just staying at home. At that time I was not capable to go to government school too. By seeing this condition, an NGO helped me to join grade 3 at Mahendra school. This organization provided me school dress, books, notebooks and pens. Again I started to go to school. After that, also my life was filled with sorrow. When I was 10 years old, there was a big fight in my home. At that time my father did not work. He lived at home drinking alcohol, not paying room rent and it was difficult to get one meal a day. House owner asked to shift the room by not paying rent at time. Due to this problem, my father fight with my uncle, who lived in same house. At that time my uncle told my father to do work and send the children to school.
After that my uncle took me with him and since then me and my mother lived with my uncle. That organization supported me for four five years. If I was not come with my uncle, I will be in same situation. After that organization, my uncle supports me in my all education expenses. About four five years had be gone by living with my uncle. But now also my home situation is worse than before. Not able to pay room rent on time and also my father unstable job- doing whatever job he get and also hanging without job for a month. As my father did not work properly, my mother worked in river bank mining site which is a source of a day's food for us. The amount earned from this labor is not even sufficient to eat a meal. The situation of my family becomes worse than precious as before I was only child and now there is addition in my family by 8 years old sister and 3 years old brother. My sister studies in the same my current school and my brother in nursery school. My brother school fees had not been paid for long time and don't know when he will be out from school. It is very difficult to send them in school and I can't do anything though I want to do.
Sometimes when I go with my friend, my mother or my uncle gives me money. When I roam and hang out with my friends, I forget all my worries. Sometimes there is also happy moment in the home. My uncle is very supportive in my education. I love my uncle more than my mother who gave me birth.
I like to go in new places and hang out with friends. I also like to study and STEM class provided by EWN. How hard and sorrow in life is also a part of life and enjoying a life is in its side. Sometimes happy and sometimes sadness is a part of my life.
WARNING: Javascript is currently disabled or is not available in your browser. GlobalGiving makes extensive use of Javascript and will not function properly with Javascript disabled.
Please enable Javascript
and refresh this page.