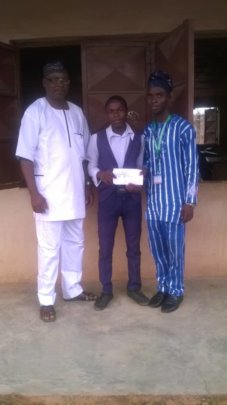 JOSHUA BECOMES THE FIRST ILE-IFE BENEFICIARY OF ISERH WASCCE SCHOLARSHIP
Initiative for Sound Education, Relationship & Health (ISERH), an NGO situated in Ilesa, Osun State recorded another great accomplishment as its horizon is extended to Ile-Ife for the first time since her annual scholarship competition, Aspiring the Best Competition (ABC) started. Ile-Ife was given a center for the first time, for the purpose of giving willing and brilliant high school students whose parents could not afford to pay for their high school leaving certificate examinations an opportunity to be tested and won the ISERH scholarship and become ISERH Ambassadors.
ISERH Ambassador Joshua stood out among the Ile-Ife candidates for the 2017 Aspiring the Best Competition (ABC) as he made the cut-off mark of 75% in the competition. He was subsequently inducted into ISERH Ambassadors' Forum alongside other 17 beneficiaries on Saturday, 3rd of February, 2018. His performance won his coach who doubles as his school principal - ISERH Excellent Teacher Award. ISERH Amb. Joshua prize got delayed as a result of his late arrival to the ISERH 2017 ANNUAL RECOGNITION AWARDS.
ISERH Monitoring and Evaluation Officer, Mr. Olayemi, was at Amb. Joshua school, Saint Paul Anglican Model College (SPAMOCA), Ayelabowo, Ile-Ife on Friday, 6th of April, 2018, to present him his WASSCE fee and Ambassadorial Certificate.
While addressing the students, ISERH M&E Officer admonished the students to be diligent in their studies and always work towards excellence in everything they partake in. He encouraged them never to lose confidence in themselves and never get scared of picking up challenges - as challenges make a man. He thereafter reiterated ISERH's and her partners' commitment to keep brightening the future and hope of the children of common men and to relentlessly work towards securing the future for the uncared-for. He informed them to access
www.abcexam.iserh.org
to register for the
2018 Aspiring the Best Competition
(ABC) as the portal would be closed for registration on
Sunday, July 1st, 2018
.
The principal of the school who doubles as ISERH Excellent Teacher Awardee commended ISERH for her level of commitment and leadership development initiative. He prayed to the Lord to bless Nigeria with many more of ISERH in order to wipe the tears of less privileged and secure their future, while he commended and prayed for ISERH team, management, and partners/sponsors. He then admonished his students on punctuality as lateness was the only reason why Amb. Joshua WASSCE fee and Ambassadorial Certificate was delayed till the day.
As ISERH prepares for this year's edition of her Annual SSCE/UTME Scholarship and 2018 Aspiring the Best Competition (ABC), we hold the belief that students, teachers, parents and our partners/sponsors are getting ready to make it a huge success. We wish the prospective candidates a huge success.