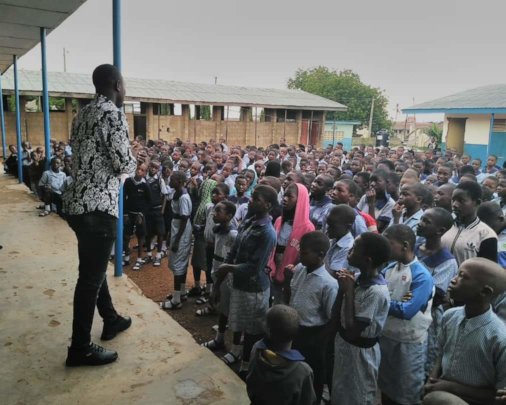 'TEAM DREAM' SCHOLARS TRAIN OVER 300 JUNIOR SCHOOL'S STUDENTS
It was a cold and gloomy morning on the 8th of May 2019, but this didn't deter: Scholar Oladeinde, a 400-level Biochemistry student of University of Ibadan; Scholar Azeez, a Surveying and Geoinformatics graduate of The Polytechnic Ibadan; Scholar Achidi, an Economics graduate of University of Ibadan; Scholar Abdulfatai, a 400-level Computer Science student of the National Open University of Nigeria, from implementing their capstone project on the assembly ground of Methodist Grammar School, Bodija-Ojurin, Ibadan, where over 300 JSS1-3 students of the school were trained on the topic: 'Your Dream and You', in fulfilment of the requirements to graduate from ISERH Undergraduate Studies Class 2.
Despite being a dull morning, the scholars were surprised at the enthusiasm of the energetic students, which created a bright ambience for learning. The topic – 'Your Dream and You' was chosen with the aim of educating the youngsters on breaking the societal stereotype imposed on them, and to empower them in following their passion towards fulfilling their dreams. They highlighted eight questions vital on the path to living our dreams: The Ownership question, Clarity question, Reality question, Passion question, Cost question, Tenacity question, Fulfillment and Significance questions.
Having successfully implemented this project, they have hereby fulfilled a part of the requirements expected of them to graduate and get inducted as an ISERH Associate Ambassador, and if all things being equal, they shall have unrestricted access to the resources available on the Ambassadors Portal - starting from Saturday 25th of May, 2019, immediately after their convocation and induction ceremony on the class platform.
ISERH Undergraduate Studies is a FREE online course where African undergraduates and fresh graduates are trained (via whatsapp class) by professionals, for a period of 5 months (minimum) on leadership, socio-economic, relationship and entrepreneurial skills. The students of the course are referred to as SCHOLARS, and upon the fulfilment of 75% attendance rate, 50% facebook engagement rate, filling of online graduation form, and implementation and reporting of capstone project, they get convocated and inducted as ISERH Associate Ambassadors. This gives them unrestricted access to ISERH Ambassadors Portal (http://ambassadors.iserh.org) where they can freely have one-on-one chats with a group or individual Ambassadors and their facilitators, have access to internship, fellowship, jobs adverts; audio/video lectures; books; and lots more.
From all of us at the Initiative for Sound Education, Relationship & Health (ISERH), we say 'Congratulations to you' and as well give credit to Mr Luqman, ISERH Director of Studies, who trained the Scholars of ISERH Undergraduate Studies Class 2 on YOUR DREAM AND YOU.
Signed: