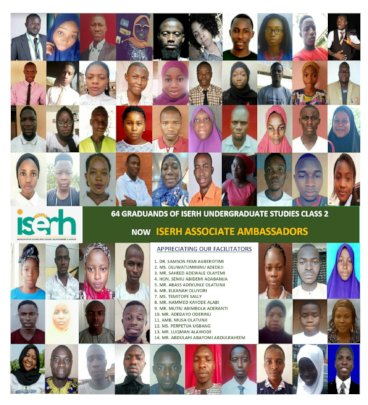 ISERH GRADUATES AND INDUCTS 64 AS ASSOCIATE AMBASSADORS
It was a long journey of about 5 months that started on the 5th of January, 2019 with 247 Undergraduates and Fresh Graduates from Ghana, Kenya, Malawi, Liberia, Sierra Leone, and Nigeria that got admitted into ISERH Undergraduate Studies Class 2, out of 292 applicants from 8 countries. They all came in with the high hope, courage and determination to be trained by our various world-class facilitators on Leadership, Socio-corporate, Relationship, and Entrepreneurial Skills. The free course was held on Whatsapp every Saturday while the scholars were expected to record a 75% attendance rate, 50% facebook engagement rate, and implement a capstone project, either as a group or individuals, in order to graduate and get inducted as ISERH Associate Ambassadors.
It was indeed a battle for survival and can simply be seen as the quest for the best. Only 64 scholars of the course met all the requirements expected of them to graduate and get inducted as ISERH Associate Ambassadors. They are the courageous, highly determined, refined, outstanding, and industrious, who defiled all odds to see to the end of the course. They handled the course as if it's certificate is equal to degree's. They formed groups in some cases, for the purpose of implementing the capstone project. Many made themselves 'a lone ranger', in the quest to implementing their capstone project. Coming in contact with them on the field would make you take their capstone project for their undergraduate's project.
We have never seen such courageous and determined young men/women as these our ISERH Associate Ambassadors. A new family has been born for them/us all, as they now have unrestricted access to the pool of undergraduates and graduates from African countries that made up this network. Aside this, they can now access various resources: human, opportunities, fellowships, internships, trainings/seminars, books, motivational/lecture audios and videos, jobs opportunities, mentorship, counseling, etc via our Ambassadors Portal as they possess their unique login details to the site: http://ambassadors.iserh.org.
Our inducted Associate Ambassadors are undergraduates/graduates of the following institutions:
1. Obafemi Awolowo University, Ile Ife (4)
2. University of Ibadan (6)
3. Kwame Nkrumah University of Science and Technology, Ghana (1)
4. Adekunle Ajasin University, Akungba Akoko (1)
5. Kwara State University (6)
6. Lagos State University (5)
7. University of Ilorin (12)
8. Ladoke Akintola University of Technology, Ogbomosho (20)
9. The Polytechnic Ibadan (1)
10. Federal University of Agriculture Abeokuta (8)
11. Kogi State University (1)
12. Bauchi State University, Gadau (1)
13. The Federal Polytechnic Ado Ekiti (1)
14. National Open University of Nigeria (1)
15. Federal Polytechnic Ede (2)
16. Adeyemi College of Education Ondo (2)
17. Ekiti State University, Ado Ekiti (2)
18. Enugu State University of Science and Technology (1)
19. Women's University In Africa, Zimbabwe (1)
20. University of Maiduguri (1)
21. Moddibo Adama University of Technology, Yola (1)
22. Federal University of Technology Akure (1)
23. Michael Otedola College of Primary Education (1)
24. Federal College of Agriculture, Ibadan (1)
25. Institute of Public Administration and Management, Freetown (1)
From all of us at the Initiative for Sound Education, Relationship & Health (ISERH), we appreciate all the facilitators who freely trained these youngstars for the period of 5 months, and we enthusiastically commend the Associate Ambassadors for their doggedness, determination, ruggedness, focus, and courage in pursuit of the course to the logical conclusion. Congratulations dearest!
With these amazing Ambassadors, we have a high hope for the future of our continent and the world at large, as they have pledged to disseminate the knowledge garnered via the course to other young people around them. There is no doubt in us that they shall keep striving to becoming ethical leaders we trained them for.
God Bless You All.
You are our LOVE and FUTURE.
Signed:
Links: