Dear Supporter of Girls and Women in Burkina Faso,
School's out for summer.
We ended our 2019 MHM program in high schools in Fada with a bang. BARKA inaugurated the eastern region's first two "MHM cabins" to provide resources to girls to hygienically manage their periods while at school. There are only a small handful of such cabins in all of Burkina Faso. The BARKA Foundation was recognized by the Ministry of Education and Ministry of Women for its work to support Menstrual Hygiene Management.
The entire team is now working on the development of a more significant phase of the project which will introduce menstrual cups to Burkina Faso for the first time in its history.
Why do we love menstrual cups?
Saves Money: Reusable, one menstrual cup lasts

10

years
Safe: Made from medical-grade silicone; low risk of toxic shock syndrome
Convenient: Can stay inserted for up to 12 hours,

capacity

of 4 pads
Comfortable: Once inserted

properly

, the user cannot feel it
Eco-Friendly: Zero solid or plastic waste
Easy to Use and Clean: Only 1 cup of water needed to clean; ideal when water is scarce
Private: No smell, less leakage or stained clothing
Promotes Confidence: Increases comfort and confidence during everyday activities
So BARKA now has its work cut out for itself. We must define the scope and impact of the project, write up the narrative, delineate budget details, engender partners, and raise the necessary funds for implementation.
We will keep you apprised of our progress. We want to thank you for your generous support, and especially those of you who have committed to a monthly donation for this project. The support of this project has been overwhelming and has truly humbled us. We are so grateful to you and feel truly blessed to be working with you to be of service to girls and women in Burkina.
Links:
Last month, BARKA's professional Theatre Troupe revived its original production "Water for the Present and for the Future" for a ten-performance tour throughout communities in Fada N'Gourma.
The play focuses on hygiene education, the need to collect small micro-payments from water users for sustainable water resource management, and the importance of the role of women with regard to water resources for the community.
In this project, we focused on building the capacity of local water committees who are the stewards and caretakers of the local water points. This play sensitized communities on the issue of the need for water users to pay small sums of money so the committee will have funds to repair the pump when it eventually fails. Before and after each performance the local water committee was able to address the crowd and discuss and issues or problems they're experiencing.
The project was made possible through a grant by the US Embassy of Burkina Faso which was announced last year during the Gala Dinner of The Water Fair. Together with a gift from the First Lady of Burkina Faso, the US Embassy grant inaugurated the International Water Fund which is focused on water, sanitation & hygiene education in the eastern region of Burkina Faso.
The tour was a great success. Crowds were large and very receptive. After each show, the troupe led the audience in a discussion of the issues raised by the play and these post-performance debates were lively. The play was performed in front of 4500 people with an average audience size of 450.
Burkina Faso is one of the most illiterate countries in the world. In such an environment, theatre is a creative and cost-effective way to convey complex concepts in ways that can be understood and remembered leading to behavioral change. The filmed performance of "Water for the Present and for the Future" will soon begin screening on Burkina's national bus lines to continue to expand the impact of its important social messages.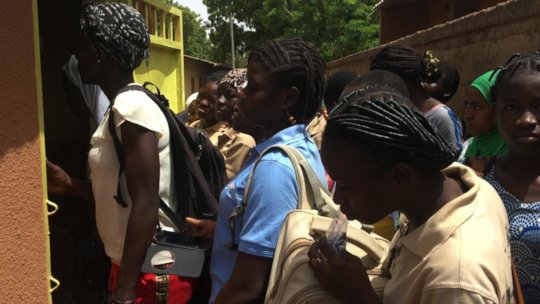 Unless you're subscribed to this project's newsletter, you might not know that a girl's period could mean the end of her education. Yet that is exactly the case in Burkina Faso and many other developing nations where menstruation is a taboo subject, and resources for menstrual hygiene management (MHM) at schools are non-existent. Consequently, girls stay home, miss classes and exams, fall behind, and often drop out entirely.

In Burkina Faso, only 1% of girls complete their education.

With your help, BARKA Foundation is supporting girls in 7 high schools in Gourma Province to overcome this preventable situation, to end "period poverty" and to create "menstrual equity".

Today is International Menstrual Hygiene Day, a time to focus on raising global consciousness around this important issue to support girls' rights, education and empowerment. Earlier today, BARKA unveiled its first two "MHM Cabins", a new, simple and powerful resource that will provide over 2500 girls and women with a way to safely, privately and healthily address their menstrual needs at school. The cabins will be maintained by MHM Clubs at each school which BARKA's project leaders trained and will provide clean water, soap, a place to wash clothes and shower when necessary. These basic resources are not provided for in girls' latrines or anywhere else in school, making the MHM cabins a vital resource for girls' menstrual health which BARKA has worked for the past 2 years to put in place.

Together we are breaking the silence and ending period poverty in Burkina Faso.
Thank you for your help and support of this important issue for girls to take control over their own bodies and health.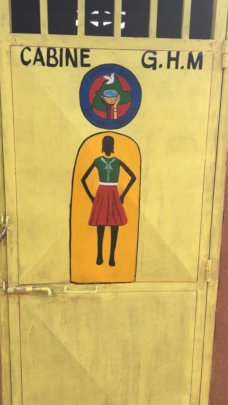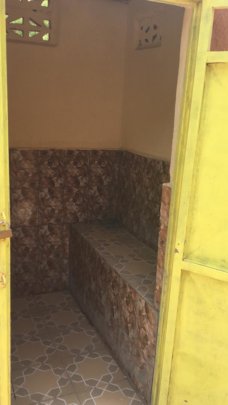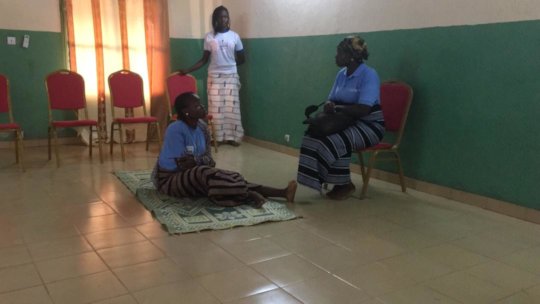 WARNING: Javascript is currently disabled or is not available in your browser. GlobalGiving makes extensive use of Javascript and will not function properly with Javascript disabled.
Please enable Javascript
and refresh this page.