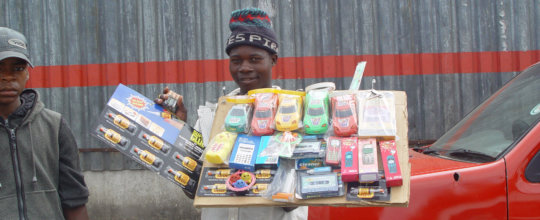 In order to see children thrive we need to empower their parents, in the longterm, the parents are the best ones to help their children.
Audrey is the breadwinner for her family of 8. Her husband is unemployed and she has six children, the youngest is under the age of 2. If Audrey is not strong enough to work and care for the family they would not eat, and it is likely the children would drop out of school.
Every day, Audrey carries water on her head from an outside tap to her home to use for cooking, cleaning, doing dishes, washing clothes by hand and drinking. Audrey cooks food for her family over a briquette of charcoal which takes time and effort.
Daily, Audrey walks to and from her job of being a domestic worker where she is physically busy the whole day. Audrey does not have enough money to purchase adequate food for her family, especially food which includes a balanced diet.
Nucleo has greatly helped Audrey. Being HIV positive, she has a compromised immune system. With her current state in life, she is not consuming enough calories to equal the amount she burns each day.
Nucleo has saved Audrey's life. In July of 2018, Audrey had a CD4 count of 340. Today, she has a CD4 count of 693. Since beginning to take Nucleo powder in a glass of water every day, her CD4 count has more than doubled. Additionally, Audrey has started using nut powder with her meals and cooking her nshima (corn meal staple) in water which came from her cooked vegetables.
Audrey has a difficult life. Nucleo is helping her to be strong in it and care for her children.