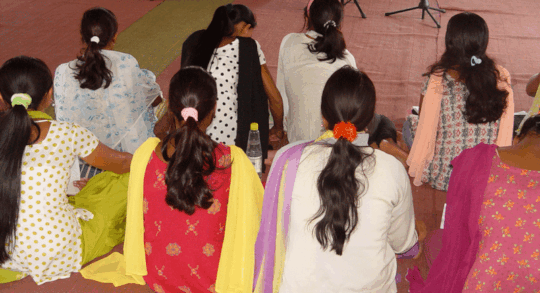 Last month the team travelled to a remote rural part of Nepal and conducted an HIV awareness programme.
People came the from different villages to hear what the team had to say.
Many had no prior knowledge about HIV or AIDS. Those attending learnt about what HIV is, how to prevent it and ways that it can and cannot be transmitted. They also learnt about HIV treatment for those who are infected (ART).
The team used drama illustrations, which helped those present to clearly understand what they had been taught. They also shared their own stories of living with HIV.
A 17 year old girl shared "I heard about HIV and AIDS in my school. But to be honest, I could not understand about it. Today, from this programme, I got a clear understanding about HIV and AIDS and anti-retroviral treatment. This has made me happy. As I go back to my village, I will tell other people in my community about HIV and AIDS."
Programmes like this are a really powerful way to both spread knowledge and reduce stigma towards people living with HIV.
A colleague from Zambia was visiting the AIDSLink ministry in South Africa and told the team about a child who was in a difficult situation.
They made a house visit and discovered a young boy who had lost both his parents and was staying with his sister and brother, who were both unemployed. Consequently he was not studying well, nor eating well.
We took him in to be part of the after school programme, so he could get some coaching with his school work and a good meal each day. He was struggling a lot with anger and swearing, but since coming to centre he is getting a better little by little, he is also getting stronger physically, now he has a lot energy and even tells some jokes.
This year he attended the annual kids camp for the first time and was overwhelmed to be a part of this weekend away.
Thank-you for helping children like him to get good nutrition which helps them to focus in school and grow physically. We couldn't do it without you!
It is encouraging to see the impact that the work in Nepal continues to have. We usually share stories in these reports, but this time would like to share some statistics with you from the 2018 Annual Report.
Sixty-five new clients and 195 current clients (from outside Kathmandu) made use of the services offered at the Care Centre in 2018.

We continue to have a good relationship with the various hospitals and were able to help 2,654 patients in two regional and one national hospital (access lab. tests, Dr's. checkup, HIV test, CD4 count, viral load, caring for in-patients needs, counselling, etc.). Of these 541 were new patients whom we helped navigate the hospital system. We also helped three women with prevention of mother to child transmission.

174 different homes were visited – 111 were outside Kathmandu valley.

There are 38 children in the scholarship programme.

We are running three support-groups. Two are outside Kathmandu.

We have staff in two areas outside Kathmandu

We held 20 HIV awareness programmes around the country. A total of about 670 people attended these. We also distributed 1,924 pieces of informative literature.

Sixty people living with HIV came to our annual AIDSLink Nepal Party in the Park. We sang, danced, played games and ate. Everyone had a fun, encouraging time. We also organized three local Christmas programmes.

We provided extra nutritional support for ten families and a goat to help one lady earn a livelihood. We also helped to build a house for a person living with HIV and provided a sewing machine to help a lady to earn some income.
WARNING: Javascript is currently disabled or is not available in your browser. GlobalGiving makes extensive use of Javascript and will not function properly with Javascript disabled.
Please enable Javascript
and refresh this page.