"My name is Pritam Lama*. I am 29 years old and live in a rural district of Nepal. My wife and two daughters lived with me in the village. But I had friends who were a bad influence on me and I started drinking alcohol and smoking drugs with them.
"Consequently, my family left me and they returned to my wife's family home. I then started to drink and smoke even more. Around this time I went India for work, I was lonely and started visiting brothels. By the time I came home to my village I was sick and skinny.
"Some months ago, my parents admitted me to hospital. The doctor recognized that I had TB. So, he gave me treatment for that, and whilst in that situation I got another report that I am HIV positive. My sister and my brother were at the hospital but they did not help me. Thankfully an AIDSLink staff member supported me and helped me to get treatment.
"Whilst in hospital the counselor told me that AIDSLink has a care center for people who are HIV positive, and I can go and stay there whilst I start my ART medication, so I did that. I was very happy, and the care center became like my home, the hospitality was very good, all the staff members treated me well and made feel very comfortable. After 14 days of treatment I went back to my home.
"Now I am feeling very good and healthy. Thank you AIDSLink Nepal family for your good hospitality and caring for me."
*Name changed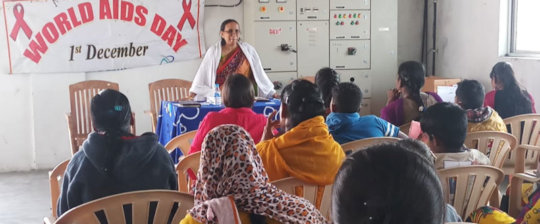 December 1st was World AIDS Day and Channels of Hope facilitators around the world took to the streets, homes and airwaves to bring a message of hope. Here are just a few examples from around the world of what they did:
In India we conducted a day of HIV awareness and teaching. Forty-five children and their parents attended. Afterwards we played games and distributed some gifts and prizes. It was a good opportunity to look back and reflect, but also to look to the future with hope.
In the Democratic Republic of Congo, Annemarie has been busy running Channels of Hope workshops for faith leaders and Bible school students leading up to World AIDS Day. On World AIDS Day itself those who had attended the workshops took to pulpits around the region with HIV awareness and de-stigmatising messages. One of the students who went through the workshop is a good singer and leads a choir. He and the choir sang a special song about AIDS to commemorate World AIDS Day. Annemarie has a lot more Channels of Hope workshops and other events already planned for 2020.
In Trinidad and Tobago the front page of a newspaper featured our Channels of Hope trainer Merle, recognising her decade of selfless service to people living with HIV. Merle was also part of an initiative to flood social media with messages about HIV and AIDS.
In Zambia the team attended a Candle Night vigil. Whilst there they had the unexpected opportunity to share about the work that they are doing in Zambia. The leader of the vigil encouraged everyone in the audience to emulate the example of AIDSLink and be part of raising HIV and AIDS awareness in their communities.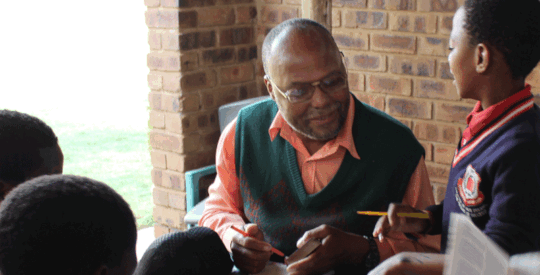 Khulekani* came to our After School Centre (Meetse a Bophelo) as a very young boy. He was bitter, angry, distant and a bully - his bullying behaviour had that meant he had to move around to many places. He was staying at an orphanage at the time, but now lives with his mother.
When he came to us he was not used to eating a balanced diet or getting good nutrition, he struggled with being overweight. We started monitoring the amount of food he was eating and giving him Nucleo. Now he has lost excess weight and is able to play with other kids and is even giving them advice not to fight. "When I grow up I love to help other people because I have seen how Meetse (a Bophelo) has helped me," Khulekani said.
Another child, called Muntu*, started attending the After School Programme when he was very young and tiny. He hated salads and healthy food but today he is super excited about life, even though he is living with HIV. So Muntu, I ask: "Are you taking your medication every day?" He responded: "I can't go a day without taking my medication, if I do", he added, "I am subtracting a life for that day". Muntu has now gained weight and grown a bit taller.
These stories and many more encourage us to continue helping and seeing transformation in the lives of the young people coming through our center. The nutritional boost of the Nucleo supplement makes it possible for us to continue the work we are doing, and see the children's health benefit.
Nucleo has played a big role in Muntu and Khulekani's lives and helped them to attain and maintain a healthy weight.
* Names changed.
WARNING: Javascript is currently disabled or is not available in your browser. GlobalGiving makes extensive use of Javascript and will not function properly with Javascript disabled.
Please enable Javascript
and refresh this page.