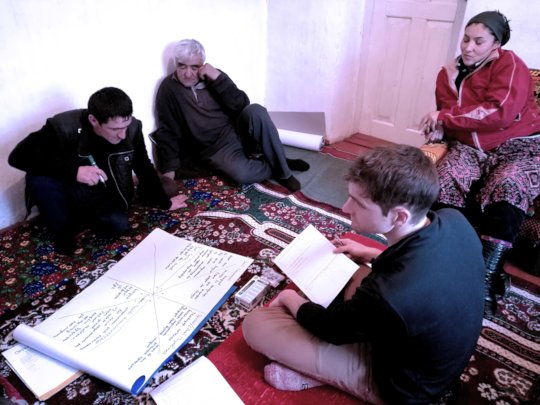 Since the last report winter has hit the mountains of Tajikistan. Whilst not as bad as last year, night time temperatures have plunged to -20 degrees and snow is knee deep in some of the villages.
But we have not be idle. Each project has been taking part in exercises to understand how our project partners and their community define 'poverty'. Also how they see the impact of poverty on their lives. This is providing us with really important information that will help us to work ever more closely with our partners as we tackle some of these issues. Problems ranging from wolf attacks to the price of food have come up. But we have also seen so many strengths: the spirit of volunteerism still thriving, more work available in the towns, and the hope brought through savings groups.
The Greenhouse Project
It has been a slower month for the greenhouse project for obvious reasons. Nevertheless, we have been gathering data, from a greenhouse we have supported at a technical college, to assess the potential for extending the vegetable growing season. It is exciting to see the opportunities here to train young people in the use of greenhouses.
Another of our partners has been experimenting using sawdust fired stoves to see whether it would be possible to grow herbs during the winter months. The exciting news is that he is about to harvest his first crops. We are still not sure whether this will be a viable option but the achievement of growing vegetables in this village for the first time is huge.
The Fruit Project
In the last juicing season, our three juicing partners produced more that 16,000 litres of fresh, organic apple juice. It is for sale in many shops in the town and the juice was the talking point of many a New Year party.
Now the important work of securing packaging suppliers begins as well as working out how we can support the businesses to become totally self-reliant over the next twelve months.
The Health Project
We have been working with a village nearby to the town for the past month, teaching about good health during pregnancy. We have observed two major changes already. The first is the attitude to the importance of drinking water. The perceived wisdom is that tea is encouarged and water is not – cold water is assumed to lead to health problems such as saw throats and could even damage the baby. They now see the benefits to immunity, and to the health of vital organs, and have started to drink more cold, clean water.
The second change is related to iron. At this time of year, particularly, it is difficult to find natural sources of iron and many women are anaemic. We have been teaching about the use of iron tablets and the participants have committed to understanding their haemoglobin counts and to take iron tablets during their pregnancy when needed.
Links: