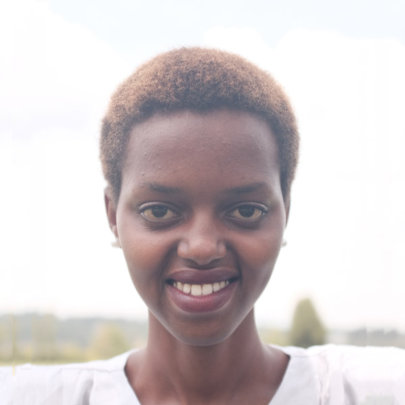 Primary school taught Grace a lesson she would learn over and over again:
she was a minority.
In the village in Eastern Rwanda where she grew up, girls weren't encouraged to go to school. As Grace remembers it, girls made up only 20 percent of her primary class. Little changed when she went to secondary school.
While it went against common culture, Grace's parents insisted she focus on her education. Despite the sacrifices, her parents wanted all of their eight children to receive every opportunity to learn and grow.
In secondary school, Grace was already thinking about university. Her plan was to study accounting, and learn as many skills as possible to help her start her own business one day.
Despite her confidence, the cost of a university education made her question the feasibility of her vision. In Grace's moments of doubt, her father stepped in.
"The best gift that my father gave me was to believe in me," Grace said. "Regardless of our family challenges, he supported my dreams. He believed in my ability to join university. With his trust and encouragement, I made it."
Grace received a partial government scholarship for her tuition, but halfway into university, she began to look for ways to offset the education expenses to help lift the burden from her family.
That's when Grace met Pascaline - a university student also in her second year. Pascaline shared about her experience as a University Leadership Scholar at These Numbers Have Faces. Grace learned how the program provides Leadership Loans to deserving students, in addition to monthly Leadership Trainings. More than being a program, Pascaline said These Numbers Have Faces was like a family. With that, Grace knew she was meant to apply.
When Grace was accepted to be a University Leadership Scholar in 2015, she and her family rejoiced. At These Numbers Have Faces, Grace has been further inspired and encouraged in her vision for business. During monthly trainings, she has met business leaders from Rwanda and across the world. Grace has even led service projects counseling street youth, and taught peace and reconciliation classes in refugee camps.
Meanwhile, during Grace's third year in the program, two of her fellow scholars, Benson and Alice, were in Portland, Oregon for summer internships. There they met These Numbers Have Faces supporters, Bryan Concannon and Debi Dereiko. After hearing Benson and Alice's stories, Bryan and Debi felt compelled to become more involved.
As it would happen, Bryan would offer an accounting internship at his company, Concannon Lumber, in Fall 2017, and Grace would apply.
At a recent Leadership Training, we announced that Grace was selected for the Concannon Lumber internship! She cried and thanked God as her fellow scholars celebrated her with applause, songs and cake (of course!).
When she lands in Portland in August, Grace said she's looking forward to getting hands-on experience in accounting. She doesn't want to just be a temporary member on the Concannon Lumber team -- she wants to be part of the company's growth.
"I carry in my heart the burden to help the communities around me, to positively change them for a better life," Grace said. "I want to support others to build their self confidence, no matter their circumstances."
After her 3-month internship, Grace will return home to Rwanda, a country that is now working to invest in women in education, business and leadership.
"Investing in a woman means laying a foundation for a strong home, family, community and nation," Grace said. We believe that foundation begins with her.