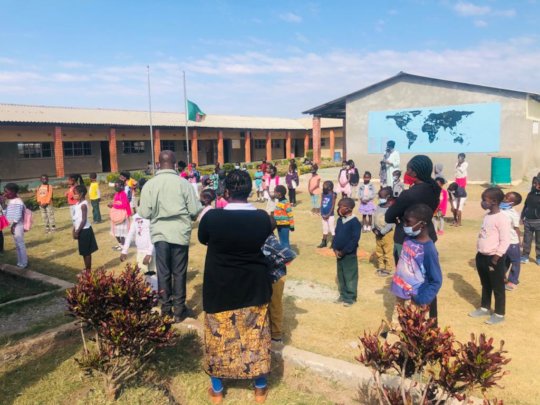 HERE IN ZAMBIA WE HAD A SHARP RISE IN COVID 19 CASES IN THE LAST THREE MONTHS. BECAUSE OF THIS RISING IN COVID CASES AND DEATHS WHICH WERE COVID RELATED DURING THIS PERIOD, WHICH LASTED FOR FOUR MONTHS. THE GOVERNMENT AUTHORITIES DIRECTED THAT ALL SCHOOLS, COLLEGES AND UNIVERSITIES BE SHUT.
THIS ALSO AFFECTED US AND HOPE COMMUNITY SCHOOL WAS ALSO SHUT DURING THIS PERIOD. ALL THE SCHOOL CHILDREN WERE SENT AWAY TO THEIR VILLAGES. WE HAD TO MAKE ARRANGEMENTS FOR THE SCHOOL KIDS TO BE REPORTING AT DIFFERENT DAYS AT THE SCHOOL PREMISES. THIS WAS TO COLLECT HOMEWORK TO BE WORKED ON. WE ALSO MADE ARRANGEMENTS TO GIVE EACH CHILD FOOD PACKS. MOST OF THE CHILDREN THAT ATTEND HOPE SCHOOL DEPENDED ON A MEAL THAT WAS PROVIDED EVERYDAY. THE SHUTDOWN CREATED A DISTURBANCE WERE BY THESE CHILDREN COULD NOT ACCESS THIS HOT MEAL WHICH IS GIVEN TO THE CHILDREN EVERY DAY. TO CONTINUE GIVING THEM A MEAL WE DECIDED INSTEAD TO BE GIVING THEM FOOD PACKS AND THESE FOOD PACKS WOULD BE COLLECTED ON DIFFERENT DAYS AT THE SCHOOL. WE WANT TO THANK GLOBAL GIVING FOR HELPING US TO PROVIDE FOR THIS PROGRAM.
DURING THIS TIME, A FEW OF OUR STAFF WORKED AT THE GARDEN TO PRODUCE DIFFERENT VEGETABLES WHICH WERE ALSO DISTRIBUTED TO THE SCHOOL CHILDREN TO HELP WITH THE FEEDING PROGRAMS IN THEIR HOMES. AGAIN WE ARE GRATEFULL FOR THE SUPPORT TO MAKE THIS PROGRAM POSSIBLE.
SCHOOLS OPENED RECENTLY. WE HAVE BEEN ENCOURAGING OUR STAFF TO GET VACCINATED AGAINIST COVID. WE ALSO PROVIDED MASKS AND SANITIZERS TO SCHOOL CHILDREN AND OUR STAFF AT HOPE COMMUNITY SCHOOL TO HELP FIGHT COVID 19.
THE PROJECT LEADER CHARLES MUMBA AND OTHER DIRECTORS GOT VACCINATED SO AS TO ENCOURAGE OTHER STAFF TO GET VACCINATED.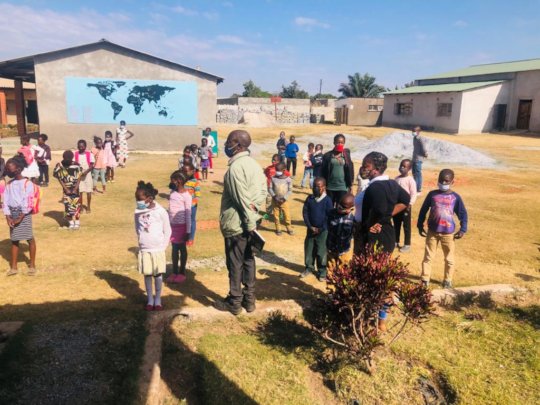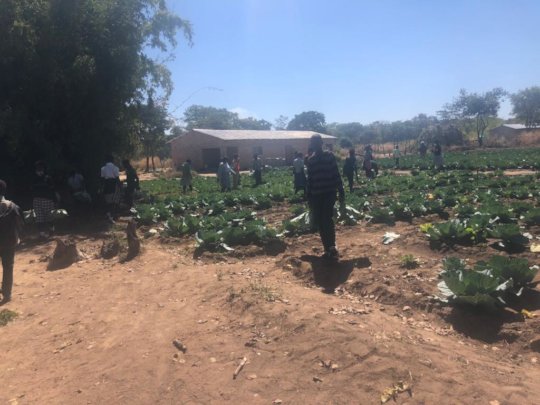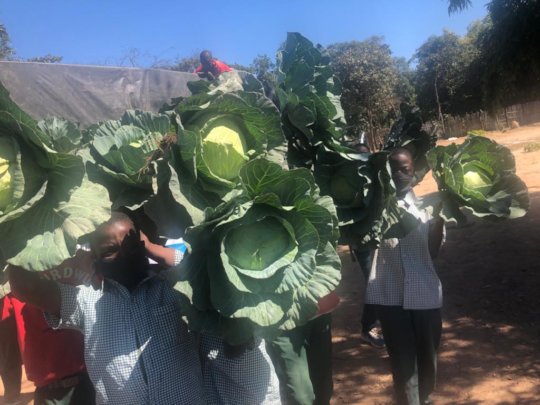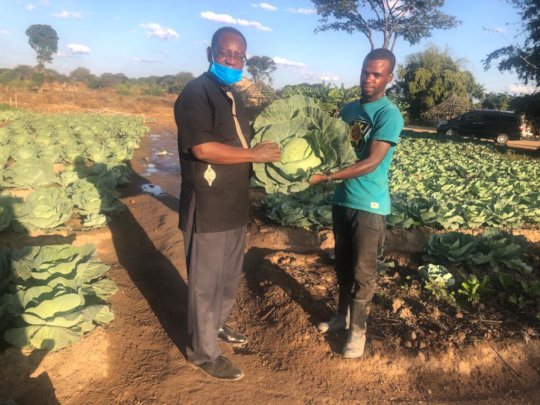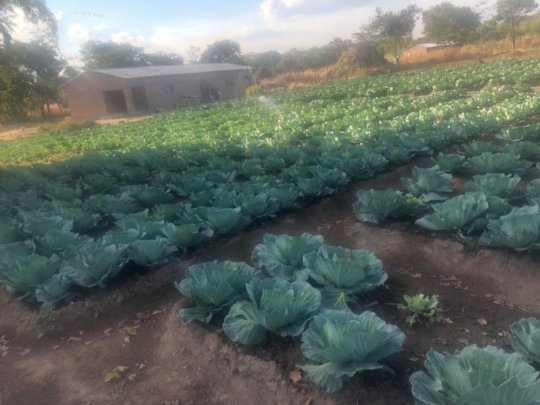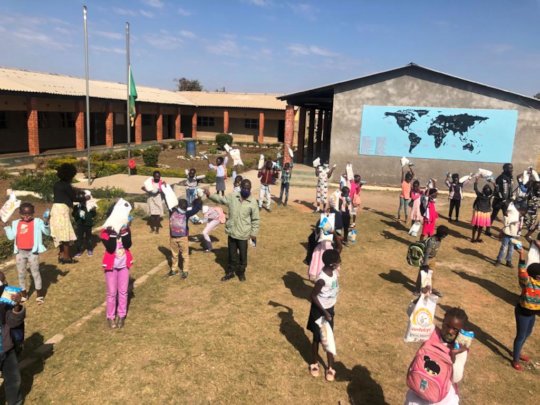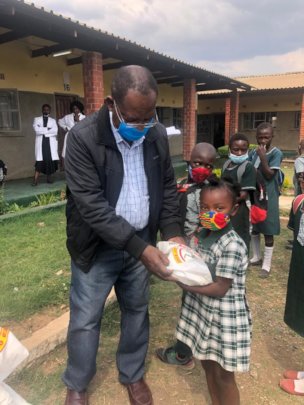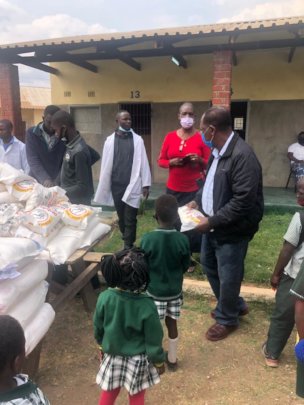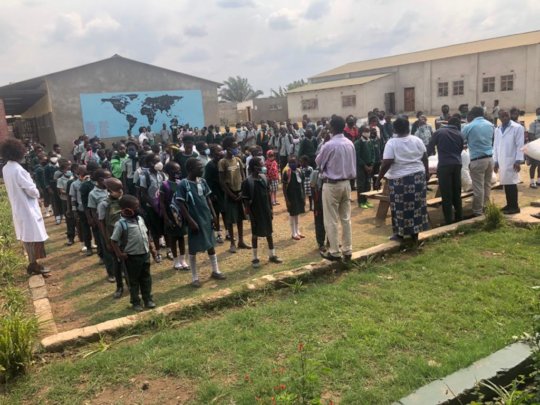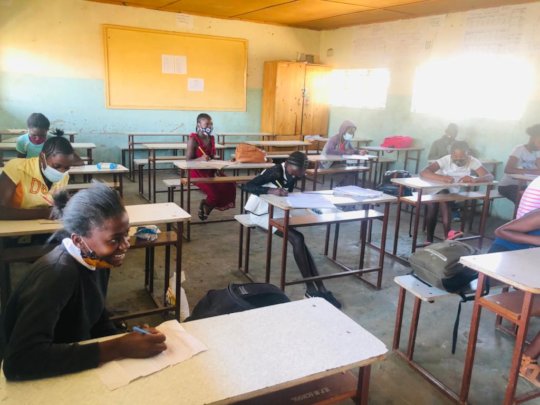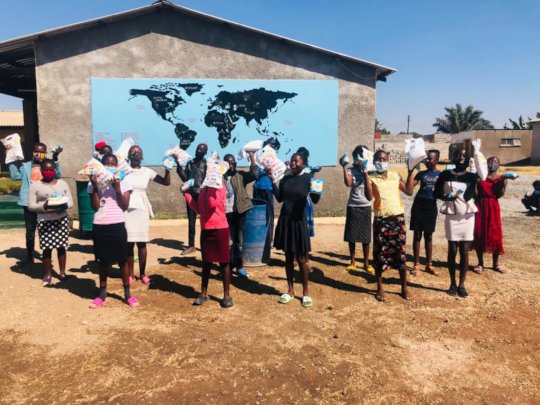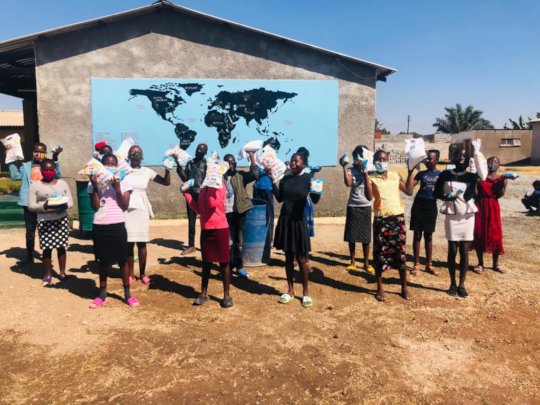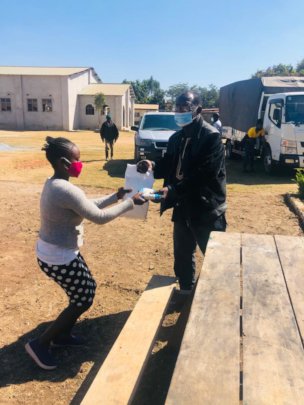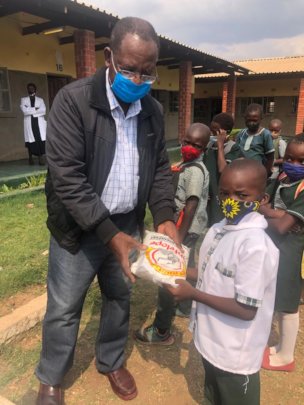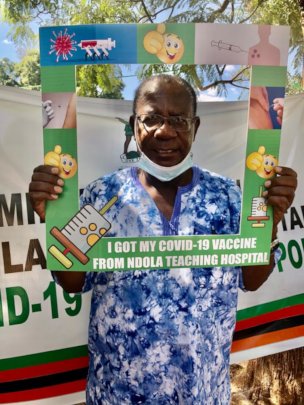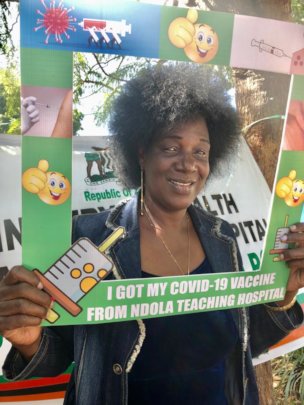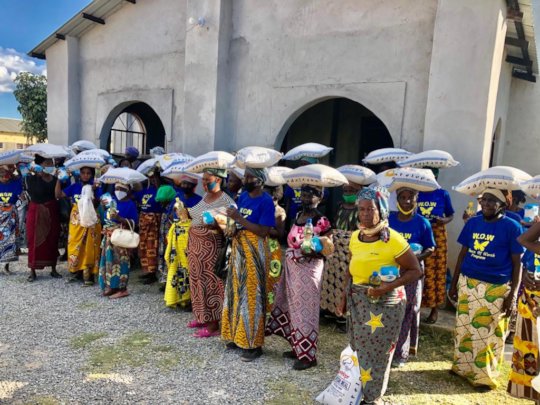 The Covid 19 pandemic has been challenging at Hope Community School in the last several months. Schools were temporally closed countrywide inorder to allow them to put systems in place to help prevent the spread of Covid 19 virus among school children and members of staff. Hope adhered to the guidelines and temporally shutdown however, due to the fact that our school children are vulnerable/orphans, we devised a system to donate food hamper weekly to each child's family. This was done to help our school children and their families from starving during this pandemic.
We also had an outreach to the elderly in our community, we donated food hampers. Some of these elderly look after the orphans that attend Hope school and the community at large.
We invited medical officers to conduct Covid 19 tests on teachers and all staff at Hope Community school before the schools were reopened.
Despite the Covid 19 pandemic, we as Hope community school managed to plant corn at the Hope farm which will be ready for harvest at the end of May 2021.
The multi-purpose hall is almost complete,all the electrical fittings have been installed. We are now working on painting the building.
All of us at Hope are extremely grateful for the continued financial support we receive towards the completion of this project.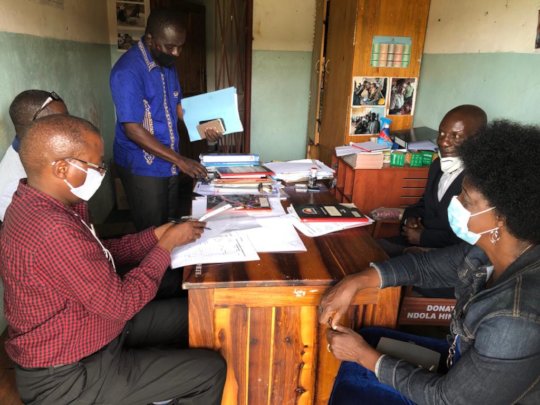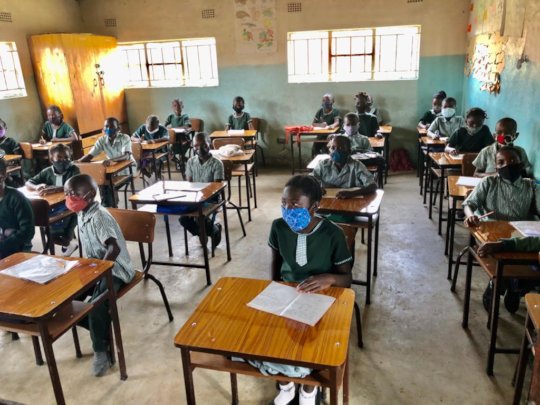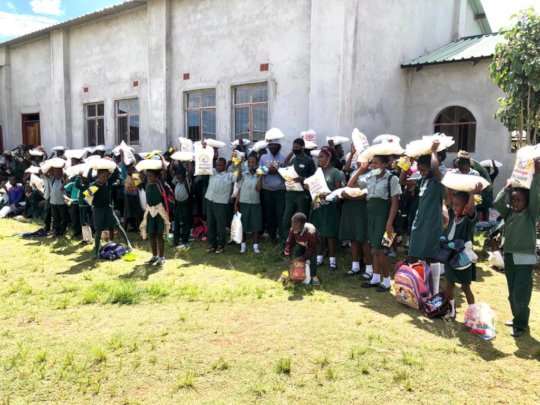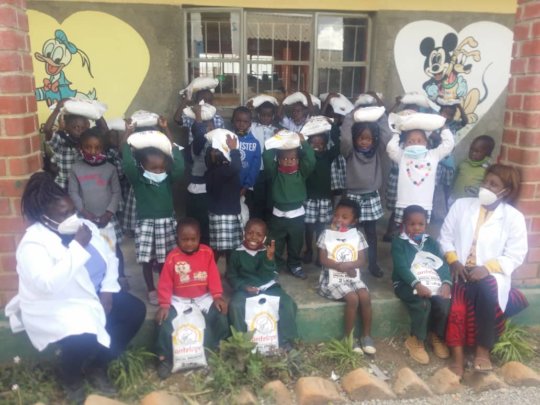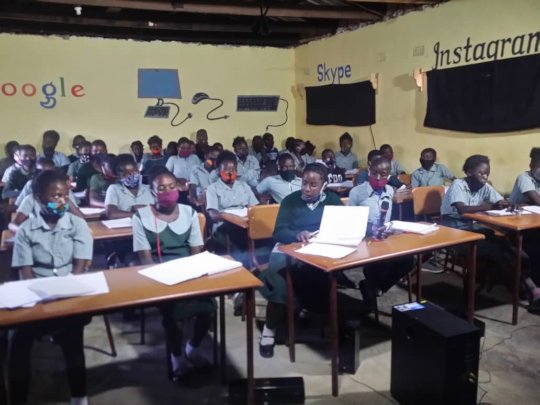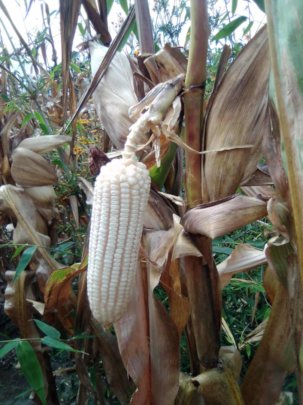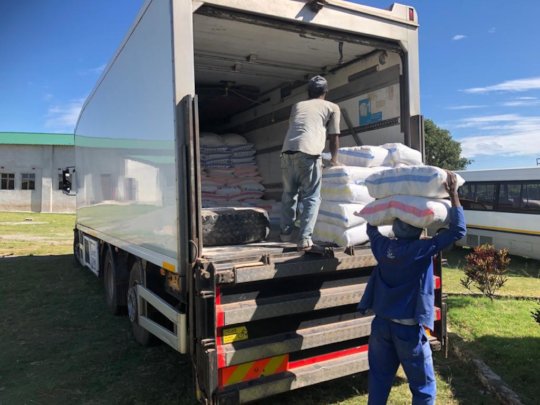 THE BLOCK WORK OF THE MULTIPURPOSE IS COMPLETED. WE ARE NOW READY TO BEGIN TO PAINT THE BUILDING AND TO PUT FINAL TOUCHES TO THE BUILDING. THE COVID 19 HAS MADE EVERYTHING MOVE SLOWLY. WE HAVE BEEN FOCUSSING ON HELPING THE KIDS OBEY THE COVID 19 RULES. THE CHILDREN WE SUPPORT LIVE ON LESS THAN A DOLLAR A DAY.
WE ARE GRATEFUL FOR THE SUPPORT WE RECEIVED DURING THIS TIME TO GIVE FOOD HAPERS TO THESE VULNERABLE COMMUNITY. WITH THE SUPPORT WE RECEIVE WE HAVE CONTINUED TO GIVE FOOD STUFFS TO THE CHILDREN.
WE CONTINUE TO WORK AND GROW DIFFERENT FOODS AND VEGETABLES AT OUR SCHOOL FARM. THE PRODUCE AT OUR SCHOOL FARM CONTRIBUTE TO GIVING THE KIDS NUTRICIOUS MEALS. WE ARE ALSO GROWING CORN RIGHT NOW ON A 4 ACRE LAND.
CORN IS OUR STAPLE FOOD. THIS WILL CONTRIBUTE GREATLY TO THE FOOD BASKET FOR THESE KIDS.
WE ARE NOW READY TO BEGIN PAITING THE MULTIPURPOSE HALL AS SOON AS FUNDS ARE AVAILABLE. WE WILL ALSO DO THE DIFFERENT FINAL TOUCHES TO THE BUILDING. YOUR SUPPORT WILL MAKE THIS POSSIBLE.
WARNING: Javascript is currently disabled or is not available in your browser. GlobalGiving makes extensive use of Javascript and will not function properly with Javascript disabled.
Please enable Javascript
and refresh this page.