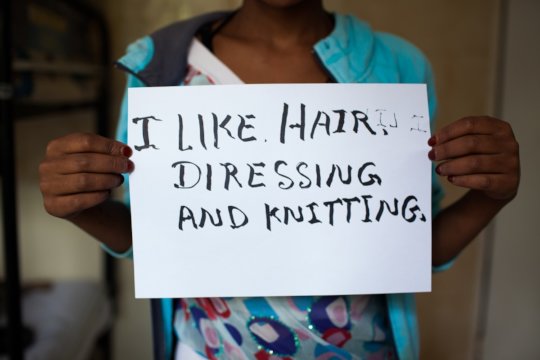 In a special way, receive our heartfelt appreciation for your unwavering support throughout the period that helped us impact positively in the lives of child victims of human trafficking.
It is with great privilege and honor that we as HAART Kenya once again draft an update on the progress of the project focusing on the intervention services that we offered to the clients which are purely trauma informed and victim-centered informed by the survivors' experiences.
The center of interest in the past 4 months has been family tracing, family empowerment and reintegration of 4 girls back to their families and communities. We also referred two cases from Tanzania and Ethiopia to one of our partners for repatriation and the process is underway. We managed to successfully conduct home tracing for two victims at the shelter and the three families are receiving support as the victims are still receiving the different intervention services from the shelter to help them in the healing process.
In the course of this period, we were able to sign a contract with an insurance company that offers emergency ambulance services for the shelter that increase the safety and health for the girls. We received a van for the shelter, skills training tables, computers and tailoring machines from different partners. The victims also attended their therapy sessions as scheduled with our in-house therapist. Our legal team tirelessly followed up on the cases at the court to ensure that the victims get justice.
The shelter population was full to capacity during the month of April as the girls who are in boarding school reported back to the shelter for holidays. The holiday was full of activities including: Picnic for the victims, cultural week, talent shows, farming sessions, vocational training (computer, dressmaking, crocheting and mat making lessons). The victims also had lessons on life skills to equip them with culinary skills, baking skills, communication skills, interpersonal skills, study skills and techniques, knowledge in pregnancy, childbirth and childcare (for expectant victim and two who are mothers), knowledge in growth and development, HIV/AIDS, STIs, moral values, and knowledge in puberty and menstrual hygiene.
The events that stood out during the period were as follows;
One of our girls who performed well in her primary school exams managed to join secondary school and performed very well in her end term exam. She is really excited about her child who will be joining preparatory school.
One other girl was also enrolled in school after she responded well to the intervention services we offered her at the shelter and she managed to be the first in her class which is impressive considering what she has gone through.
One victim has shown significant improvement and she is set for reintegration soon. She will be joining vocational training institution in her home area for dressmaking as that is something she is passionate about.
Great progress in the life skills activities.
Our focal point for the coming months are to:
Conduct family tracings.
Successfully reintegrate victims who show significant improvement.
Ensure all the girls at the shelter are covered by the National Health Insurance Fund.
Empower the victim's family economically before reintegration.
Continue with skills training
Continue with psycho-social support
Develop interorganizational relationships with other organizations in the region to encourage sharing of knowledge and awareness of human trafficking.
With your support, we will surely hit our target of positively impacting on the lives of child victims of human trafficking. We look forward to more of your support and collaboration to realize our organization's objective. Thanks once again for your support so far.
Links: