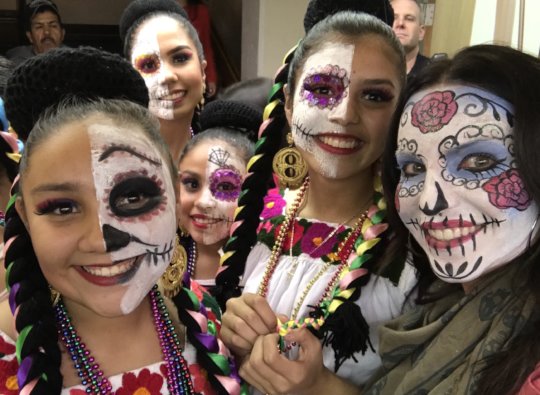 Since opening in October 2017, the Village Exchange Center has hit the ground running and developed into a thriving cultural and resource hub in the heart of North Aurora, one of Colorado's most diverse and international neighborhoods. With help from our GlobalGiving community and others, we have grown to serve some 600 people a week through classes, programs, food pantries and cultural activities, with an additional 200 to 1500 people attending our center each month for special events, including cultural festivals, concerts, town halls, community awareness events and celebrations. All of our programs and services are open to the community at large and aim to create opportunities for people from different backgrounds to interact, exchange and learn about one another.
Through our Natural Helpers Program, implemented jointly with the City of Aurora, over 80 community leaders have been provided training in cultural understanding, service leadership, systems of care and other topics. In June, we launched the first youth cohort of the program, called the "Natural Leaders", through which we worked with the City of Aurora, local elected officials, the Aurora Branch of the NAACP and the African Leadership Group to provide leadership training and academic support to 12 talented and promising high school juniors and seniors from international backgrounds.
Our "International Kids Club" afterschool program provides tutoring, homework help, mentorship, field trips and dance, music and karate classes to kids in middle school. The families of the children in our youth program come from some 13 countries, including Afghanistan, Bhutan, Burma (Myanmar), Burundi, Central African Republic, Democratic Republic of Congo, Libya, Mexico, Nepal, Rwanda, Somalia, Syria and Tanzania, as well as from the local hosting community.
We partnered with Write Our World to launch our first summer camp this year for kids in elementary and middle school. Over the course of the three-week camp, kids wrote, illustrated, narrated and translated their own bilingual e-books about their lives and the issues that matter most to them. The books are available in an online library. Art, dance, swimming and sports classes were also offered.
As a collaborative and collocated space, we are also home to 10 resident non-profit organizations who provide wrap-around support to the community through ESL classes, citizenship classes, community navigation and case management, financial management support, tax assistance, entrepreneurial programs, after school support, food assistance, health education, and community mobilization around issues such as voter registration, civic engagement, affordable housing and safety. Our resident partners have grown to include Project Worthmore, Focus Points, Restoration Project International, Drive Project Colorado, Colorado Immigrant Rights Coalition, the Colorado Ethiopian Community, the Bhutanese Community of Colorado, Aurora Interfaith Community Services, Rock Consumer Services, and KETO Community Radio Station.
In partnership with other local non-profits, we recently hosted a Community Bike Rodeo (bike safety event) with Lutheran Family Services, a driving class for Afghan Women with the African Community Center, an event for persons with temporary protective status with the El Salvadorian Consulate and two large cultural Festivals with the Bhutanese Community of Colorado, among other events. We are looking forward to hosting the Day of the Dead Celebration with the Mexican Consulate in early November.
We have expanded quickly and are very excited by the momentum and support we have received from our community. In order to allow for increased capacity, respond to community needs and improve the quality of our space, we recently launched a capital fundraising campaign, through which we will renovate our large indoor spaces, upgrade plumbing, electrical and HVAC systems, create an early childhood education center, construct a commercial kitchen, add office and classroom space and build outdoor play areas.