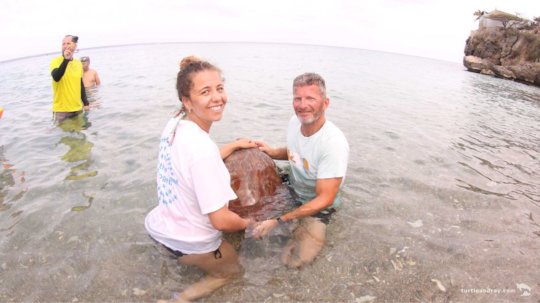 Progress report – Sea Turtle Conservation Curacao – August 2018
Nesting season
Three months into the 2018 nesting season. The turtles started a little late this season, but they are finally pretty active now. Last week we had an unexpected hatching at Kokomo beach of a Loggerhead nest. The first group of baby turtles came out during the day. The second group came out 2 nights later. The staff of Kokomo was really helpful and they turned out the lights, so that the newborn turtles would not be disoriented by the lights. So far we registered nests of loggerheads and green turtles.
We've had 8 nests adopted this season so far. We are aiming for 30 per season, so we still have a few to go. A nest adoption enables us to check the nest beaches 3 times a week, register all the nest activities, check nests 3 times a week during the incubation period and do an excavation after it has hatched. Each nest has around 100 hatchlings in it and takes us on average 96 hours.
Rescues
In the last 3 months we did 8 turtle rescues. Mostly entanglement and hooking cases. 2 of our resident turtles were spotted with injuries that most likely were cause by collision with a boat, but they seem to be recovering slowly but steadily. Releases are usually done publically, because we feel it is a chance to educate the audience about sea turtles and the threats they face.
Education
STCC is one of the participants in 'Present your Startup'. We thought it could be an educational experience to present our ideas for a different audience and get some valuable insights from fresh perspectives. And we did! In the semi-finals STCC won the public's choice award and also got a place in the Caribbean finals which will take place the 29th of August.
To practice for the Caribbean finals Sabine Berendse thought it would be a good idea to get some extra practice. She participated in a pitch competition in New York City in June, where she won the first prize. This price means that she has a guaranteed spot in overall finals of Present your Startup in the Netherlands in November.
In the Caribbean finals she will have 3 minutes to convince the audience to support STCC with the realization of a Sea Turtle Visitor and Information Center in Westpunt as well as to convince them to invest 100K USD of seed funding in a new startup "Green Phenix". If you would like the pitch you can reserve a ticket at Present Your Startup
Sea Turtle Visitor & Information Center
The increasing number of visitors at Playa Piskado is a great concern and we are working towards a collaborative project of a visitor and information center, to reduce the threats to the sea turtles and to regulate the visitor streams and behavior.
Green Phenix
Green Phenix is a social enterprise that turns plastic waste into valuable products. It joins forces of Sea Turtle Conservation Curacao, Limpi, 2nd Life and Green Force to stimulate inclusion, reduce poverty and prevent plastic pollution. Part of the profit of Green Phenix will be donated to STCC, so that they will get a more stable financial basis so that they can continue doing their important work of protecting sea turtles and their habitat.
Volunteers for clean ups
The last few months we had an increase in the number of "day volunteers". People that visit Curacao for a holiday very often offer to help with volunteer work for a morning. The extra hands help us to increase our impact. We also had some groups come out for a day. Overall we cleaned around 4800 kg of marine debris from the beaches in the last 3 months. In this endeavor we have had great support form NuCapital, who enabled us to adopt 4 inlets in the San Pedro area.
Finances
We are still working really hard to generate some income so we can continue to do our important work. The donations we receive have increased somewhat, but our financial situation still only insures 2 more operation years. We aim to create a more stable basis, by generating divers income streams.
We made several grant proposals to companies to support the fibro papillomatosis research. So far without success. We did manage to get donations to acquire the needed materials and a special net is being produced and should be with us shortly.
We expanded the "recycled plastic" merchandise range. In May we introduced the turtle keychains. These keychains are made from recycled plastic and they help prevent plastic from entering the oceans. In July Limpi introduced the "Curacao keychains" and in August Green Phenix introduced the "Klein Cuarcao Keychains". These last 2 items provide a nice souvenir for a broader audience, increasing the sales and therefor the impact.
Grateful
We are very grateful to everyone that supports our project financially, with materials or mentally. Being able to contribute to the survival of endangered species and helping to make the world a little bit better is a good motivator, but knowing we are not alone is very much appreciated. So a sincere THANK YOU to all of our supporters.