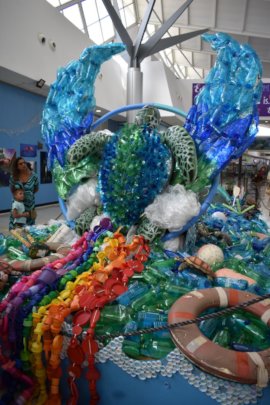 Green Phenix and the 'Waste no More' project have been going through some good developments over the last few months. There now is a founding team that consists of Djamila Braaf, Giacomo Booi and Sabine Berendse. Three passionate individuals with complementary qualities.
The business plan was updated and grant proposals were writen. The first machines are ordered and some prommising partnerships were formed. The first volunteers have registered and several companies have been approached to support the international volunteers with housing and food.
In May we were collaborating partner in an art installation in the Sambil Mall in Curacao. This art installation aims to create awareness about plastic pollution. For this purpose we created a plastic bottlecap curtain in which over 70 school children participated.
Next week the first machine is planned to arrive and in preparation for these machines to come already 290,8 kg of type & collor sorted plastic was collected. In July the first product of our own manufacturing should be available. Stay tuned. If you want to become more involved in our project, NOW is the time!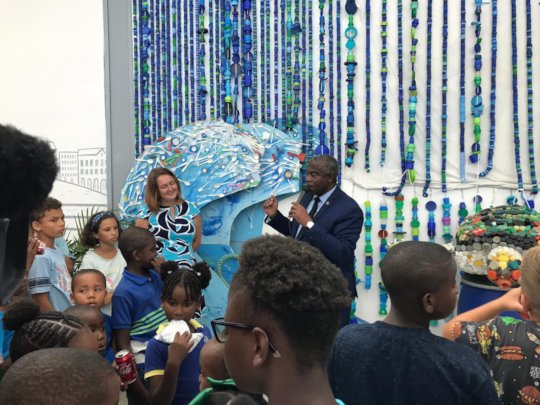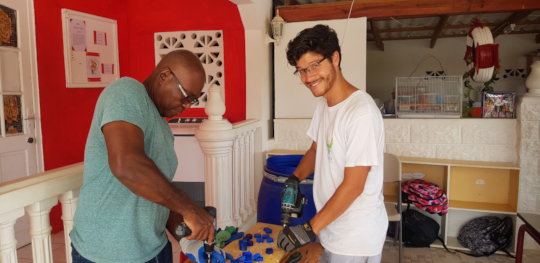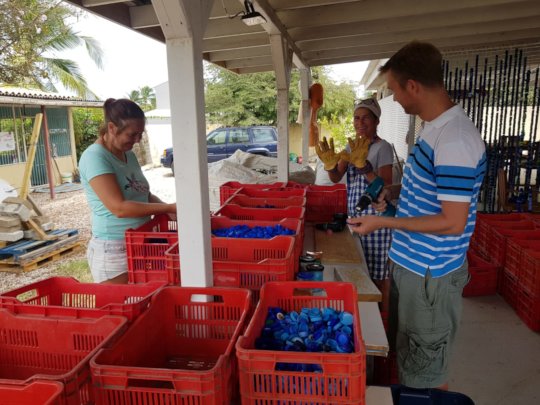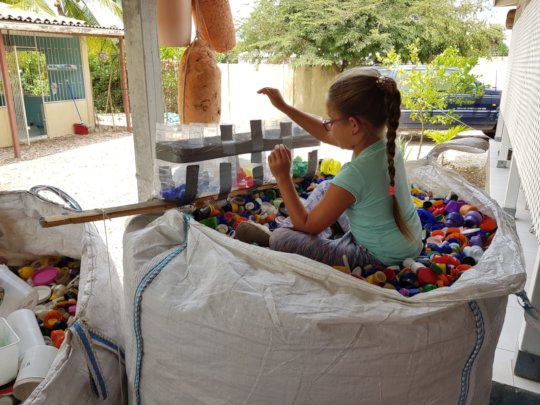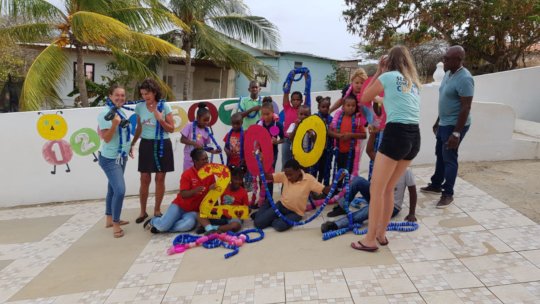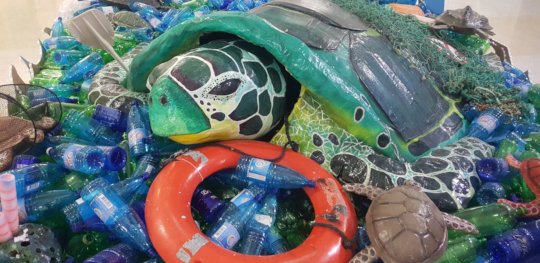 On May 23rd the art installation "Our plastic ocean" was officially opened in Sambil Mall. Minister Koeiman of the labor department opened the installation together with Jayden Booi, a young STCC volunteer that helped with the creation of the Turtle Phenix, that rises out of the plastic.
The Thurtle Phenix is one part of the installation that consists of 4 parts. The first part is a photo/illustration wall which shows beautiful pictures of the different species of sea turtles that are found around Curacao. Pictures and illustrations were donated for this purpose by Dawn Witherington, Kostas Papafitsoros and Gail Johnson. The second part is a plastic curtain made out of bottle caps. These curtains were made by no less then 70 children. Behind the curtain is an colorful waal painting made by Claire Hol.
In the middle of the hallway there is a enclosement of 3m x 9m filled with blue and green plastic bottles, representing the ocean. In the ocean there are replica sea turtles and the Turtle Phenix.
The whole installation was created as a collaborative project by Sea Turtle Conservation Curacao and Green Phenix. The art installation aims to create more awareness about sea turtles and the threats of plastic pollution.
More than 100 people contributed to the installation and a lot of people came to the opening. It will remain in Sambil for at least 3 months and in this time period there will be an awareness campaign help that helps to link plastic consumption to pollution and conservation.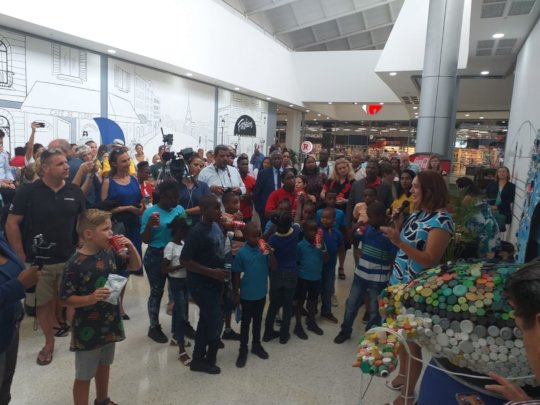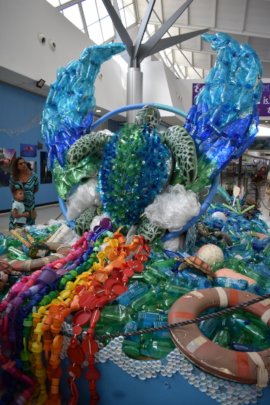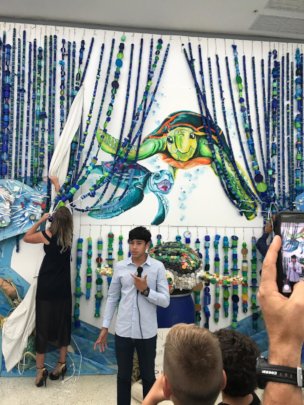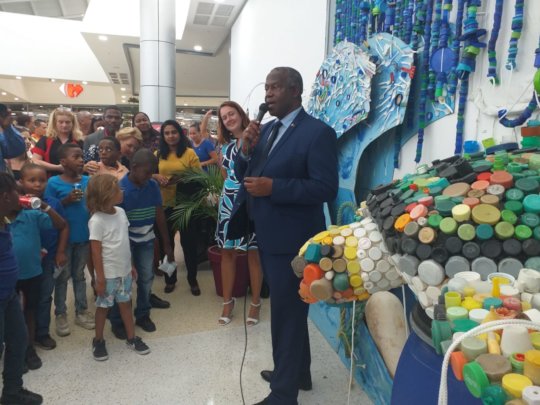 Links: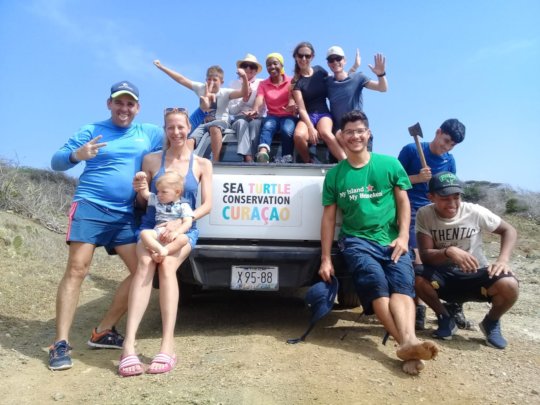 Three months ago we launched the crowdfunding for 'Waste no More'. We are convinced this project is a part of the sollution to the enormous problem of plastic pollution. Creating a circular economy on the islands in the Caribbean will greatly reduce the amount of plastic that ends up in the ocean and then the clean up efforts more and more people are undertaking will have a longer lasting effect. Introducing a scaled version of the Precious Plastic machines on Curacao and building capacity for our region is essential.
We receive a lot of positive comments,as well as some international awards, like the grassroots Conservation Award, during the International Sea Turtle Symposium in Charleston. However, so far we have only received 21 donations with a total value of 892 usd. This is not nearly enough to get started and it also doesn't yet show the broad engagement we are aiming for. However, we do receive support in other ways than money, which keeps us from giving up. And good things take time....
We are currently in the process of finding a good workspot. It has to have enough space fro the machines, storage and 20 people working there. We now have several options, looking into then and we will be able to make a decicion about that in the following months.
We also have identified some designers with experiences that are very motivated to come to Curacao and help us in our pilot. The only thing is that we need and want to provide these amazing people with a bed and meals. Some restaurants allreadys offered to provide a meal or two... so we are not there yet.... however we are getting there. Earlier we had an amazing option to house everybody in the same facility in Charo, but due to a lack of funding this option now is not available anymore. That is a shame, because logistically it makes a lot of sense to have everybody located together. For the time being the house of the project leader istransfromed into a place where volunteers for this project can stay.
We have one volunteer that is now on Curacao for 3 months all the way from South Afrika to help with the preperations for the pilot. We are collecting materials, setting up partnerships and we are very dedicated to reduce wastestreams and repurpose as much of the waste that cannot be avoided.
A circular economy is the only way forward and we are going to make it happen. One way or another!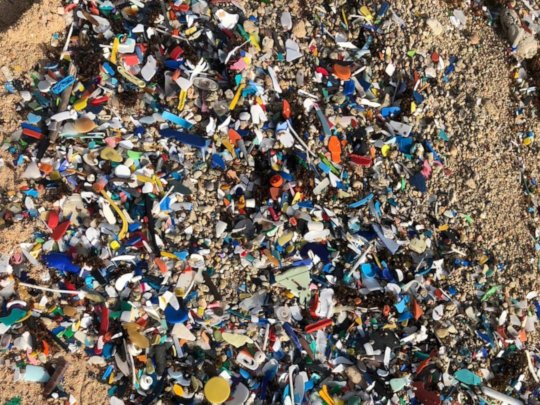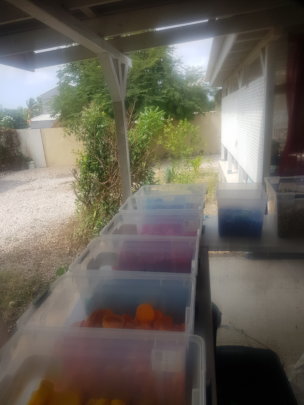 WARNING: Javascript is currently disabled or is not available in your browser. GlobalGiving makes extensive use of Javascript and will not function properly with Javascript disabled.
Please enable Javascript
and refresh this page.