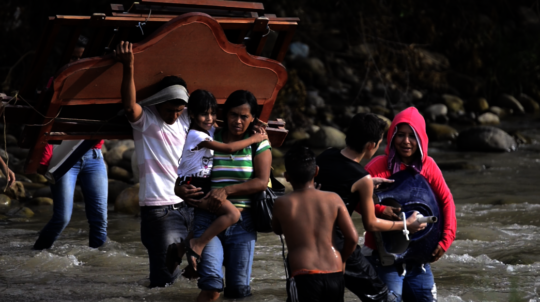 Dear Donors,
We have some great news! We are beginning construction on our new facility in Colombia at the beginning for the new year.
5,000 Venezuelans Migrate to Colombia Everyday
As you may know, there is a problem on the border of Colombia and Venezuela caused by the mass exodus of Venezuelan refugees seeking a better life.
It is estimated that already 1.3 million Venezuelans are currently living in Colombia with an additional 5,000 crossing the border daily. The reason for this migration is because of uncontrolled inflation, violence, and political corruption in Venezuela.
We Go Where Help Is Needed Most
South American Initiative (SAI) is the only U.S. based 501 (c)3 nonprofit organization -- besides the Red Cross -- that provides large scale humanitarian aid for Venezuela.
That's why SAI is creating a facility in Colombia for the purpose of helping Venezuelan refugees escape their country and start again with a new life in Colombia. We need your help to make this become reality.
SAI Builds Refugee Transition Facility
Our goal is to provide the essentials for starting a new life in a new country. SAI knows these displaced Venezuelan migrants are starving for food and many need medical care, but more importantly, they need an opportunity to build a new life.
Just recently, SAI has partnered with Cripto Conserje, who specializes in crypto currency. Cripto Conserje donated the land for the SAI facility in Colombia.
Promoting Financial Literacy
Cripto Conserje will utilize the SAI Refugee Transition Facility to conduct educational classes teaching basic financial literacy and how to make transactions using cryptocurrency. This makes sense because many Venezuelans do not have access to banking, credit, or the ability to purchase food, services, and merchandise.
This facility will help provide food, shelter, and medical care for new arrivals. It will also require those receiving assistance beyond a few days to earn their keep by performing assigned jobs at the center.
Starting a New Life in a New Country
The Colombian government recognizes that mismanaged immigration can quickly become a drain on local economies, and that an injection of skilled workers can be an asset to help boost the economy. The Colombian governmnent welcomes our new Refugee Transition Centre because they know it will not only benefit Venezuelans, but also the local Colombian communities.
Providing Food & Medicine
To help resolve this crisis, SAI is providing desperately needed food, clean drinking water, shelter, medicine, and essential medical care to help displaced families, children, and individuals who find their only option is to leave Venezuela.
South American Initiative's Cucuta, Colombia Facility.
(Insert Schematic)
The facility sits on 1,000 square meters within walking distance of the Venezuelan/Colombian border. Refugees visiting the facility will be offered food, essential medical care, and an opportunity to learn employable skills so they can become contributing members of the local Colombian community.
Medical Clinic to Provide First-Aid to Refugees
It will also have a clinic to provide minor but essential medical care for those in need of immediate first-aid. Visitors will also be given a nourishing meal to welcome them to their new homeland, courtesy of South American Initiative.
(Insert Schematic)
The back of the building has two windows and one door to accommodate staff and volunteers working at the center.
SAI brings hope and light to replace despair and darkness with fresh ideas, education, wholesome food, and medical supplies to South America's most needy and most vulnerable people.
Saving lives in Colombia with Sights Set on All of South America
SAI's new facility will be a central location for Venezuelan refugees to receive humanitarian aid as well as education to help them get jobs and adjust to living in their new country.
Teaching Framing & Agriculture
The SAI Refugee Transition Center sits on over 10,000 square feet of land with an additional acre of farmland.
This additional farmland will be used to teach Venezuelans how to cultivate, plant, and grow their own food. Learning local farming techniques will help them become more independent and self-sufficient in their local Colombian communities.
All This for Just $60,000
SAI's executive team and volunteers have experience working with local Latin American governments. That's why we are able to buy land at affordable prices and build vital facilities quickly at speeds outsiders could never accomplish. Thanks to the land donation by Cripto Conserje, SAI is breaking ground on this new facility in January 2020.
We invite you to Join us in delivering humanitarian aid to those in their deepest time of need. Your donations not only save lives, but they also give great opportunities for those willing to work to build a good life for themselves and their families.
Measurable & Accountable Success
SAI is marching forward, each and every day, for each and every refugee seeking a new life and opportunities to become independent citizens of Colombia.
SAI is succeeding in ways that are real, measurable, and accountable. With on-going donor and corporate support, we continue to help save lives in South America and provide opportunities for Venezuelans to have a brighter future. Please help us make this dream become reality!