The THINK Juvenile Transit Center for Children received this little boy from the Women and Children Protection Section of a local Police Station on February 14, 2017. His parent (s) got tired of caring for him and abandoned him at the Police Station. We took him for medical and surgical assessment and were told that nothing could be done for him in Liberia.
In December, the THINK Safe Homes received visitors from the United States and Canada, ladies that grew up as children, with our Executive Director, in Monrovia. The women made it their business to inquire at the ELWA Hospital (a faith based hospital recently constructed by Samaritan's Purse. THINK was informed that Dr. Jerry Brown, our Ebola Hero, could perform the surgery there at ELWA Hospital! We received donations and the child had his surgery performed on February 2, 2018 and now back home at the THINK Safe Home. He is a very happy child and recovering well.
THINK Liberia and our beneficiaries extend heart felt thanks and appreciation to all of you our many donors and partners for your contributions.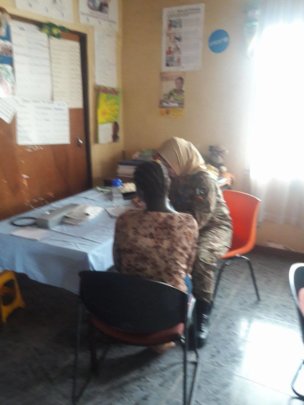 International Day of the Girl Child 2017
Because of preparations for the Presidential and Legislative Elections that took place in Liberia on October 10, 2017, we did not have the national observance of the IDGC as we usually do. This year however, THINK was engaged in conducting Civic and Voter Education targeting first time voters and bringing out issues that affect the Girl Child in Liberia. Girls who would be 18 years old by voting day were sensitized to engage candidates running for seats in the 54th Legislature to see what they would do to ensure that the Manifesto developed by girls be implemented.
We conducted awareness in 12 communities in District #9, Montserrado County, in increase women and girls' political participation and due to this awareness using the UN Women Fact Sheet, the female Representative in that diustrict was re-elected, thereby retaining her position in the House of Representatives.
One of our visually impaired students that receive a lap top computer to enhance his studies at the Tubman University in Maryland County, Liberia, is graduating on November 25, 2017. We are very proud of his achievement and thank our donors that facilitated his studies thus far.
Preparations are underway by THINK to join other advocates from around the world to observe the 16 Days of Activism Against Gender Based Violence from November 25 – December 10, 2017, under the Gobal Theme: "Peace In the Home to Peace in the World, Make Education Safe for All" and the National Theme, "Let's Embrace Our Diversities For Safe Education and a Violence Free Society". We will continue to engage Adolescent Girls in 10 communities in three counties (Montserrado, Margibi, and Grand Bassa) as well as working with out of school youth (both young men and young women in 3 communities in Monrovia) discussing the prevention of Sexual Exploitation and Abuse (SEA) and Sexual and Gender Based Violence (SGBV).
THINK as a member of the GBV Task Force is speaking out against amending the Rape Law by letting perpetrators get out of prison on bail. A position statement was developed and presented to House of Representatives ' Committee on Gender, Equity and Child Development. There was a Protest March held and Civil Society groups have women sitting in public places in protest to the amendment of the Rape Law.
A deaf girl that has been resident at the Juvenile Transit Center for over a year, was referred to the Oscar Romero School for Deaf in Bomi County where she will learn sign language and attend school. Three girls from the THINK Safe Home have received scholarships to attend a private elementary school to further their education.
Seven medical doctors from the United Nations Mission In Liberia (UNMIL), including a Dentist, a Gynecologist and the others were Internists, performed medical and dental assessment of the children and provided minor treatment.
We take this time to thank all of you, our faithful donors, partners and supporters!!!
THINK has been working with 10 communities helping community members to develop action plans on how to prevent Sexual Exploitation and Abuse of children, especially young girls in their homes, at school and in their communities. This project is funded by UNICEF. Our achievements in this report are:
10 Community Action Groups formed in 10 communities
5 Youth Centers made functional and youth have formed drama groups to participate in an awareness campaign on preventing SEA and SGBV
Parents are becoming more protective of their children
Awareness raised on the locations of Centers where services are provided of victims and survivors of rape
THINK safe home received 4 new cases this month
The Day of the African Child was observed in Liberia and we raised attention of stopping Child Marriage. The Planned Parenthood Association of Liberia (PPAL) held a special program in Monrovia where a Manifesto was presented to one of the female legislators to ensure that girls are protected from Forced and Early Marriage. The Ministry of Gender, Children and Social Protection held the national program in the port city of Buchanan.
Schools have closed for the 2016/2017 academic year. 20 children benefitting from school assistance all passed to the next level of their education. We have one visually impaired student graduating this year.
Thanks to our committed supporters for keeping our children in school!
WARNING: Javascript is currently disabled or is not available in your browser. GlobalGiving makes extensive use of Javascript and will not function properly with Javascript disabled.
Please enable Javascript
and refresh this page.