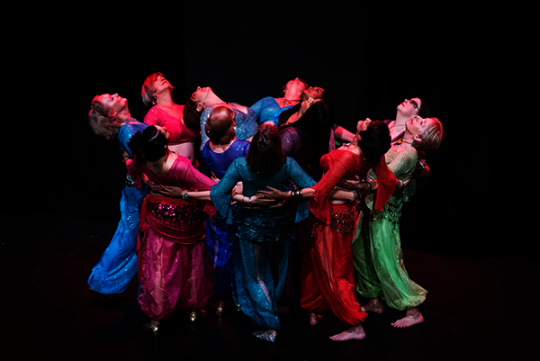 On this, International Women's Day, we wanted to share a few heartlifting stories from our bellydance classes with women escaping violence, abuse and slavery.
Living in secret safe houses where they have been brought after their escape, the women we teach are isolated, far from home, and dealing with the long term effects of the dreadful abuse they've suffered. They receive counselling and support from the refuge, as well as having a safe home for maybe the first time ever.
Bringing fun and laughter...
But simple fun is far rarer for them to find and spirits can be very depressed; so the joyful, uplifting bellydance classes we bring to the homes are enormously healing. The women find themselves laughing and giggling together as they learn to move, and dancing in a circle together to happy music lifts their spirits enormously
Last week one of the women confided to our teacher that she had changed the day of her regular counselling sessions, so it didn't clash with the bellydance class. She had decided that she was getting more from her bellydance class than the counselling!
... to women who have suffered dreadfully
In another project Zahida, our teacher, has been teaching women who have fled from war and conflict. Many of these are very young women who are heavily pregnant as a result of being raped as part of the war in their homeland. Zahida says that they are usually very depressed when they arrive in the class, but soon they are all laughing together and losing themselves in movements and the music.
...and young women in desperate peril
And in the next few weeks we will be starting to teach a group of women who have escaped from sex traffickers. They were all freed together and now live in a safe house. Like all the projects we work in, these women are still in real danger from being discovered, so our work is undertaken in great secrecy, but they are so excited about starting bellydance classes!
If you would like to make a donation to our work today, you can be sure your hard earned cash is going direct to bringing joy to women who have suffered beyond belief. We particularly need funds to support our new work in the safe house for the women who have escaped from sex traffickers and we would be really grateful for any donation, however small.
Any small amount can help
Regular donations are our life blood - they enable us to plan ahead and know that we can continue our work into the future. So if you are able to make a small regular donation that would be enormously helpful. But all donations, small or large, one-off or regular, will really make a difference.
Please visit our page and make a donation today, to help us help these women who truly deserve a little bit of joy in their lives
Thank you