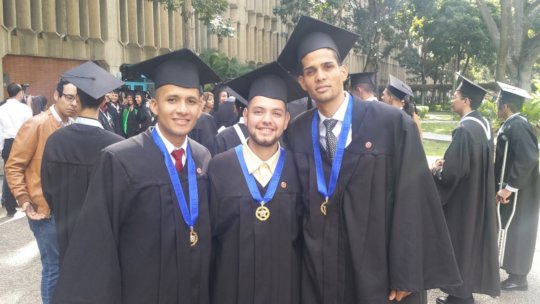 Version en Espanol (English version at the bottom)
El año 2017 fue un año lleno de muchos retos, importantes logros y fuertes cambios para la Fundación Oportunidad y Futuro (FOF), entre nuestros mayores retos y más grandes logros se encuentra el comienzo de nuestra alianza con GlobalGiving que a su vez nos impulsó a realizar cambios que nos comprometen aún más en nuestro compromiso de seguir apostando a la educación de los jóvenes venezolanos.
Pero sin lugar a dudas, la noticia mas importante que queremos compartir es que en 2017 y lo que va de 2018 se han graduado 12 estudiantes en diversas casas de estudios y en diferentes carreras.
Por esta razon, en este reporte queremos mostrar testimonios de un estudiante que culmino sus estudios en el 2017 asi como un tutor y un representante de las universidades que ilustran la manera como FOF ayuda a estudiantes de bajos recursos en Venezuela:
IUJO – Instituto Universitario Jesús Obrero
webiujocatia.wordpress.com
Palabras del Prof. Richard Escorche, director de Bienestar Estudiantil del Instituto Universitario Jesús Obrero.
Buenos días Ing. Marisa Carrasquero y Lic.. Eduardo Carrasquero. Agradecido por la invitación del día de ayer sábado, el evento estuvo muy bonito y familiar, basado en una perspectiva de proyecto de vida basada en la constancia. Los estudiantes becarios se llevaron una grata sorpresa, extensible las gracias a todos los miembros de la Fundación Oportunidad y Futuro por la labor solidaria a favor de la juventud venezolana, un brazo aliado para construir horizontes.
En archivo adjunto la foto de los 3 estudiantes que recibieron el título de TSU el pasado mes de noviembre (27/11/2017), el acto se efectuó en el aula Magna de la UCAB.
Atte. Richard J. Escorche Miranda
catiabienestarestudiantil@iujo.edu.ve
Ayriel, luego de culminar exitosamente su pasantía con el equipo de béisbol profesional Los Leones del Caracas, tomó la decisión de explorar nuevos horizontes y emigrar.
Cristofer, Luego de graduarse tomó la decisión de explorar nuevos horizontes y emigrar.
Keny, luego de graduarse como Técnico Superior en Electrotecnia, tomó la decisión de continuar sus estudios en el IUJO; en la actualidad cursa 5º semestre de Electrónica y permanece como becario de la Fundación Oportunidad y Futuro.
IUPG - Instituto Universitario de Profesiones Gerenciales
iupg.com.ve
Christian graduado en Gerencia Financiera en el IUPG trabajó en LINIO Venezuela hasta que, en diciembre de 2017 decidió explorar nuevos horizontes y emigró a Colombia en busca de mejores oportunidades para él y su familia.
Informe presentado por Rafael García, tutor de Christian que lo acompañó a lo largo de toda su carrera desde octubre de 2014 hasta su graduación en septiembre de 2017.

Christian es un joven que viene de una familia de bajos recursos, sin estabilidad familiar, con una hija pequeña y conflictos con la madre. Ingreso a la fundación con la finalidad de recibir apoyo económico para continuar con sus estudios y demostró tener las cualidades fundamentales para el éxito de la relación tutor-supervisado, que son la responsabilidad en el cumplimiento de las entregas de la documentación solicitada y el cumplimiento de las reuniones pautadas para revisar el estatus de los avances y/o dificultades que se le van presentando en el camino. Es aquí donde el tutor apoya al supervisado y lo ayuda a crecer como persona, a darse cuenta de las cosas el puede lograr sin que sean un consejo. Es aquí donde se le invita a enfrentarse a otras realidades que no están a su alcance y al tener contacto con su tutor se le habilitan otras oportunidades.

Durante el periodo académico Christian logró darse cuenta que la carrera que había escogido no era la que le gustaba, se cambio y logro culminar con éxito y las calificaciones exigidas para mantenerse como beneficiado de la fundación, 16 puntos sobre 20. A pesar de haber tenido dificultades fue capaz de superarlas. y finalmente culmina con éxito. su carrera. En el periodo logro estudiar unos meses de ingles, porque consideraba que era necesario.

La verdad es que la satisfacción de poder ayudarlos a darse cuenta ellos mismos de los prejuicios que tienen, en muchos casos mal infundados, el confundir sus metas y alinearles sus objetivos llena de satisfacción al final cuando se ellos se graduan.

Saludos,

Rafael García
UCAB – Universidad Católica Andrés Bello
ucab.edu.ve
Rodmari, graduada en Ingeniería Industrial, es una de las estudiantes que más se ha involucrado con las actividades de la fundación, está en constante comunicación con nosotros y además pasó de ser "beneficiaria" a ser "benefactora", desde su graduación Rodmari realiza un aporte económico mensual para contribuir con la beca de un estudiante.
Actualmente Rodmari trabaja por su cuenta y en asociación con un grupo de jóvenes profesionales se encuentran explorando oportunidades de trabajo.
MI EXPERIENCIA CON LA FUNDACIÓN OPORTUNIDAD Y FUTURO
Por Rodmari (becaria)
Todo comenzó desde el momento que fui seleccionada por parte de mi casa de estudios; la Universidad Católica Andrés Bello, para ser una de las beneficiadas de la grandiosa labor que ha venido haciendo esta fundación desde hace más de dos décadas. Específicamente para el momento y desde entonces, tuve el honor de pertenecer al programa de becas destinado a beneficiar a jóvenes con destacado rendimiento y representaba recibir una beca a partir del año escolar 2015, con la cual se cubrirían gastos de matrícula y manutención, además de recibir el apoyo de un tutor que estuviera afín con la carrera que cursaba.
Cabe acotar que desde ese 22 de septiembre de 2015, día que conocí a una parte del equipo a cargo de este proyecto, jamás olvidaré el entusiasmo y la sonrisa por parte de los hermanos Carrasquero, que como los llamo yo, fueron como unos ángeles en mi vida desde entonces, y estoy segura que igualmente lo fueron para el resto de los estudiantes seleccionados, ya que en definitiva se notaba la convicción y la satisfacción que les producía saber que estaban ayudando y aportando al menos un granito de arena (para ellos, porque para mí representaba un apoyo inmenso) en el desarrollo académico de cada uno de nosotros, y eso es algo por lo que siempre les estaré agradecida.
En lo personal, conté además con un gran tutor, Alberto Carrasquero, incluso lo llamé muchas veces padrino, porque así consideraba que se comportaba conmigo. Nunca olvidaré ese día de septiembre que nos presentamos todos los estudiantes beneficiados y tutores, y que entre varias cosas que me comentaba mi tutor, él hizo mucho hincapié en que cualquier cosa que necesitara cuando fuese a hacer las pasantías y la tesis no dudara en llamarlo, claramente siendo una estudiante que iba a comenzar a cursar octavo semestre de Ingeniería Industrial, saber que podía tener ese apoyo en esos aspectos tan importantes en esa etapa de mi carrera en la que ya estaba significaba mucho. Y pues ciertamente así fue, ya que gracias al apoyo y las diligencias realizadas por parte de mi tutor en la empresa donde labora, logré realizar mis pasantías y trabajo especial de grado allí sin mayor inconveniente.
En fin, siento que les agradezco demasiado a esta fundación y sus angelitos asociados, ya que de no haber sido por ellos, yo no sé cómo hubiese hecho para culminar mis estudios debido a los costos de la matrícula de mi carrera, los cuales han venido en acelerado aumento debido también a la situación país, así que más allá del gran apoyo económico que significaron para mí en un momento donde de verdad no hubiese contado con los recursos necesarios para terminar de pagar la matrícula de los últimos semestres de mi carrera, estoy muy agradecida por la confianza y apoyo profesional en aspectos como las Pasantías y mi Trabajo Especial de Grado, sin lugar a duda este país necesita más personas como ustedes que apoyen estas nobles causas en pro de nuevos profesionales y mejores ciudadanos, por ello ¡Gracias Siempre Fundación Oportunidad y Futuro!
English Translation
2017 was a year full of challenges, important achievements and strong changes for Fundacion Oportunidad y Futuro (FOF). Among our greatest challenges and achievements was the beginning of our alliance with GlobalGiving which in turn prompted us to make changes and continue our commitment for the education of young Venezuelans.
But without a doubt the most important news is graduation of 12 scholars between 2017 and the in the first half of 2018.
For this reason, in this report we want to share testimonies of a scholar who recently graduated, a mentor and a university representative that illustrates FOF approach in helping underpriviledged students in Venezuela :
IUJO – Instituto Universitario Jesús Obrero
webiujocatia.wordpress.com
Words of Prof. Richard Escorche, director of Student Welfare of the Jesús Obrero University Institute.
Good morning Ing. Marisa Carrasquero and Lic. Eduardo Carrasquero. I am grateful for the invitation on Saturday, the event was very beautiful and family oriented, based on a life project and on perseverance. The scholars were pleasantly surprised, and thanked all members of the Oportunidad y Futuro Foundation for the solidarity work in favor of the Venezuelan youth, an allied arm to build horizons.
Three scholars received their degree TSU in November (11/27/2017). The ceremony took place in the Aula Magna of Universidad Catolica Andres Bello.
Ayriel, after successfully completing his internship with the professional baseball team Los Leones del Caracas, made the decision to explore new horizons and emigrate.
Cristofer also made the decision to explore new horizons and emigrate after graduation.
Keny, after graduating as a Senior Technician in Electrical Engineering, made the decision to complete a second major. He is currently in the 5th semester of Electronics and remains a scholar of the Oportunidad y Futuro Foundation.
IUPG - Instituto Universitario de Profesiones Gerenciales
iupg.com.ve
Christian graduated in Financial Management at the IUPG worked at LINIO Venezuela in December 2017. He decided to explore new horizons and emigrated to Colombia in search of better opportunities for him and his family.
Report presented by Rafael García, Christian's mentor from October 2014 until his graduation in September 2017.
Christian is a young man who comes from a low income family, without family stability, a small daughter and conflicts with the child's mother. He was admited as a scholar with the purpose of receiving financial support to continue with his studies and demonstrated to have the fundamental qualities for the success of the mentor-supervised relationship some of which are: the responsibility in delivering requested documentation as well as attending and being engaged in meetings scheduled to review the status of the advances and / or difficulties that are presented along the way. This is where the mentor supports the scholar and helps him grow as a person helping him achieve things by himself. These meetings are where the scholar confronts the realities that are not within his reach and by having contact with the mentor they work together to enable opportunities.
During this period, Christian realized that the original major he had chosen was not the one he liked, he changed his major, achieved success as well as met the qualifications required to remain as a beneficiary of the foundation, 16 points out of 20. Despite initial difficulties, he was able to overcome them and finally successfully graduated. In the meantime, he managed to study a few months of English, because he considered it necessary.
The truth is that it makes me feel very satisfied for helping him grow as a person and help him establish goals.
Regards,
Rafael García
UCAB – Universidad Católica Andrés Bello
ucab.edu.ve
Rodmari, who graduated in Industrial Engineering, is one of the students that has been most involved with the activities of the foundation, and went from being "beneficiary" to "benefactress". Since her graduation Rodmari makes a monthly economic contribution to contribute with the scholarship of a student.
Currently, Rodmari is self employed and in partnership with a group of young other professionals is exploring job opportunities.
MY EXPERIENCE WITH FUNDACION OPORTUNIDAD Y FUTURO (FOF)
By Rodmari (FOF Scholar)
Everything started the moment I was selected by Andrés Bello Catholic University and FOF to be one of the beneficiaries of the great work that this foundation has been doing for more than two decades. More specifically, I had the honor of being a scholar of this program which cover tuition and maintenance costs, as well as receive the support of a mentor with a degree similar to the major I was pursuing.
I will never forget the enthusiasm and smiles of the FOF team on the day I met them on September 22, 2015. I started calling them the angels in my life and I am sure the rest of the scholars felt that way as well. I felt the conviction and satisfaction as they knew they were helping and contributing to the development of youth. And even though for them it probably felt like a grain of salt, for me and other scholars it represented an immense support to our academic development. This is something for which I will always be grateful.
Personally, I also had a great mentor, Alberto Carrasquero, I even called him a sponsor many times, because of the many ways he helped me. I will never forget that September day when scholars and mentors where introduced. Among several things that my mentor told me, he emphasized to call him for anything I needed particularly when doing the internships and the thesis. Being a student that was ready to start the eighth semester of Industrial Engineering and knowing that I could have that support was a huge back up. And that certainly was the case, because thanks to the support and diligence made by my mentor in the company where he works, I managed to do my internships and thesis there.
I also feel very grateful to the foundation and their "angels", because if it had not been for them, I do not know how I would have done to graduate due to the costs of the enrollment, which is increasing rapidly due to the country hyperinflation situation. In addition to the great economic support they provided me at a time when I had no other resources to pay tuition for the last semesters of my career, I am very grateful for the confidence and professional support in aspects such as Internships and thesis. There is no doubt in my mind that this country needs more people like those in FOF to support these noble causes in favor of young adults.