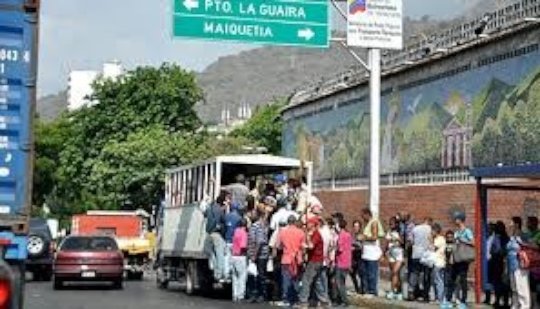 Caracas March 7, 2019, 4:30PM, Carmen is a hairdresser as well as Teresa's mother, one of our scholars. She is in La Rinconada station waiting for the train that would take her home when suddenly there is a blackout. The platform is full of people in darkness and no one to tell them what happened or what they should do. Carmen tells us "... I was on the platform waiting for the train when suddenly the light went out and we were all paralyzed, after a while we were told that there was a blackout across the country and that the problem was not going to be solved quickly. Those who could went out and left, but the vast majority had to stay, cell phones did not work because we had no signal and I could not call my husband or my daughter. They came to pick me up at the station, but they did not find me and they had to go. We asked her where she had spent the night and this was what she told us… "I slept in the station, there were mothers with small children, elderly people, men, women, there, we did not have water or food. But the worst was the bathroom, there was no where to go do our needs and we had to go down to the train rails to have some privacy" .It was only the day after, with sunlight that her husband returned to the station and he found Carmen and took her home. Teresa on her end spent a week in the dark at home without being able to go to class (which were suspended) and trying to study even without having the necessary resources for it.
Caracas March 25, 2019, 1:30PM, Arlet works as a house maid and is Omar's mother, one of our graduate scholars of engineering who left Venezuela in search of better opportunities. She leaves work on her way to her home in Palo Verde, a popular area of Caracas located 12 km (7.5 miles) from her workplace. She walks to the nearest Metro station and find that it is closed due to lack of electricity and start walking towards your home expecting to find a bus to take you along the way. Arleth tells us "... as the Metro was closed I started to walk waiting for an empty van to pass. After almost two hours walking I could not stand the pain of my leg and I had to ride in a" kennel "(trucks that the government has enabled as a means of public transport, who are suited for transportation of cattle, without taking into account the danger it represents for users). Thank goodness the lady I worked on that day gave me cash, because I had to pay 500 Bolivars to take me to Palo Verde (the official rate is Bs. 100). The most difficult thing for me was not being able to communicate with Omar, who lives in Colombia; It was after two days that I was able to talk to him and let him know we were OK"
The story of Carmen happened during the national blackout on March 7 that lasted between 7 and 10 days depending on the area of the country. The story of Arleth happened during the second blackout on March 25 and still not it has been solved.
These are two examples of what is being lived in Venezuela since last March 7. If reaching our homes represents a challenge, living in them has become an even greater and much more difficult challenge. We arrive at a place without light; without running water and therefore without drinking water; we have a refrigerator that is supposed to store food, which needless to say has cost us a lot of money and effort to get, but withoiut electricity the food gets spoiled; without being able to shower, without being able to clean the house or unload the tanks of the sink; with a mountain of dirty clothes that if we do not wash soon we will have to use it dirty; with all security mechanisms disabled (alarm, security cameras, electric fence) therefore fearing for our physical integrity and our goods ... that has been the day to day of nearly all Venezuelans. What until now had been our refuge, our tranquility, our security, has become a hell, all due to an electric power generation system that failed due to negligence and lack of maintenance.
I write this report on Friday, March 29, 2019, ending a week in a country that, from Monday 25 to 1:30PM, is paralyzed ... Fundacion Oportunidad y Futuro had to suspend the quarterly follow-up meeting of our scholars at the Jesus Obrero University Institute - IUJO because our offices are closed due to the blackout; where shops and banks have not opened to the public; where hospitals and clinics only attend emergencies; where educational institutes from pre-school to universities had no classes; where companies from the smallest to the largest industries have had to stop production (including food); where the gas pumps do not work; where the traffic lights are off; without mobile phone communication as companies are not prepared to operate in these conditions fo such a long time; where people use "kennels" instead of buses as a means of transportation; where uncertainty consumes us by asking us when the light will return to us or when the water will reach us ...
After 14 days without wáter and out of desperation, people in Caracas the nations capital, have been forced to use for bathing or washing cloth perhaps the most polluted water source in the entire country, the Guaire River. This is a river that runs through the city of Caracas that is currently full of garbage and where a large amount of sewage pipes flow.
Those who are very lucky make long queues to take home containers with no more than 10 or 20 liters of water that can be filled with tankers that have been placed in strategic places in the city or natural water sources that come down from the mountain.
With great difficulty and through their tutors, we were able to communicate with some of our scholars; their stories, all very similar.
"I do not have a telephone or internet signal and I have not been able to communicate with my family that lives in the Apure state" - says Luis, a computer science scholar.
"Pharmacies are closed and I have not been able to buy eye drops" - says Yenezka, an education scholar who suffers from glaucoma.
"We have days waiting in line to get water, I have not been able to wash my clothes and I have to bathe with totuma" - testimony of almost all the scholars we spoke with.
Unfortunately, this situation, according to experts is far from improving and instead might get worse and people are protesting. Meanwhile, Fundacion Oportunidad y Futuro contribution has been, is and will continue to be for the education of our people.
However, now more than ever our scholars need our support.
--------------
Espanol
Caracas 7 de marzo 2019, 4:30 de la tarde, Carmen, peluquera, mamá de Teresa una de nuestras estudiantes, está en la estación de La Rinconada esperando el tren que la llevaría a su casa cuando de repente se va la luz y se queda el andén repleto de gente a oscuras y sin nadie que les diga lo que pasó o lo que deben hacer. Carmen nos cuenta "… estaba en el andén esperando el tren cuando de repente se fue la luz y nos quedamos todos paralizados, después de un rato nos dijeron que la luz se había ido en todo el país y que el problema no se iba a solucionar rápido. Los que pudieron salieron y se fueron, pero la gran mayoría nos tuvimos que quedar, los teléfonos celulares no funcionaban porque no teníamos señal y no pude llamar ni a mi esposo ni a mi hija que vinieron a buscarme a la estación, pero no me encontraron y se tuvieron que ir…" Le preguntamos donde había pasado la noche y esto fue lo que nos dijo "… dormí en la estación, ahí había madres con niños pequeños, ancianos, hombres, mujeres, había de todo, no teníamos agua ni comida, pero lo peor fue el baño, no había donde hacer nuestras necesidades y tuvimos que bajar a los rieles de los trenes para tener un poco de privacidad…" Fue al día siguiente, con la luz del sol que su esposo regresó a la estación y la pudo llevar a su casa.A partir de ese día Teresa pasó una semana a oscuras en su casa sin poder ir a clases (que fueron suspendidas) y tratando de estudiar aun sin tener los recursos necesarios para ello.
Caracas 25 de marzo 2019, 1:30 de la tarde, Arleth, empleada doméstica, mamá de Omar, uno de nuestros estudiantes graduado de ingeniería y que se fue de Venezuela en busca de mejores oportunidades, sale de su lugar de trabajo camino a su casa en Palo Verde, zona popular de Caracas ubicada a 12 Km (7,5 millas) de su lugar de trabajo. Camina hasta la estación del Metro más cercana y encuentra que está cerrada por falta de electricidad y comienza a caminar rumbo a su casa esperando encontrar por el camino un autobús que la llevara. Arleth nos cuenta "… como el Metro estaba cerrado empecé a caminar esperando que pasara una camioneta vacía, después de casi dos horas caminando ya no aguantaba el dolor de la pierna y me tuve que montar en una "perrera" (camiones que a falta de autobuses, el gobierno ha habilitado como medio de transporte público, donde la gente va parada prácticamente como ganado, sin tomar en cuenta el peligro que representa para los usuarios) y menos mal la señora me dio efectivo antes de salir, porque tuve que pagar 500 bolívares para que me llevara a Palo Verde (la tarifa oficial establecida es de Bs. 100). Lo más difícil para mí fue no poder comunicarme con mis hijos, que viven en Colombia; fue después de dos días que pude hablar con ellos…"
La historia de Carmen sucede durante el primer "apagón" el día 7 de marzo que duró entre 7 y 10 días dependiendo de la zona del país y la historia de Arleth sucede durante el segundo "apagón" el día 25 de marzo y que todavía no se ha resuelto.
Esta es una pequeña muestra de lo que se vive en Venezuela desde el pasado 7 de marzo. Si llegar a nuestras casas representa todo un reto, vivir en ellas se ha convertido en un reto aún mayor y mucho más difícil… llegamos a un lugar sin luz; sin agua corriente y por lo tanto sin agua potable; tenemos una nevera con mucha o poca comida, que de más está decir nos ha costado muchísimo dinero y esfuerzo conseguir, y que si la luz no vuelve pronto se daña; sin podernos bañar, sin poder asear la casa ni descargar los tanques de las pocetas; con una montaña de ropa sucia que si no lavamos pronto tendremos que usarla sucia; con todos los mecanismos de seguridad desactivados (alarma, cámaras de seguridad, cerco eléctrico) por lo tanto temiendo por nuestra integridad física y de nuestros bienes… ese ha sido el día a día del 90% de los venezolanos que, por la incompetencia de nuestros gobernantes, hemos tenido que vivir en las últimas tres semanas.
Lo que hasta ahora había sido nuestro refugio, nuestra tranquilidad, nuestra seguridad, se ha convertido en un infierno, todo debido a un sistema de generación de energía eléctrica que, por la desidia y falta de mantenimiento de quienes por 20 años han gobernado nuestro país, dijo NO MAS…
Escribo este informe el día viernes 29 de marzo de 2019, finalizando una semana en un país que, desde el lunes 25 a la 1:30 de la tarde está paralizado… donde tuvimos que suspender la reunión trimestral de seguimiento de nuestros estudiantes que la Fundación Oportunidad y Futuro tiene con el Instituto Universitario Jesús Obrero - IUJO porque nuestras oficinas fueron cerradas por falta de luz; donde los comercios y bancos no han abierto al público; donde los hospitales y clínicas sólo atienden emergencias; donde los institutos educativos desde preescolar hasta las universidades no han recibido a sus estudiantes; donde las empresas desde las más pequeñas hasta las grandes industrias han tenido que parar la producción (incluyendo la de alimentos); donde los surtidores de gasolina no funcionan; donde los semáforos están apagados; donde su gente está incomunicada, las empresas de telefonía móvil no están preparadas para funcionar en estas condiciones; donde la gente utiliza "perreras" en lugar de autobuses como medio de transporte; donde la incertidumbre nos consume preguntándonos cuando se nos volverá a ir la luz o cuando será que nos llegue el agua…
Hoy es sábado 6 de abril, esta semana no se nos fue la luz, pero llevamos 14 días sin recibir una gota de agua en la casa, gracias a Dios el tanque es grande, muy racionada podemos sobrevivir por dos semanas más. Desafortunadamente esta no es la situación de la gran mayoría de los venezolanos que, por la desesperación, se han visto obligados a recurrir a la fuente de agua más contaminada de todo el país, el río Guaire… este es un río que atraviesa la ciudad de Caracas que actualmente está lleno de basura y donde desemboca una gran cantidad de tuberías de aguas negras; no se imaginan la tristeza que da ver como familias enteras (incluyendo niños) se sumergen en su cauce para bañarse y lavar la ropa.
Los que tienen mucha suerte hacen largas colas para llevarse a sus casas envases con no más de 10 ó 20 litros de agua que consiguen llenar con los camiones cisterna que han colocados en sitios estratégicos de la ciudad o de las fuentes de agua natural que bajan de la montaña.
A duras penas y a través de sus tutores, pudimos comunicarnos con algunos de nuestros estudiantes; sus historias, todas muy parecidas…
"No tengo señal de teléfono ni de internet y no he podido comunicarme con mi familia que vive en el estado Apure" - nos dice Luis, estudiante de informática.
"Las farmacias están cerradas y no he podido comprar el colirio de los ojos" - nos dice Yenezka, estudiante de educación que sufre de glaucoma.
"Tenemos días haciendo cola para conseguir agua, no he podido lavar mi ropa y me tengo que bañar con totuma" - testimonio de casi todos los estudiantes con los que hablamos.
Lamentablemente esta situación, según los expertos, lejos de mejorar tiende a empeorar, sin embargo, todos los venezolanos estamos trabajando juntos para retomar las riendas del país; nuestro aporte ha sido, es y seguirá siendo por la educación de nuestros jóvenes que, llegado el momento, serán los encargados de su reconstrucción.
Ahora más que nunca nuestros estudiantes nos necesitan…