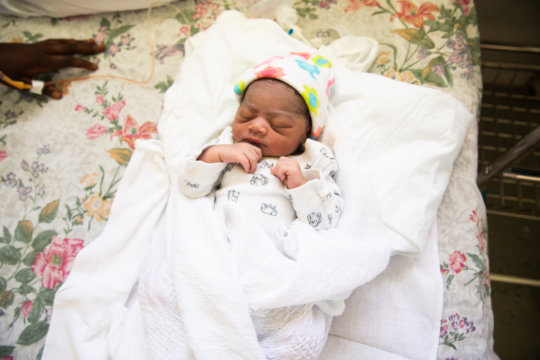 If you have been tuning into news about Haiti, you will have been made aware of the violence and turmoil the country is in currently. It has been a very difficult few weeks for our staff, but we are dedicated to our mission, and refuse to abandon our work. Our health and maternity clinics in the Central Plateau remain open, and we delivered 22 babies in 8 days during the height of the riots throughout the country. We are one of few organizations that are still serving the community.
Unfortunately, the current state of the country has forced several changes in our programs. One of the affected initiatives is the Baby Box program. At the moment, we are operating with limited resources, and due to the instability, have had to temporarily put on hold baby box distribution. We are hopeful that the country will return to a stable state, and have plans to re-evaluate our plan in the coming weeks.
Below, we share with you an update from a few weeks ago, when we hosted out our Lahoye Maternity Center ribbon cutting ceremony.
Project Medishare staff, board members, donors, supporters and community members gathered together in Lahoye, Central Plateau on January 25 to celebrate the official ribbon cutting ceremony of Project Medishare's second maternity center.
Speakers at the ribbon cutting ceremony included Project Medishare Founder Dr. Barth Green, government officials, and representatives from Haiti's Ministry of Health.
This new facility has been greatly welcomed in this remote, rural community bordering the Dominican Republic. Prior to opening this second maternity center, pregnant women in Lahoye traveled nearly an hour via motorbike, or longer by foot, to access our Marmont maternity center. In a country with one of the globe's highest maternal mortality rates, maternity centers like ours are changing the landscape for women's health services in rural Haiti.
As a very special surprise, we welcomed a new baby girl, Stephanie, born at the clinic during our ceremony!