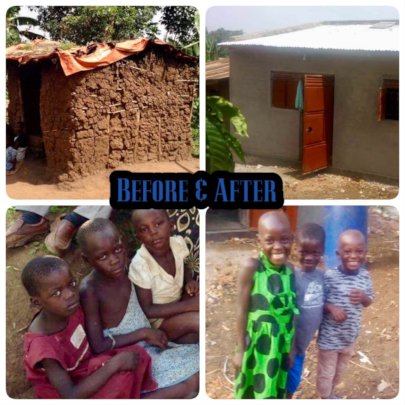 Among all the weeding and feeding, things are growing up green at the Stephen Baker Farm. We are working hard to fight the weeds and keep all watered and fertilized properly until harvesting comes. We have almost met our goal for this project, less than $500 to go! We sincerely thank you for giving so generously to us.
Something new is also growing up! Recently a young lady named Grace came to KCA office after seeing us send many children to school. She told us her hardship story which was verified and word went out for her need. Quickly a donor not only stepped up to pay for her education but after seeing their mud-walled home also wanted to build her family a proper home on her land. It also included an outhouse bathroom, solar panel, furnishings, and new clothing.
It was such an exciting time to offer this family a new beginning! This inspired us to start on our idea to build a small community of widows. Housing is a major challenge of widows in Uganda and living in community together means they can share in responsibilities, learn farming skills and have land to plant a garden to grow food and feed their children. We have started our first home already and will soon post a project for donating specifically to this. We hope you will like to get involved in this very rewarding work as we build homes one by one.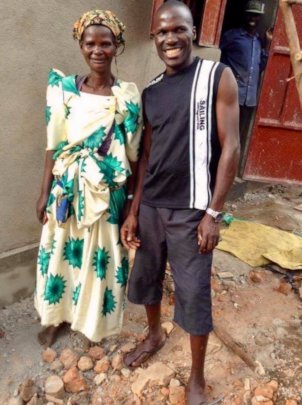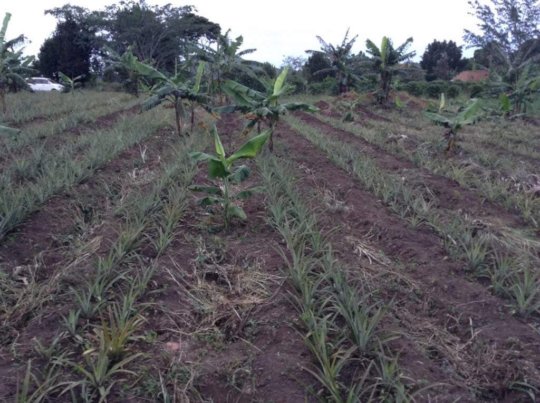 Links:
Greetings from

Kassanda

Children's Aid in Uganda,
First, please join us in giving a BIG thanks to John and Stacy Devries from Canada! We are proud to report that 55 children have been given full sponsorship for their education. We have 1 in college, 14 in secondary school and 40 are in primary school. These children got uniforms and scholastic materials required for attending and are also provided with lunch. We thank God as the year 2019 is completely covered and we have closed the education project until we get closer to 2020.
We have had some challenges in our banana and pineapple farm as the season has been very dry but the past few months have been successful in all stages. We had to use a hand irrigation system in the garden so that our crops did not dry up. We then collected mulch to spread and cover the ground to avoid the roots from drying up. Last week we finally got a little rain which really helped them so much.
The best news is the entire farm got fertilized with manures. We bought them, packed in bags at the store and transported to the farm. Our helpers worked hard to spread them all over in the garden so that when rain season begins it will be a very good advantage. The only other problem we experienced was the weed spraying failed to kill the grass adding on the double work to put workers to help keep up with the weeds and buying expensive pesticides to spray on the plants to keep the bugs away.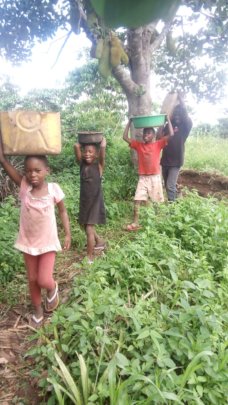 Greetings all partners of KCA,
A little parody on the "12 Days of Christmas" seemed fitting as we have joy in the month of December to give an update on the Stephen Baker Foundation Farm of KCA. We are happy to announce that we have received another donation from Mrs. Woolsey to add on another acre of land in memory of her son, Stephen Baker. This new land is in a nearby village and even has some eucalyptus trees on it. We have a dream to help as many as we can and having land in close proximity is important and the land was being sold for a very good price.
We decided to start by planting 450 banana trees on our 5-acre farm but due to donations received, we have only been able to plant 270. However, in between the banana tree rows, we also planted pineapples. The hardest part has been the labor of spreading the manures in the garden. There are more gaps according to how we planned them and in December and January, we shall be putting more coffee residuals to fertilize the soil.
We also hosted an agronomist, Mr. Dan Ssemanda who gave us advice on soil management, crop production and the use of herbicides and fertilizers. He has promised to be visiting us and giving us more advise free of charge to ensure our success. We appeal to everyone to share our work so we can get more people to help us complete this project. As always feel free to send us email or comment.
Merry Christmas!
WARNING: Javascript is currently disabled or is not available in your browser. GlobalGiving makes extensive use of Javascript and will not function properly with Javascript disabled.
Please enable Javascript
and refresh this page.