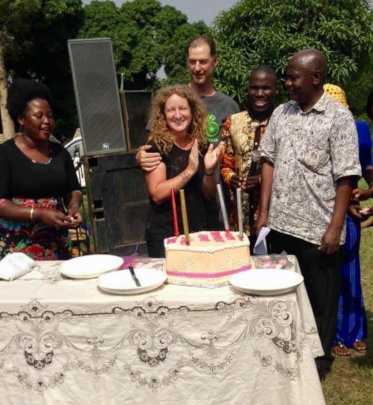 Dear Partner,
We had visitors from Canada who came to tour and fundraise, so we had opportunity to celebrate Stacy's 50th Birthday along with her Get-schooled Children. All this went so well and we had a chance to host the governor of Kassanda District and KCA got the chance to present the detailed report on what we have achieved. We also got to tell of our plans for the next years to come. Due to the occasion it was also covered by the National Television and Monitor Newspaper Article
The building of the children's home is still slow due to funding, we got a donation from Progressive Insurance Foundation totalling Uganda money 4,500,000/= when you add the last amount we had it totalled to 5,500,000/=. Right now this money can buy iron sheets and the start cement on the house. I do thank KCA partners who tirelessly bring change to our community by building this house. Compared on the collected amount, we are still in need for more funds to start this house and we still believe that we can build it together with your support
We are happy to report KCA along with the donation of Mrs Stacy and John, adopted a needy family and we constructed a new home for them to live in. Thanks also to David from Charity Director who organized our sponsor girls to get a chance to have 3 months suppy of sanitary pads as they were going back for their last quarter of school. If you would like to fundraise for any of these above efforts, volunteer in any capacity or visit us, please reach out. Together we make a difference!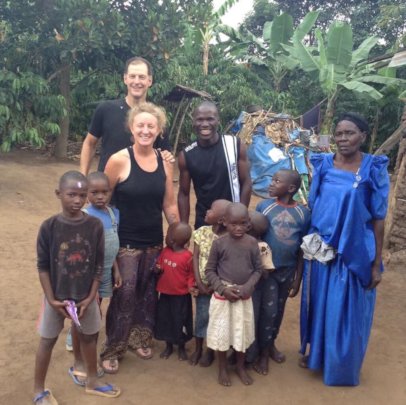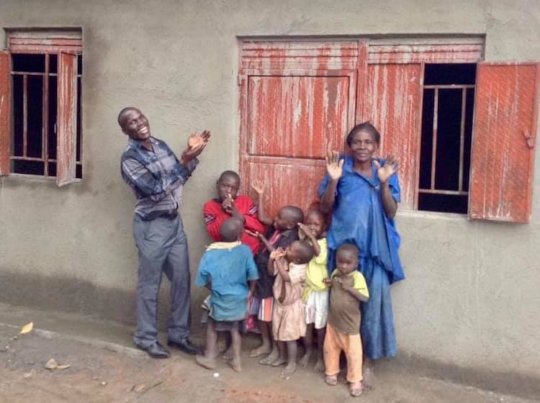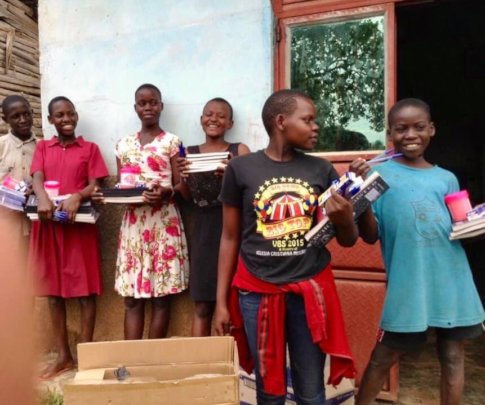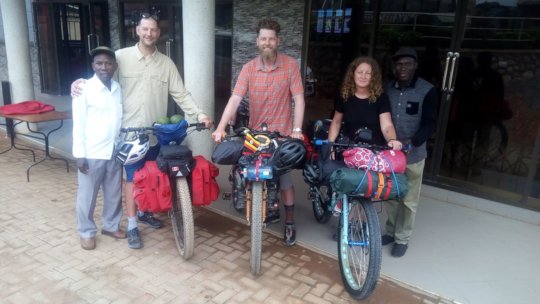 Dear Friend,
Excitement is in the air as KCA hosts two Canadians and one American with the goal of riding bikes all over Uganda. They will cover 2000 km or 1250 miles to raise funds and awareness with Get-Schooled for the children of Kassanda Children's Aid! In total they raised enough for this year 54 kids, 14 in secondary school, 39 in primary section and 1 in vocational institute. Before leaving we visited the nearby schools to see the some of the children at the primary schools called Walton, William Mukasa, Lwakisa, Ssempera Memorial and lastly Pride Secondary School.
The official riding started on 06/06/2019, Joshua, the American could spend only two weeks and then had to go back. Stacy who came to celebrate her 50th birthday with the Get-schooled children and John her husband are from Canada. They will finish their tour on July 22 but before they board back on the 23rd we hope to have a farewell party with our visitors, caretakers, and the Get-schooled Children. We are planning to have different guests from the District Headquarters of Kassanda, Stake Holders and Partners.
The building of the children's home has been slow because we have collected only $400 out of the $15000 needed. We managed to put some materials to start with 7000 bricks, 4 trips of hard core stones and two concrete stones. We are still believing that we can build this house together with your support so children can be helped.
Kassanda Children's Aid with the help Mrs Patricia Woosley also built another house on the Stephen Baker Land which was given to one vulnerable lady who had four kids as their sleeping conditions were in very poor conditions. We appreciate all of our donors and volunteers who help us, here we say WEBALE NYO, which means thank you so much!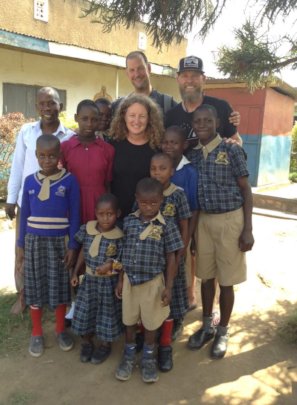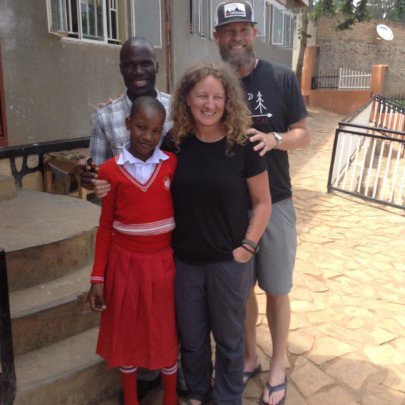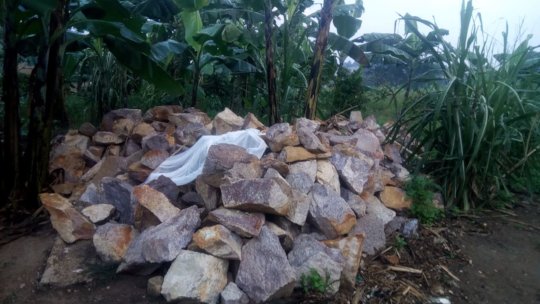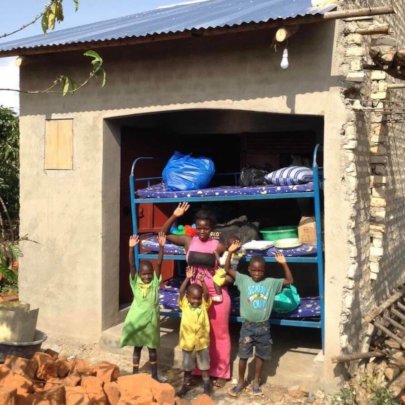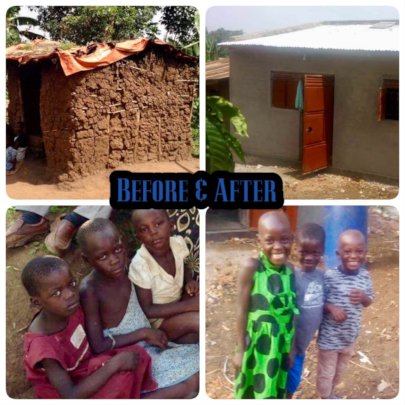 Among all the weeding and feeding, things are growing up green at the Stephen Baker Farm. We are working hard to fight the weeds and keep all watered and fertilized properly until harvesting comes. We have almost met our goal for this project, less than $500 to go! We sincerely thank you for giving so generously to us.
Something new is also growing up! Recently a young lady named Grace came to KCA office after seeing us send many children to school. She told us her hardship story which was verified and word went out for her need. Quickly a donor not only stepped up to pay for her education but after seeing their mud-walled home also wanted to build her family a proper home on her land. It also included an outhouse bathroom, solar panel, furnishings, and new clothing.
It was such an exciting time to offer this family a new beginning! This inspired us to start on our idea to build a small community of widows. Housing is a major challenge of widows in Uganda and living in community together means they can share in responsibilities, learn farming skills and have land to plant a garden to grow food and feed their children. We have started our first home already and will soon post a project for donating specifically to this. We hope you will like to get involved in this very rewarding work as we build homes one by one.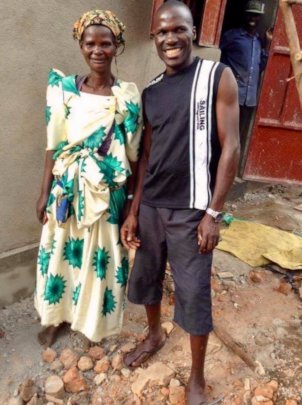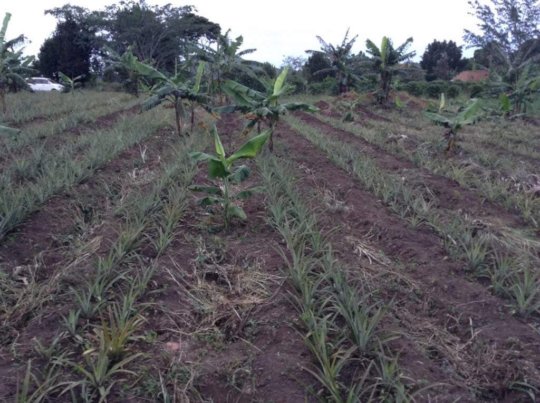 Links:
WARNING: Javascript is currently disabled or is not available in your browser. GlobalGiving makes extensive use of Javascript and will not function properly with Javascript disabled.
Please enable Javascript
and refresh this page.