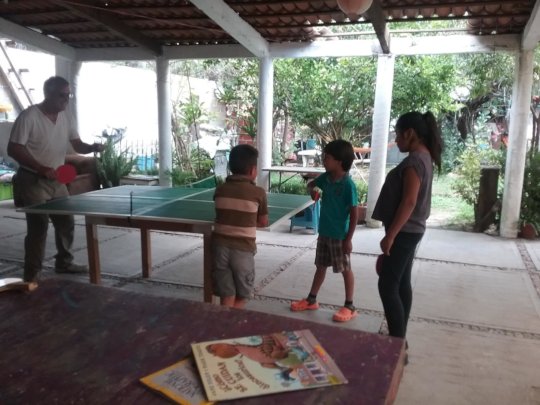 Greetings to all and Happy Fall,
We are so fortunate to have return supporters and visitors at Ojala Ninos. I'd like to thank them, their efforts are so appreciated as are our Global Giving Donors.
Cherrilla Brown from Connecticut crochet 70 warm hats and Troy Campa in Texas, is bringing them to Mexico, specifically to our community, San Miguel Viejo for the children of Ojala. This was a joint effort and we are happy to say that before the kids break for Christmas they will have warm hats.
Another round of applause to Stan Allen who has volunteered teaching English in the past but this year had a Ping Pong table top made for the kids, he comes out and practices with them, often it's still an English class. It brings great joy to us and the kids when they see these visitors return. Thank You.
We are excited to announce we have a new director, Eva Tatum who is bilingual and has a back ground in communication and design, she is well connected in our city, San Miguel Allende and we look forward to taking our building project to the next step.
We know how important it is to use sustainable materials. Sustainability means to make something last, and that is precisely what we want, a lasting community building, built with solar panels, dry toilets, water catchment and rain water recapture. Our board is working hard to achieve this. We want to make an impact, in education and opportunity not a negative human impact on our earth.
The women continue to sell their paper flowers with success, our attendance is up as we have some new classes. We invite you to come see our site, meet the children and staff and see where we hope in the near future to break ground on the building.
Please remember small things do matter in this big world!
Saludos
Betty Lopez