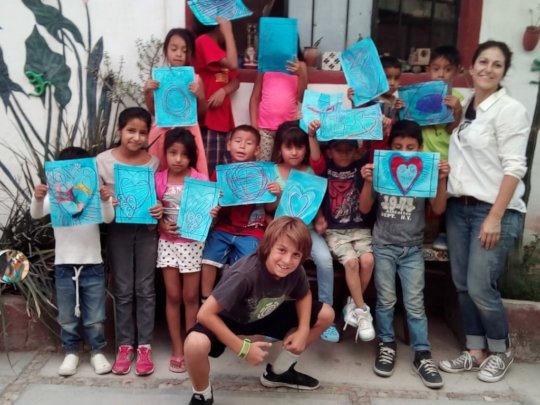 Greetings,
Without funding for our project, we obviously couldn't achieve our goal to build a community learning center, yet equally important, are our volunteers.
We have committed profesional volunteers teaching Math and Dance, we work together with other organizations such as Libros Para Todos, who provide us books.
Right now Seena Benavides and her sons, Gael and Mateo from San Francisco Bay area volunteering for a few weeks. They have worked tirelessly reorganizing materials, painting and done some fun activities with the kids.
Volunteers reduce cost, providing great service due to their passion for the organizations mission, allowing them to make a direct impact. It is human nature to feel good after volunteering, it's proven to reduce depression and combats stress. It also gives a good example and developes close relationships.
One such relationship I'd like to share; In the summer of 2012 a young woman, Rachel volunteered with Ojala Ninos. She was a college student from a small town in Iowa. She had never been out of the United States and was excited to share and learn.
Soon after, a young man named Adam from Ohio arrived in the village of San Miguel Viejo, looking for new adventures. He had heard of our program, offering opportunities in Art, Literacy and Music to the children of this small community. Adam loved wood working and with some left over tools went to work making toys and instruments with the children.
Rachel was teaching literacy and the two meet. Summer ends, Rachel returns to college and Adam to Ohio. They stay in touch and start to visit back and forth. They fall in love and on June 15th this year, 2019 were married. Felicidades to Rachel and Adam!
Rachel and Adam requested in lieu of wedding gifts, please donate to Ojala Ninos GlobalGiving project. Their encounter as volunteers has brought them life long joy as well as continuing to support the organization where they first met!
We hope and appreciate your continued support of our community center project and encourage you to volunteer and build strong communities where ever you are!
Best Regards
Betty Lopez