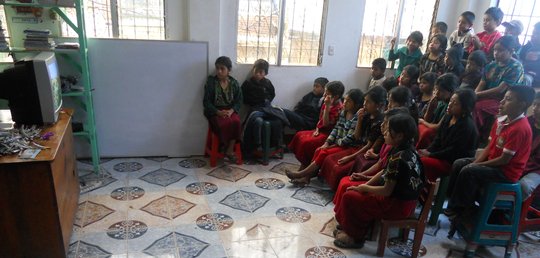 Thanks to your support this year's school vacation (which is during the fall months in Guatemala) has been extra exciting for kids in Chajul!
The librarians got to attend 2 trainings in Antigua and used their new knowledge to create a full schedule of vacation time programming in the Chajul Community Library. The activities, which are held for 3 different age groups, include: Fun with Math, Learn to Read circles, Spanish vocabulary games, and Story Hour followed by a thematic art activity, television program, or game. Very few kids have a television in their home so our newly acquired TV and DVD player is giving them a unique chance to practice their Spanish comprehension skills and learn valuable life skills through youth television programming. Our creative and dedicated librarians are even matching the theme of the TV show episode with the theme of the Story Hour book they read prior.
As the only provider of organized vacation-time services in Chajul, programming in the community library is providing a unique and invaluable opportunity for kids and their families. The only problem with all of this new excitement is that kids will be extra sad when vacation time is over! Luckily for them though, we are currently using a literacy curriculum developed by the organization Reading Village to develop some great new programming for the upcoming school year.
The other exciting development is that we've met our 2nd seasonal goal of completing the renovations of a new study room. We installed a door and windows, fixed the plumbing, sealed and painted the walls and installed lighting fixtures. The extra space has already proven vital for hosting the 45+ children that have been attending each vacation time activity. We are now in the process of contracting tables, chairs, and shelving from local carpenters so that the space will be ready when students hit the books again in January.
With your continued support we can continue to improve literacy rates and educational attainment in Chajul. In fact, there is no better time to give - we are now in the midst of our annual fundraising campaign! Our collaborative partner, the Philanthropiece Foundation, will match all gifts of $100+ until the end of 2012! As if doubling the impact of your contribution wasn't enough, we will also enter all donors giving $200+ by December 1st into a drawing to win an original print from professional photographer Sue Rissberger's Faces of Chajul collection.
Warmest saludos from Chajul!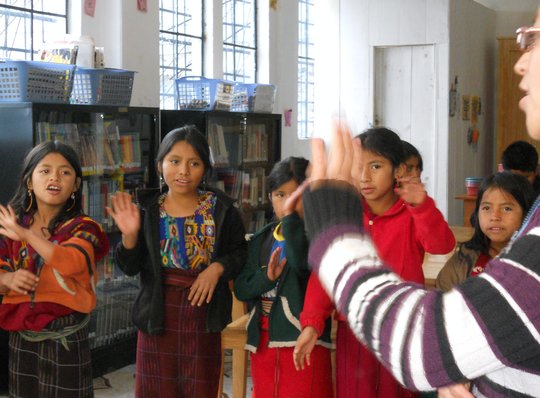 Links: