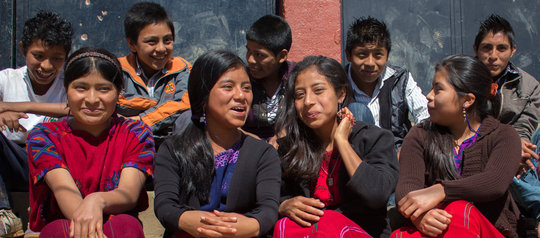 Dear friends,
Thank you so much for supporting the youth of genocide-torn Chajul through your support of Limitless Horizons Ixil's project on GlobalGiving. You're helping to provide scholarships and support services for hard-working youth from families in need as they strive to make it through middle school and high school. We're writing to let you know that because of YOUR support, the youth graduating from middle school this year, including Esperanza and her classmates, are thinking about their career options as they apply to high school programs!
Over the last few weeks, our local program staff Edilma and Verónica have been visiting the families of all of our youth who will be entering high school next year. In Guatemala, the school year starts in January and each student selects a high school based on a career focus, or pursues a general college-prep degree. Here's an update on a couple of the youth from this class:
Esperanza still dreams of becoming a music teacher, but she's also interested in other types of education. No matter what, she wants to continue beyond high school with a university education to best prepare for her future career. She's looking at several high schools outside of Chajul that could offer her a general college-prep degree.
Francisco Magdiel's grades are through the roof. His family owns a store a few doors down from the LHI office, but the world is his oyster and he is considering high schools where he can specialize in accounting. We know he has the smarts for it!
Esperanza, Francisco Magdiel, and all their classmates are thinking about their futures. Because of the war and limited economic resources, most of their parents never had the chance to graduate from primary school. And these 9 youth have the opportunity to pursue a productive career path in high school and beyond. It's hard to fully convey just how incredible this opportunity is for them. Thank you for making it possible.
As always, please reach out if you have any questions or are interested in getting involved as a youth sponsor. And please make sure you're on our email list so you can stay on top of general LHI news!
With gratitude and hope,
Danielle Huffaker, International Coordinator, Limitless Horizons Ixil