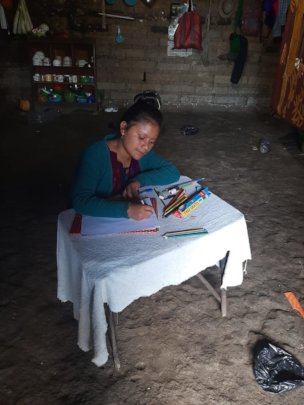 COVID-19 has created numerous global uncertainties, but LHI has one thing clear; the pandemic will not detain our determination to nurture a culture of literacy and learning in Chajul.
While some schools and teachers have offered varying levels of remote classes, in many cases instruction has completely stopped. Schools will be closed throughout the rest of the 2020 school year, which ends in late October in Guatemala. Schools closed less than two months into the academic year, and we have been very concerned about learning losses during this time. All of Limitless Horizons Ixil's scholars are at home in Chajul, but given that very few families have computers and all endure frequent power outages, remote learning has been challenging. Of the scholars who have been receiving remote classes from their schools, they had to quickly learn how to access their classes and complete their homework assignments using just a smartphone. In most cases, our scholars have already surpassed the educational level of their parents, and are thus required to self direct their learning while quarantining at home.
Despite these unprecedented challenges, we at Limitless Horizons Ixil have been able to provide unique educational opportunities for Chajul's youth. In addition to offering a two-part gender equality workshop in June, ongoing personalized technology support from our Artisan and Technology Coordinator, Cecilia, and one-on-one phone therapy sessions for each of our scholars, we have also expanded our educational programming to include weekly online tutoring in key subjects. Offering remote services has in fact enabled us to broaden our reach; while in-person tutoring was previously only for Limitless Horizons Ixil's middle school scholars, all of whom live in Chajul, virtual classes have allowed us to expand this service to high school scholars, who would normally be attending school in other parts of Guatemala.
10th grade Youth Development Program scholar, Elena (pictured above), recently shared, "Limitless Horizons Ixil is helping us by providing food baskets, but with book clubs and workshops, they are also providing us with ideas."
Meanwhile, our librarians David and Olga have been recording bilingual Spanish-Ixil stories on Chajul's community radio station twice a week. They are also opening the library for socially-distanced book lending for a few hours every Tuesday, giving Chajul's youth the opportunity to continue their learning despite school closures.
Now, with the various support programs being offered, Artisan and Technology Coordinator, Cecilia, recently shared that Youth Development Program scholars, "feel much calmer about receiving online classes and they have the confidence to ask about any of their doubts. I feel happy seeing the interest that they have and that their knowledge of technology has increased."
We are in constant admiration of our scholars for their dedication to finding innovative ways to continue learning. While they have been dealing with reduced family incomes, strict lockdown measures, and unreliable internet connections, they continue to prioritize their education.
Thank you for your ongoing support of Limitless Horizons Ixil and of our scholars' education – you are making it possible for youth in Chajul to access crucial academic and social-emotional opportunities at a time when little other support exists.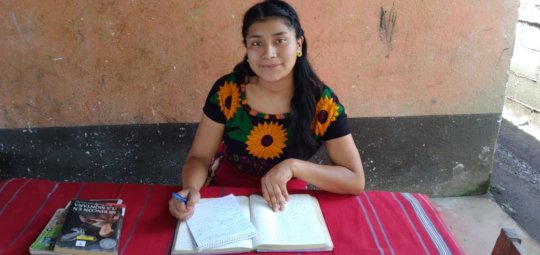 Links: