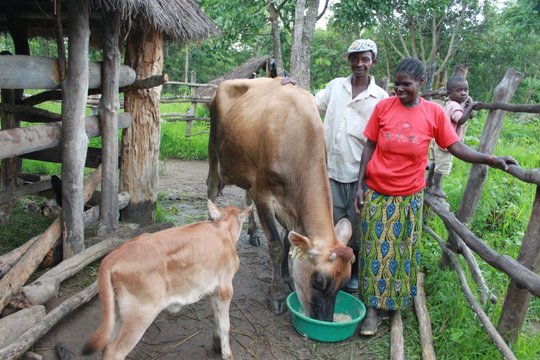 "This club you have embraced and are married to will never help you out of poverty!"
"People would mock us," said John Mulwanda, 49, thehusband of Belinda, 51, of the Kamisenga Dairy Group. Belinda said, "These discouraging remarks continuedfor a long time. This was a very trying moment for us but we managed to endure the mockery, though at a certain point my husband stopped attending club meetings because he could not stand the torment."
The community could not understand why members of Kamisenga believed in Heifer International when several organizations had been there before and did not fulfill their promises.
"Deep down in my heart, I was firm in faith because I had heard and seen what Heifer International had done in the neighboring Kampelembe community, and that gave me strength to be even more committed to club activities," Belinda said.
She said the Kampelembe group members were given dairy cattle about six years ago and this made her not waiver in faith. "My friend Omelly and I were not discouraged in any way because we had invested a lot of time and resources preparing to receive the animals. We knew it was a matter of time," Belinda said, "We were encouraged to attend group meetings and training weekly because our desire was to know how to look after animals."
"Our families could not afford more than a meal a day and the only meal of the day would be taken in the evening when all the family members were present," Belinda continued. "We would go to nearby farms to exchange labor for food, and my husband would also try to sell charcoal, but that was not sustainable because the work demanded a lot of energy and time. When I look back it was quite shameful and those are memories I would wish to forget."
"I will never forget the day we received our dairy cattle from South Africa. When we saw a big truck approaching our communal holding pen, everyone ran to the track ululating (a trilling howl), yelling and some clinging to it. People shouted, 'Shaisa ing`ombe twalelolela,' or 'the cattle we have been waiting for have finally come' in Bemba."
"Through the knowledge and skills we acquired from the training we were able to look after Elanco, the cow (named after project funder Elanco, a division of Eli Lilly and Company), adequately and she gave birth to a beautiful female calf. This brought joy to our family and we made sure everybody in the community knew exactly what had happened. The income from milk sales helped us in improving our lives and we are a very very happy family."
"We no longer go out looking for food because it is our turn to also help other families with milk. My husband has already started buying iron sheets to improve the roof of our house. It is no longer a dream but a reality that soap, cooking oil, lotion… which were a myth, are now abundantly available. When schools open in January, I will not avoid visiting the head teacher's office because I have what it takes to be a grandmother. I will walk straight in and pay for school fees directly just like Omelly did last year. The head teacher could not believe that Omelly, once a defaulting parent, could pay cash for her children's school fees! It had even become a custom negotiating for her children to remain in school, promising to settle the fees immediately after she sold off charcoal or vegetables. Our monthly income from milk is 800,000 kwachas ($160) and with part of this money, I buy Elanco a bag of dairy meal."
"We used to feel really ashamed of ourselves mixing with other people because we rarely had bathing soap. No matter how hard we tried to look our best, we felt like outcasts. We could not even afford clothes because that was far beyond our reach and the death of a calf simply amplified our poverty because we thought we were not fit to own an animal. But with all this, I now know that we were in the school of patience."
With much joy, Belinda's husband, John, said, "We were too desperate to find a solution to our poverty, especially since I only reached my seventh grade and my wife grade four, but now that Heifer has come to our aid, we are now well able to conquer and win any battle!"
"Most of all we are very grateful to Elanco, Heifer International, Village Water Zambia and government staff like Mr. Widney Munsaka for their support," Belinda concluded.