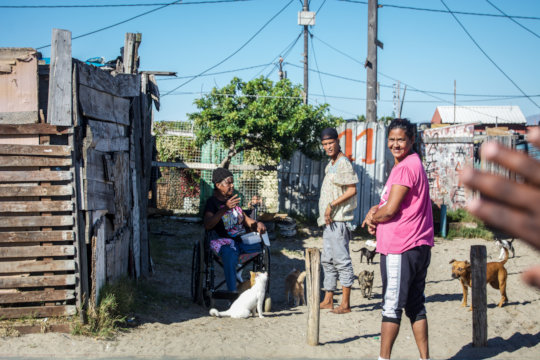 Dear GlobalGiving Donors
It gives us great pleasure to provide this Report, and advise you how, thanks to your caring support of our Project, we have been able to help the animals and their owners in the impoverished communities of Vrygrond (Capricorn):
While some residents in Vrygrond (Capricorn) live in brick and mortar houses, life is hard for the majority, who exist in inhumane conditions, living cheek by jowl in little shacks, with no proper infrastructure. This is especially true of a settlement known as Overcome Heights, where residents live in squalor, especially in winter when the undeveloped roads become flooded, affecting their homes and making life very difficult.
But, in spite of these desperate conditions, the residents try to remain positive, and it is so uplifting for us to be involved and to help them with their companion animals. With unemployment at around 80%, the residents are extremely poor and can barely afford to feed themselves, let alone provide the necessary care for their animals. Through the generosity of donors via GlobalGiving, we have been able to provide support for some of the residents, ensuring that their pets are sterilised, vaccinated, dewormed and given parasite treatment. There is a huge animal overpopulation problem in these areas, many of the animals are in terrible condition and are starving, and because the animals live in such close proximity to their owners, there is a great risk that parasitic diseases will spread from companion animals to their owners (zoonosis). By keeping their animals healthy, we are helping the owners to be healthy too, by mitigating the spread of these diseases. With every sterilisation, TEARS Animal Rescue provides a bag of food for the pet, ensuring that it has regular nourishment post operation.
Many of the residents love their pets, and want the best for them, not wanting them to breed, and it is thus so heart-warming to experience the positive response when we visit these areas, with people flocking to our vehicles, begging for help. We have a long way to go; there are just hundreds upon hundreds of animals who need help. But, with the GlobalGiving donor funds, we have made a start and in the three months June to August, have sterilised, vaccinated, dewormed and given parasite treatment to 93 dogs and cats!
We are most grateful to our compassionate donors via the GlobalGiving platform, who have contributed so generously to our Project, and express our heartfelt appreciation for your interest in our Project and your support. It is you, the donor, who makes our work possible, and we thank you for helping us to make a difference in the lives of those creatures who have no voice, and who rely on us, through your contributions, to uplift their lives, and turn tears of sadness to tears of joy.
I trust that the photos which I have shared with you, will help you to have a better understanding of the areas in which we work and the people and animals we help.