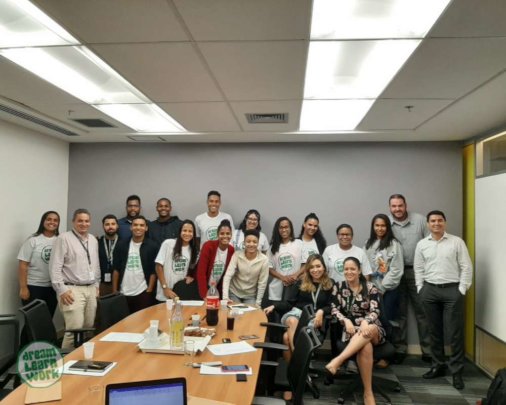 DLW is a Norwegian NGO, and our mission is to give brazilian young adults, from less developed areas, fair opportunities for a better future, through education and employment.

Introduction
Many new features from the fourth and last quarter of Dream Learn Work in 2019. Several visits to partner companies, participants having more job opportunities and many memorable moments happened during these last months. Here are some of our latests updates. Enjoy! Thank's all for the support during this year and we hope to continue bringing great news in 2020.

OCTOBER
Visits at Brunel
We had the incredible opportunity to take a group of students to visit Brunel's office, one of our partner companies, located in Barra da Tijuca in Rio de Janeiro. Brunel is an international service provider specialized in recruitment and selection and the meetings were aimed primarily at helping youngsters prepare to enter the job market with some of the experienced recruiters working there.
It was a privilege to be able to get these young people now entering the job market to talk to recruitment specialists. We were very happy with the result, the visits were extremely fruitful and the participants came out more prepared, more experienced and much more confident. Many thanks to Brunel Brazil's workforce for these memorable moments.
DNB visit at WeWork
DLW received invitations from many partner companies to take our students to visit their headquarters. These events are crucial for young people to have contact with the professional world.
We are beyond happy that so many companies have recently opened their doors to welcome us and that we have several other visits planned for these last months of the year.
One of our last experiences was with DNB, which took our students to the WeWork facilities for a chat, a new dynamic that worked really well and gave young people the opportunity to meet two large companies simultaneously and further expand their network even more.
NOVEMBER
Human Development Closure
The classes were thought to promote the development of cognitive skills and interpersonal skills, work on issues of major contemporary importance, such as ethics and prejudice, and prepare youngsters for the current job market. This grade makes it an extremely relevant course for most students, who often never had contact with people outside their community and have no professional experience.
Among the students' closing statements, what most people said was that the course was life changing, opening minds and broadening horizons. In addition, many students commented that the course was a long exercise in self-awareness, with more confident and self-esteeming people after graduation. Another highlight was the lessons on the job market.
Dreams Come True
As part of the final stage of DLW's cycle, divided into the Dream, Learn and Work phases, the institution seeks to introduce the student to the job market. This introduction happens in a variety of ways, such as visits to partner companies, workshops and mentoring programs. All of these activities are fundamental for students, as they make them more prepared to begin their professional journey.
Recently DLW have been able to go a step further, as many partner companies have been asking for resumes to recruit our students and with each new opportunity more qualified and determined youngsters get recommend. This is how Karol, Marceli and Rômulo, DLW students, were hired as young apprentices at Subsea 7, a maritime-oriented engineering, construction and services company and a global leader in delivering offshore projects and services to the energy sector.
DLW is sure that they'll be very successful at Subsea 7. The goal is for all students to have this kind of experience and more and more partner companies to recruit from Dream Learn Work.
DECEMBER
Norwegian Consul Visit
DLW had the honor to welcome the Consul General of Norway in Rio de Janeiro, Marianne Fosland, to our office. Since the beginning of DLW, we have always had a very close relationship with the consulate. Marianne arrived in Brazil in the middle of 2019 and this was her first visit to DLW's office.
The Consul's visit to DLW was intended to further strengthen the Norwegian government's relationship with DLW, and in addition to getting to know the institution better and visiting the administrative headquarters, the Consul also met some of the DLW participants who were here to attend activities and individual follow-ups.
Beach Cleaning Initiative
DLW in partnership with the Aqualung Institute and TFF promoted a cleaning effort in Flamengo Beach. Besides helping to clean the beach, the day promoted a lot of experience exchange among the involved and also served to celebrate the week of volunteering.
Nearly 60 kilograms of garbage was collected with the help of the youngsters and their families and countless volunteers who signed up through the campaign launched by DLW. Everyone worked in pairs to increase motivation, and in the end the garbage was weighed and those who collected the most garbage received special prizes in addition to the giveaways given to everyone who participated.