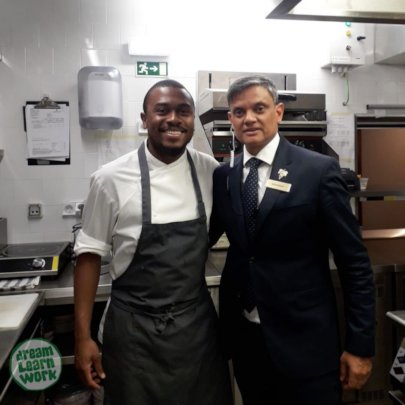 DLW is a Norwegian NGO, and our mission is to give brazilian young adults, from less developed areas, fair opportunities for a better future, through education and employment.




Introduction

Many new features from the third quarter of Dream Learn Work. Several events, participants interviews, job opportunities and memorable moments continue happening with our organization and we will update them here for you. Enjoy!


JULY

Participant Chef's Dream

In an interview with DLW, Pedro talked a little about his past, present and future and also shared some of his dreams and expectations. Check it out:
"I have always been very dedicated and hardworking but at some point I felt overwhelmed and thought about giving up. It was thanks to the help of my family, friends and DLW that I was able to push through and move on.
I've worked at many big restaurants in Rio, where I won important awards and grew a lot, so much that now I received a work opportunity in Portugal! It's going to be a challenge but I know every notorious chef had to overcome challenges, which is why I'm very excited. My dream now is to become an international known chef, a reference, and I think this will be the first step.
I wanted to give the younger participants the same message I want to give my daughter: be humble, show interest, and invest in your education that you will go far," says Pedro (28), Rio de Janeiro – RJ.
Karanba Recruitment
On July 19th our team visited our partner NGO Karanba, located in São Gonçalo. There we conducted our individual follow-ups with the active participants, which allow us not only to keep track of their progress in real time but also to keep the communication between us constant so that we can always help them in the best way possible.
In addition, our second annual recruitment was made. Our project coordinators gave a brief presentation about Dream Learn Work to explain our work and values and the students talked a bit about their stories and dreams. Our new participants were extremely enthusiastic throughout the whole process and we have no doubt that their DLW experience will be a success!
AUGUST
Realizing Study Importance
"I met DLW through the Abrigo Rainha Silvia, one of DLW's partner NGO, and now I'm having the opportunity to take my first course, which had which has provided me with amazing experiences, both from places I have known, as well as networking and learning. I also discovered a new area, the maritime area, which was amazing.
Five years from now I find myself attending law school or business school, but until I get there I intend to work in the area that I now know thanks to DLW and I really like, the maritime area," says Rômulo (22), Itaboraí – RJ.
Women Empowerment
"I got pregnant very young, mostly because of lack of information, and the first thing I thought when I found out was that my life was over. My dad didn't speak to me for a while and everyone was constantly telling me that from that moment on I had to live only for my daughter. A psychologist at my school told me I had to choose between my education and my daughter and so I dropped out of school..
It was with DLW that I learned a woman can be whatever she wants. I had no references of independent women in my family, since my mom never worked and my grandma died a victim of domestic violence. However, at DLW I saw women who didn't just stayed at home with their kids, which was a huge motivation to study.
Five years from now I see myself financially stable, working at the area that I love, living in a better place and being able to offer my kid all the opportunities she deserves it's all thanks to DLW. For my part I'm going to give all of me to get there," says Marceli (19), Itaboraí – RJ.
SEPTEMBER
Corporate Partner Visit - Wood Group
Our students had the incredible opportunity to visit two different environments of Wood Group, one of our partner companies.
The participants went to Macaé to visit Wood's shipyard in the region. There they learned more about the daily life of the professionals who work there and the various job options and opportunities that exist in that environment. The next day, the youngsters went to visit Wood's office in Barra. On this occasion they had a meeting with experienced HR professionals who gave very useful tips on how to enter the job market. In addition, students took the opportunity to answer all their job search, resume, interviews and work environment questions.
Visits like this are especially important as they offer students the recruiter's view when looking for a new employee, which enables them to better prepare for entering the job market.
Volunteer Visition to IBPF
First we took a tour through the organization to get to know the place and see where everything happens. Then, the employees from Instituto Bola Pra Frente gave a presentation about the Institute and the long-standing partnership with DLW, considered by both parties as a great success. Finally, the volunteers were able to witness some follow-ups with the students.
Those follow-ups allow us to keep up with students' progress on their tracks in real time and keep communication between us constant so we can always help students in the best way.
It was certainly a very special experience and with a positive outcome for everyone!