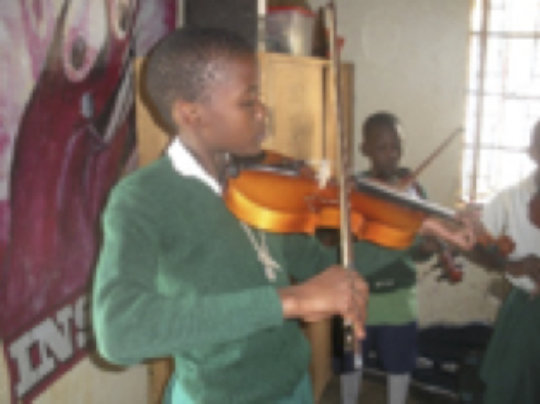 To all our supporters,
We bring you some news from the beneficiaries of the programme
St Mary Kevin School
Recent donations have meant that some more persons could be put onto the scheme at St. Mary Kevin School. The students out at St. Mary Kevin have already been a part of the KMS family, and traditionally been funded by Strings for Uganda, and another donor, who sadly has not been able to continue. However to enable the students at St Mary Kevin to be able to continue they are now supported through our Global Giving Campaign. The 27 students who have been studying and learning with us are a delight.
This programme started in 2013 has seen quite a few students go through its ranks. Initially financed by Strings for Uganda and the Sainsbury Charitable trust, recent contributions by Rachel Ellis in a fundraising concert have enabled the programme to expand to 6 groups of 5 taught together in group sessions by Sam Kikomeko. The school as a whole is very supportive of music programmes, and have other initiatives as well, but this is one they venture through KMS.
The students, mostly the young beginners, have a great and positive attitude towards the class. There is a high enthusiasm level from the Primary three students they are eager and find it fun and educative to have music included in their daily routine and weekend hence love to practice
Some of the challenges that the programme has had is that some of students have had to drop out because they live far away from the school, and therefore are unable to be there for practice or stay longer should the programme end up being longer as it is at times. Sickness at times makes lesson attendance irregular. They are also challenged at times for other needs, many of which the school works hand in hand with the community to fulfil including clean water, personal hygiene. The school works hard to keep the cost of school fees low but even then, some students still struggle.
Gerson
Gerson continues to work towards attaining growth in performance as he is planning to sit for his DipABRSM in performance in Guitar next year, to become Uganda's first ever holder of this Diploma come that time. He hopes that he will be able to get the funds in the near future and hopes to go to Nairobi and USA to meet different Classical Guitar specialists, some of whom have already expressed a willing to give him a hand to improve. Gerson would love to, and strives towards, sensitising Ugandan and African youth and adults towards living a purposeful life using their musical talents
John Paul
Has been a great energy and source as he prepares for his Grade 7 Guitar ABRSM practical exams. He is almost on top of his Grade 7 repertoire and is getting there for all his other requirements for the grade. Aural training is still a concern for him but that is coming into place
John Paul continues to be committed to his guitar classes attending them regularly. He Has also been exploring pentatonic scales which has opened him up to be able to join in with the KMS Jazz group, a fertile training ground for the development of music.
John Paul is so enthusiastic to learn more and is starting to explore the worlds of cello planning to also do exams and Grade 2 Cello. He is continuously appreciative of the generosity of the givers who continue to give to this, which has been really life changing and continues to transform him from the ghetto from where he is.
THANK YOU!
We thank all those who have been giving to the programme already, and for those who have been able to give a standing regular donation. The regular donations mean for us that we can be sure that projects especially the last mentioned, can keep running without worry, and we hope more can give in this way.