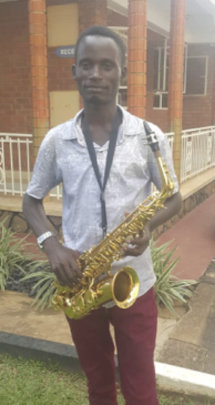 To all our supporters,
Once again we have entered the holiday season, and much has been happening at the music School in the lead to the end of the year including the rescheduled ABRSM music exams. With the holiday programme coming up with lots of fun activities planned as Ugandan schools break off, we look back at the last few months:
Mark
Mark is a 23-year old student who has just joined the bursary programme. When he started studying music, he started as a trombonist in his early primary years: "The school picked interest in my trombone playing skills and took me on, this helped me develop my talent and I have mastered it to an average level ….. A musical mentor who was also a saxophonist inspired me through his skill and passion for the saxophone to change from playing the trombone to the saxophone. At this point, I embarked on the journey of learning to play the saxophone and even though I had the passion and will to learn, I faced a number of challenges but the inadequacy of funds to pay for music lessons and buy an instrument of my own surpassed them all - I applied for a bursary from KMS because I could not afford the costs of taking saxophone lessons as I have no source of income". He is hoping to enhance his music skills so as to reach a desirable level where he can also help other passionate saxophonists.
He says: "Music is my talent that God gifted me with, so I love music because it is part of me. Music brings that harmony of joy in my living. The thing that excites me about music is that it is very transparent. Music to me is a talent, and talent is life and life is living. So, I live by this talent and I hope to achieve a lot as I am given a chance to grow my talent through the bursary programme."
Mark's teacher notes that he has a good sense of beat and fluency although still sometimes struggles with tempo changes. He has greatly improved at playing notated rhythms and is good at counting. His sight reading is fair, but we are working to continue improving his level of comfort in this. His theoretical knowledge is weak but he works hard to pay attention to music details on the paper such as dynamic markings (loud and soft). He can easily relate the music to the song title, which is a very important precursor to learning more about how to play expressively and beautifully. He is a keen jazz player taking part in the KMS Jazz group and improvising skills are good for him to develop his level of playing. He easily recovers from mistakes and has freedom of movement while performing. Mark definitely loves playing the saxophone and taking lessons and he practices music exercises hard, trying to achieve his assignment goals.
St. Mary Kevin
The project at St. Mary Kevin provides several individual and group lessons. There are six group lessons and each group has 5 students who are selected from Primary 3. Each group consists of members with different learning strengths in order to help each other during practice. The eligible outstanding student is chosen by his/her fellow students to lead them and supervise their practices. Unfortunately, some students have dropped out of the music class for a variety of reasons, e.g. if they cannot pay their school fees and so no longer attend the school. Four groups of students were chosen to play at the Kampala Music School concert in order to help showcase their practical skills outside of school. The fifth group has however struggled with some areas such as reading the notes and identifying music but they continue to try hard and we are finding more practice time for them so that they can improve.
Osbert is in group 3 and has been learning for two years. Whilst he has struggled a bit, he has been working hard to identify the notes at a slow pace, and his love for the violin has kept him going he is always very eager to learn and perfect his skills.
Paniel is a motivated student from group 1. She always keeps time in her violin practice responds, her bow posture keeps improving and she is very sensitive to rhythm. She finds reading music notation fun and learns quickly.
Francis has also studied the violin for two years. He responds well after rehearsals and he always wants to help others in his group during practice time. He can play most of the tunes that he has been taught and always pushes for more when in their group practices. Learning music notation is something he is keen to improve.
Leyna
Leyna is a seven-year-old girl full of confidence and great ambition. She did really well in the recently concluded East Africa's Got Talent, 'wowing' many people with her singing hence she went all the way to the semi-final stage, even getting a Gold Buzzer along the way. Her mother, having noticed a talent brought her to Kampala Music School for a few sessions to prepare her to go further in the show. However, funding quickly became an issue and she had to stop. As part of KMS's mission we thought it a good idea to continue to nurture this young talent. She has a rich vocal ability, with a range from G3 to A5. She aspires to sing beyond this like the people she looks up to and considers her popular influences, but the challenge is bridging her falsetto to the chest voice. Her teacher has been introducing her to sight singing through solfège (scale, triads & intervals) learning rhythm symbols and counting. One of her greatest challenges is distance from home to the music school (She lives in Entebbe which is 42 kms from Kampala) and her parent's work schedules which make it difficult to attend. She is full of determination and also wants to start learning the piano to complement her singing.
Thank you all for your ongoing support to KMS and we wish you the best over the holiday season.