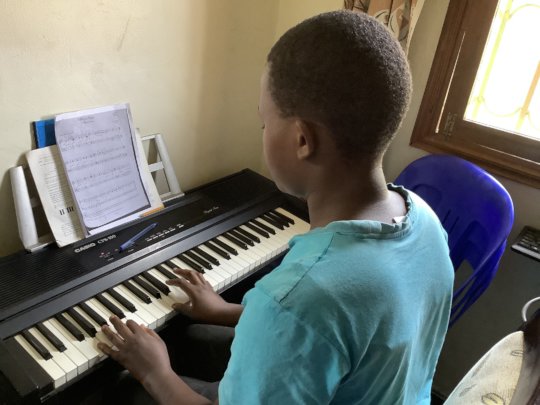 Greetings from Kampala Music School. With Schools continuing to be closed and some restrictions on movement still on, most students have been unable to continue with lessons. This has been disconcerting for some as the earliest we look like we will be open is in January next year, when the Ugandan population will have reached the vaccination thresholds as set by the government.
However, a select few on this programme have been able to carry on with lessons virtually. These talented students have been going places which has been great for them and their progress, and in some cases as we see below, they have been really encouraging.
Atim (16),a new student on the bursary programme, started lessons in September. She is currently working towards the ABRSM Performance Grade 4 and hopes to be ready by December 2021 and likewise her ABRSM Grade 3 theory exams by early next year. Four pieces are required for this unique exam. One piece is almost in the bag, and she will soon start on the second one.Theory lessons are also going well, with three topics so far covered. The target is to sit this exam in 2022.
Her Teacher, Mr. Kawere, is sure that they can achieve these set targets because she is highly self-motivated and eager to learn new material.
Akena (15) had initially set out to do the ABRSM Performance Grade 2 in December 2021 but has progressed so quickly, much to his teacher's surprise. He managed to learn all four pieces set out in just six lessons playing them to such a high degree, with superb musicality and excellent technique. As a result, his teacher Mr Kawere decided to push on to Grade 3, and he has already taken a massive step towards his first of four pieces. Just like Atim, he is also working towards the Grade 2 ABRSM theory examination.
Irene (20) Is a high Soprano pursuing a Bachelor's degree in Music at Makerere University. This term finds her working on improving sight-singing and intonation, which seem to be the main challenges. There has been significant improvement in this area. She is currently working on Grade 5 songs and various performance techniques. "She is a very hard working and determined person, and I believe we are on the right track", says her teacher, Mr. Francis D Mutesasira.
Unlike many other students on the bursary programme, Irene has been able to attend lessons online. "My voice lessons have been quite the experience. I also prepare for them like I would for an actual physical class. I even mind how I will look on the camera. I even had to inform my family members about my time of class, and they respected it. At the start, I was a little concerned, wondering if I'd be able to learn and understand the songs, keys, warm-ups, but amazingly, I've progressed just fine though I think I prefer physical classes".
Then there was the challenge of the internet sometimes. I had to mark my spot where I could have my lessons uninterrupted.
Overall, I've successfully had my lessons, and I've improved a lot in my singing. I'm happy that KMS was able to support online classes because I would not have learnt what I know now."
Amelia's guitar classes have been going on well. The brief let up, and physical opening up after the first lockdown allowed the teacher and student to meet to cover some areas they could not do over Zoom.
Amelia is a diligent and self-motivated student and has a very high attendance record. Her biggest struggle is thoroughly understanding music theory. The internet infrastructure, however, continues o be a challenge and makes learning difficult.
Other than that, all is well and previously in lockdown at times, and the network instability was our main challenge.
KMS is hoping that some of the students will be able to resume classes in a few weeks, but there is no clear indication of this given the diversity of the student population. Another report soon will follow on some of the other students on the programme
We thank you for the continued support of the talented student programme. We hope that in this time you can support the school in continuing to do its work also as we start to look towards the New Year when we expect that schools shall reopen and we can return to total productivity.