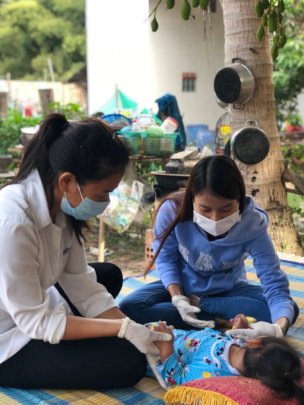 Some Good News
We're so happy about the progress that has been made in the worldwide Covid-19 situation. Though, we realize that we are "not out of the woods yet" and that the virus is still making life very difficult for many, the development of vaccines and the decreased strain on the health care systems that many are reporting offer a glimmer of hope. We hope that the availability of effective vaccines to all people in all parts of the world happens as efficiently as possible so that you all can begin to have some relief, wherever this finds you. As for us here in Cambodia, the situation has remained pretty stable with regard to virus transmission. Though the economic impacts have been severe, the projections are not quite as dire as they had been previously. It appears that recovery is happening, though there is still a long way to go. Even before Covid-19 hit, many Cambodian families lived only one crisis away from being able to sustain their livelihood, creating great vulnerability for their children. So, whether or not Covid-19 remains a threat, Children In Families will continue our work in strengthening families and improving their resilience.
Another bit of good news – last report we mentioned that we had a challenge in finding a stable source of medication for a child with cystic fibrosis. We are happy to report that we are now able to get it on a regular basis from a local pharmacy once again!
Continuing in the "New Normal"
Despite the stability of the Covid-19 situation in Cambodia, efforts remain strong to keep it that way with many people continuing to wear masks and practice social distancing as much as possible. The ABLE staff members are conscientious in their observance of these protective measures. Of course, frequent hand washing is also a must, but ABLE Project staff strive to do that at all times when providing therapy services. The ABLE team has resumed pretty much a pre-Covid schedule while making these necessary accommodations. Over the past three months they have provided over 400 face-to-face visits, most of them at the families' homes, but also providing some visits in hospitals, health clinics, or schools, depending on the needs of the children and their families. While providing therapy is one of our primary activities, advocacy is also important, whether it involves helping a child with disabilities to be included in public school or ensuring that children with disabilities get the medical care they need and that their families understand clearly about their health status and medical care. Through CIF's advocacy and support, one child with partial paralysis in her legs has just started school this year and she couldn't be more excited!
Once again, we want to thank all of you for your support of the work of the ABLE Project. Your giving allows essential services to continue for these vulnerable children and their families.